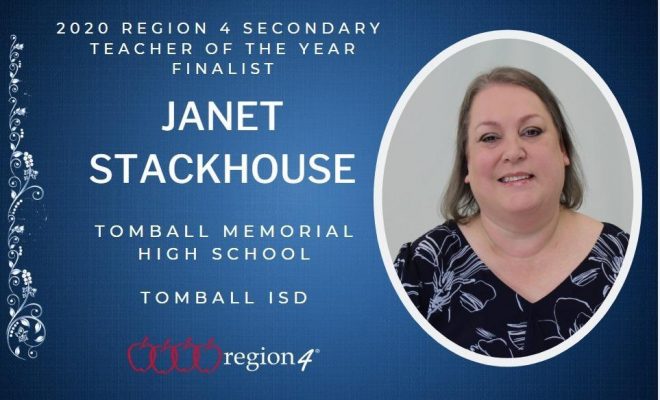 News
Tomball ISD Teacher Named Finalist for TASA Teacher of the Year
By |
TOMBALL, TX – Tomball Memorial High School (TMHS) English teacher Janet Stackhouse was recently named a Texas Association of School Administrators (TASA) 2020 Region 4 Teacher of the Year finalist, announced by Region 4 mid-July.
Founded in 1925, the TASA is the professional association for Texas school administrators, providing networking and professional learning opportunities, legislative advocacy, and targeted communications to support the work of superintendents and other school leaders.
Stackhouse was one of just five secondary teachers in all of Region 4 named a finalist and will be up for the 2020 Region 4 Teacher of the Year honor when it is announced in August.
She is one of five secondary teachers still remaining and up for the prestigious honor as Region 4 Teacher of the Year. She joins Joe Paneitz (Humble ISD), Caren Wonders (Pearland ISD), Angela Johnson (Goose Creek CISD) and Lorelei Thorp (Fort Bend ISD) as finalists.
Stackhouse is a veteran teacher that has spent her entire 26-year career with Tomball ISD. She began her time in Tomball ISD at Tomball High School in 1993 and was a part of the school for 18 years. She made the move to TMHS when it opened in 2011.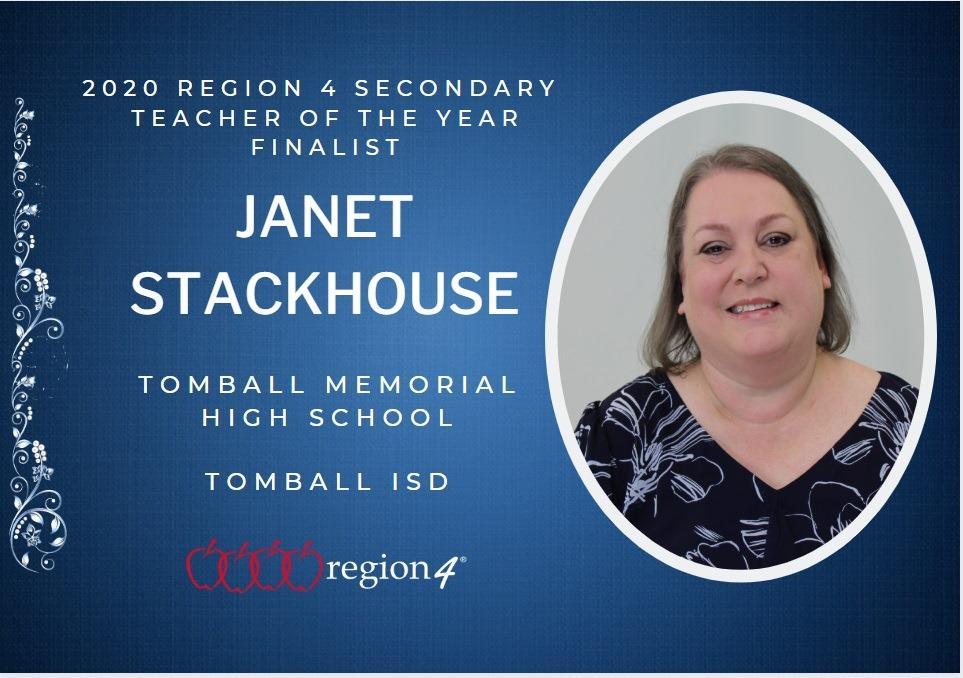 Stackhouse is proud to be a part of Tomball ISD. "The highest possible education of all students has always been and always will be the central focus of this district," said Stackhouse. "Everyone is truly willing to do whatever it takes and it is evident every day."
Since 1969, the Texas Teacher of the Year Program has honored excellence in classroom education and provided a forum to showcase many outstanding educators whose efforts and example have inspired their students, their colleagues, and the communities they serve.
Texas Teacher of the Year is the highest honor that the State of Texas can bestow upon a teacher. Facilitated by TASA, the Texas Teacher of the Year Program annually recognizes and rewards teachers who have demonstrated outstanding leadership and excellence in teaching.
Tomball ISD educates students to become responsible, productive citizens by providing innovative, individually rigorous, and personally valuable educational experiences. Founded in 1908, Tomball ISD now encompasses 83 square miles in northwest Harris County and southwest Montgomery County, and is located approximately 30 miles from downtown Houston. The district currently educates over 17,000 students at 20 campuses.
Sources: Tomball ISD, Texas Association of School Administrators