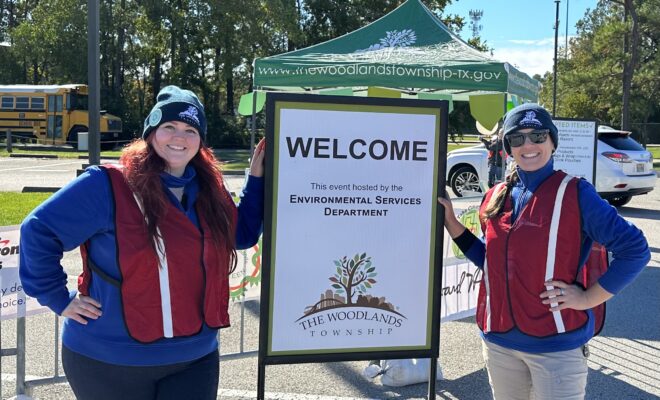 PHOTO BY TIFFANY MARASCIO, HELLO WOODLANDS
Events
Township Hosts Annual 3R Recycling Drive-thru Event Saturday, November 12
By |
The Woodlands Township hosted its annual 3R Recycling Drive-thru event at The Woodlands High School parking lot on Saturday, November 12th from 9:00 am to noon. The free event celebrates America Recycles Day, designated by the Environmental Protection Agency and recognized annually on November 15. The 3R Recycling Drive-thru event observes the importance of recycling in our community and offers a an opportunity to recycle select items that cannot be recycled in curbside carts.
View photos of the event on Hello Woodlands' Facebook page here:
Residents were given information regarding items accepted in curbside recycling bins and where to recycle items that are not approved for curbside recycling. Drivers stayed in their vehicles as volunteers unloaded items for recycling at each station. Additionally, community members were given the opportunity to participate in the Village Recycling Challenge. This year's item is incandescent, compact fluorescent, and LED light bulbs. This friendly competition awards funds for scholarships to Villages with the highest participation.
Items accepted at the 3R Recycling Drive-thru event included lightbulbs, batteries, disposable razors and packaging, oral care products, small electronics, snack and drink pouches, block styrofoam, and textiles. The Woodlands Lions Club was on hand to collect eyeglasses, sunglasses, and cases. Personal documents were accepted for secure on-site destruction and recycling, for a donation of five cans of food or $5 per bank box to benefit Interfaith of The Woodlands' Food Pantry.