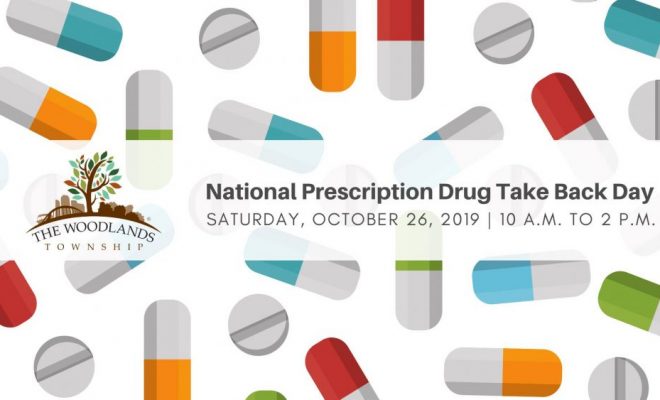 News
Township hosts National Prescription Drug Take Back Day
By |
THE WOODLANDS, TEXAS – The Woodlands Township Neighborhood Watch is hosting two National Prescription Drug Take Back Day drop-off locations on Saturday, October 26, 2019, from 10 a.m. to 2 p.m. The first location is at The Woodlands Township front parking lot, 2801 Technology Forest Blvd., 77381, and the second location is at Rob Fleming Aquatic Center, 6535 Creekside Forest Dr., 77389. Special agents with the Drug Enforcement Administration (DEA) will be onsite to collect expired and unwanted medications for safe disposal and will be assisted by various law enforcement personnel.
According to the 2018 National Survey on Drug Use and Health, 9.9 million Americans misused controlled prescription drugs. The study shows that a majority of abused prescription drugs were obtained from family and friends, often from the home medicine cabinet. This event is an opportunity for Americans to prevent drug addiction and overdose deaths. It's also a great way to get rid of old prescriptions in order to avoid taking the wrong medication.
If you can't make it to the National Prescription Drug Take Back Day, approved year-round drop-off sites are being added by the DEA all the time. For locations by zip code, please visit the DEA's website at https://takebackday.dea.gov.
"Sharps" or needles are not collected at this event. For information on disposal of needles or syringes, please visit the Texas Commission on Environmental Quality (TCEQ) publication Disposing of Syringes from Households: Do's and Don'ts, available in both English and Spanish, at https://www.tceq.texas.gov/publications/gi/gi-418.html.
For more information on The Woodlands Township Neighborhood Watch, please call us at 281-210-3800 or visit our website at www.thewoodlandstownship-tx.gov/neighborhoodwatch. Also, follow us on Facebook at www.facebook.com/townshipneighborhoodwatch.