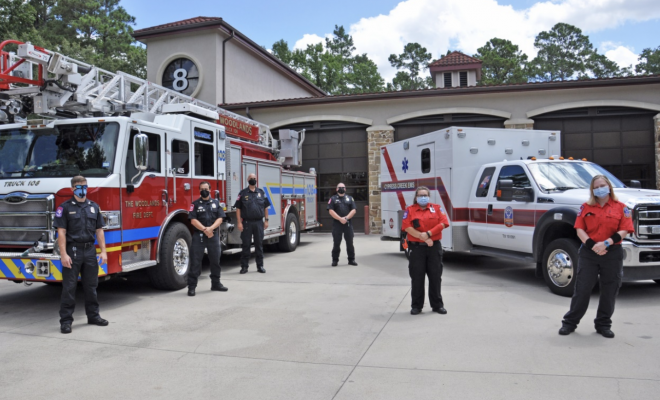 Photo Credit: The Woodlands Township
News
Township signs agreement for improved ambulance service in Creekside Park
By |
The Woodlands Township Board of Directors has approved an agreement with Cypress Creek EMS Association (CCEMS) that will enhance emergency medical services for residents in Creekside Park and the southern portion of The Woodlands.
Beginning August 1, 2020, Cypress Creek EMS, in partnership with The Woodlands Fire Department, will staff a new ambulance to provide emergency medical services to The Village of Creekside Park, Indian Springs, and North Harris County. Medic 516 will be based at The Woodlands Fire Department Station 8, located at 11800 Gosling Road.
Medic 516 will be the second Cypress Creek EMS unit stationed with The Woodlands Fire Department. Medic 512 runs out of Station 7 at 26722 Kuykendahl Road. This service enhancement will significantly improve ambulance coverage to The Village of Creekside Park and the surrounding area, according to The Woodlands Fire Department Chief Palmer Buck.
"This is a great partnership and allows even a higher level of coverage for our residents served by Station 8," Chief Buck said.
The Woodlands Fire Department, with the highest rating possible, ISO 1, worked with Cypress Creek EMS Association representatives to place the medic unit at The Woodlands Township's Fire Station No. 8 (Indian Springs). An ISO Class 1 represents an exemplary fire suppression program.
"This new service will decrease response times and augment service to Creekside Park residents as well as Indian Springs residents," said Township Chairman Gordy Bunch.
CCEMS Interim CEO Wren Nealy said, "We are pleased, once again, to partner with The Woodlands Township and Fire Department to improve EMS coverage in Northern Harris County and Southern Montgomery County. Medic 516 is the third 24-hour truck we have added in the last 90 days to improve response times across our district."
The Woodlands Fire Department is committed to providing superior emergency service and life safety education to the community, utilizing a highly-skilled, professional workforce demonstrating care for our citizens and each other. The Woodlands Fire Department is staffed with full-time, commissioned firefighters/emergency medical technicians that are on duty 24 hours a day, seven days a week. The Department has teams who are fully-trained to respond to a wide variety of emergencies including:
Collapse Rescue
Fires
Hazardous Materials Emergencies
High-Angle Rescue
Medical Calls
Swiftwater Rescue
Trench Rescue
For additional information, please call The Woodlands Fire Department at 281-367-3444, or visit www.thewoodlandstownship-tx.gov/fire.
About Cypress Creek EMS
Cypress Creek EMS covers a 177-square-mile area of north Harris county with approximately 560,000 residents. CCEMS is known nationally as an innovator in prehospital medicine. For example, CCEMS was the first civilian EMS in the country to transfuse whole blood into a trauma patient in the field. CCEMS is also part of a Military EMS Fellowship that is bringing battlefield medicine to civilian EMS to reduce deaths due to trauma.
Source: The Woodlands Township