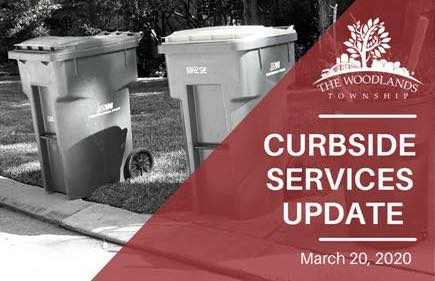 Photo Credit: The Woodlands Township
News
Township update on Park Closures, Farmer's Market, and Trash Pickup
By |
The Woodlands Township provided a daily update on COVID-19 on March 20, 2020 that included the following new information.
Regarding the enforcement of Park Closure Orders, "The Township Board of Directors ordered the closure of Township parks and the placement of signage at all parks to warn of the health risks that may be associated with the use of Township park facilities. This is an unprecedented time and we are encouraging that the Township park closure rules be followed by all. We also recognize that in this crisis situation, our public safety resources must be focused to protecting our residents against criminal activity and addressing larger public health concerns. Township law enforcement resources will only be used to enforce park closure rules for large groups that are blatantly in violation of the most recent Montgomery County and Harris County Orders regarding gatherings at public facilities. We strongly encourage residents to abide by CDC guidance during this crisis."
The Woodlands Farmer's Market has been temporarily closed "due to the heightened concern of the Coronavirus."
An update on Waste Management Curbside Service was provided stating, "Waste Management is continuing to operate all curbside collection and Recycle Center services as normal. No interruptions to the standard schedule have occurred. Due to heavy volume, your collection may occur at a different time of day than usual. Please Note: Waste Management Call Center staff are transitioning to work-at-home for their health and safety. Until this transition is complete, please report a missed pickup, bulk pickup request, or other concern by emailing to cssatex@wm.com. Be sure to provide your name, address, village, regular service date, and the nature of your request."
"Texas Governor Greg Abbott issued an executive order related to preparedness and mitigation, Commissioner Dr. Hellerstedt, declared a public health disaster. The last time a public health disaster was declared was in 1906 related to smallpox."
The executive order and declaration of public health disaster included the following items:
People, businesses and communities to undertake hygiene, cleanliness and sanitation practices.
People who are known to have, or are under investigation or monitoring, for COVID-19, should adhere to the direction provided to them by public health officials.
People who are ill, especially those with symptoms consistent with influenza or COVID-19, should isolate themselves at home until they recover. These individuals should only present for medical evaluation and treatment if their symptoms are such that they cannot continue to be cared for in their home. And, when seeking medical care, they should call their doctor or health care facility before arriving to allow them to prepare.
All persons should limit trips into the public to essential outings. Traveling to work, the grocery store, the pharmacy or to seek medical care would be considered essential trips.
People should limit close contact with other people as much as possible, maintaining a distance of six feet away.
People should not gather in social groups of more than ten individuals.
Employers should allow work at home alternatives to the greatest extent possible.
And, restaurants should not allow dine-in options, either inside or outside. Take-out and curbside options with minimal contact are permitted and highly encouraged.
COVID-19 Case Count Update: "The number of confirmed cases will be over 150 when DSHS posts updated case counts today. DSHS is working with local health department partners to better sync up timing of local and state level date reporting, to hopefully minimize confusion over case counts."
More Information
View the complete daily update from The Woodlands Township on March 20, 2020 at https://www.thewoodlandstownship-tx.gov/civicalerts.aspx?AID=2969
Visit the The Woodlands Township special COVID-19 information page at www.thewoodlandstownship-tx.gov/covid19
View yesterday's (March 19, 2020) daily update from The Woodlands Township here.
Source: The Woodlands Township