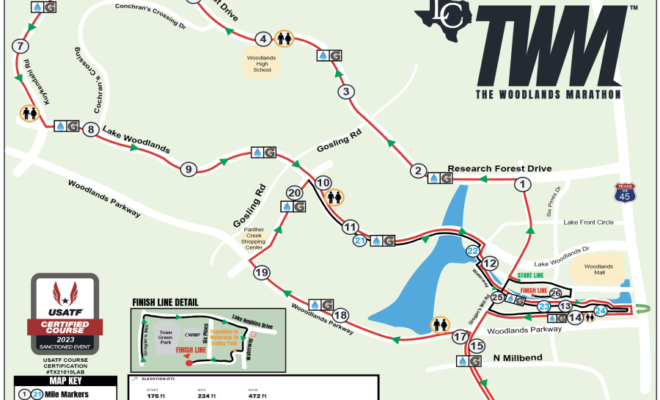 Photo Credit: The Woodlands Marathon
News
Traffic Impact for The Woodlands Marathon Saturday, March 4
By |
Residents are urged to be aware of traffic reroutes and delays in certain areas of The Woodlands on Saturday, March 4, 2023, from 6:30 a.m. to 1:30 p.m., due to The Woodlands Marathon races.
Residents are advised to plan ahead and use alternate routes, as the streets along the race routes will have closures and contra-flow traffic to accommodate runners.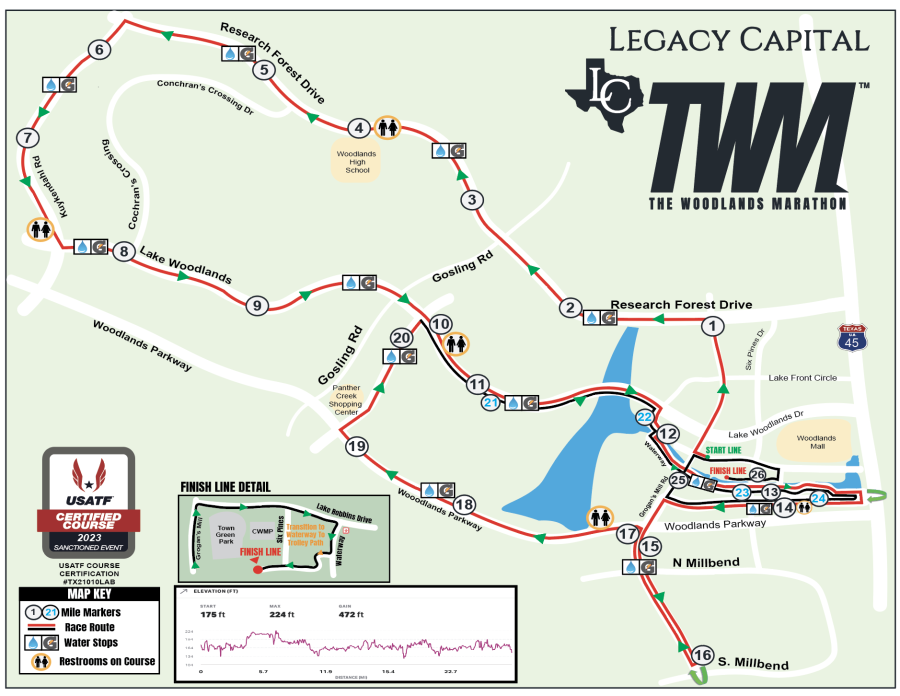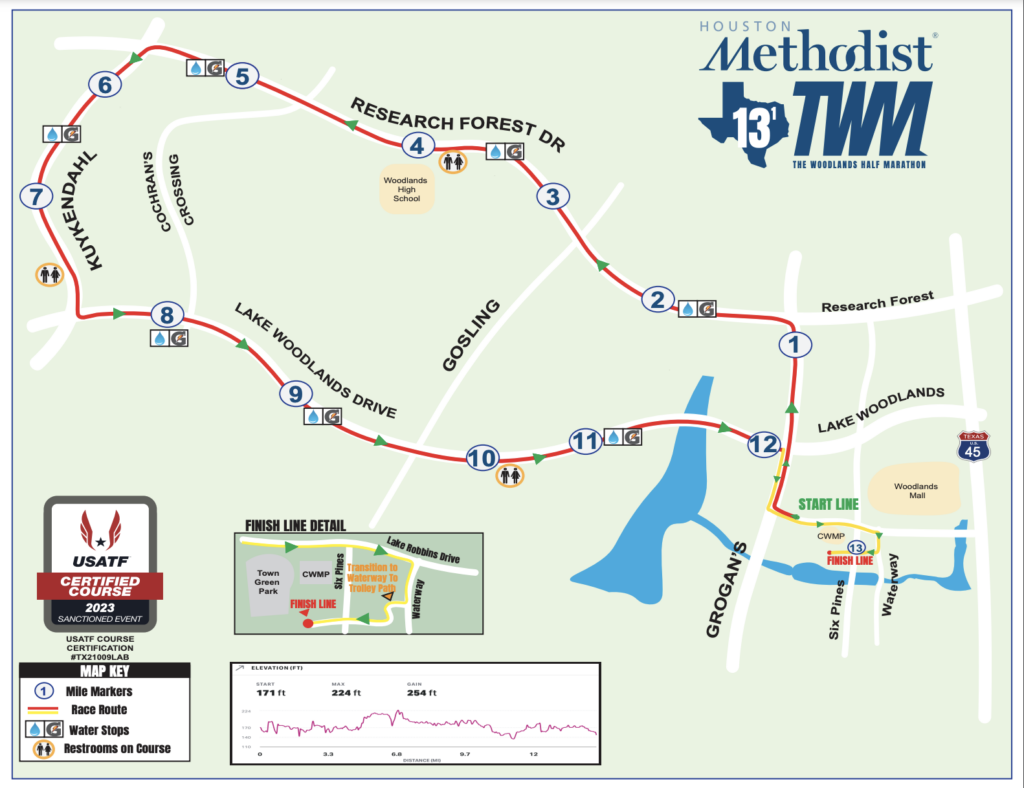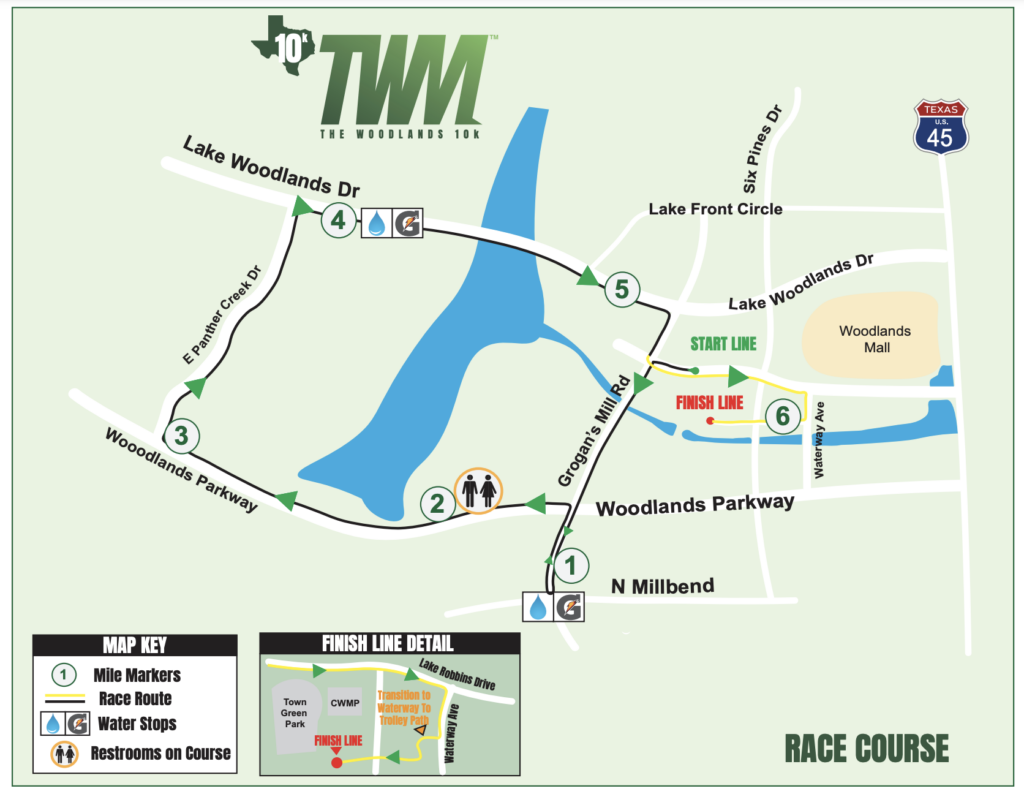 Due to the route of the run courses, the following roads will be impacted:
Lake Robbins: EB/WB lanes
Grogan's Mill: SB/NB lanes
Research Forest Drive: EB lane
Kuykendahl Road: NB lanes
Timberloch Place: WB lane
Lake Woodlands Drive: EB lanes
Woodlands Parkway: WB lanes
East Panther Creek Drive: NB lane
West Panther Creek Drive: NB lane
WHAT TO EXPECT:
Traffic will be impacted from 6:30am-1:30pm
PLAN AHEAD and USE ALTERNATE ROUTES around the race course.
Expect 15-30 minute delays if you cross into the designated center area of the racecourse.
When leaving your neighborhood from inside the racecourse onto Lake Woodlands Drive, expect delays.
Add 10-15 extra for your travel times.
Map your own drive route prior to race day.
Estimated timeframe when roads will re-open on the marathon course: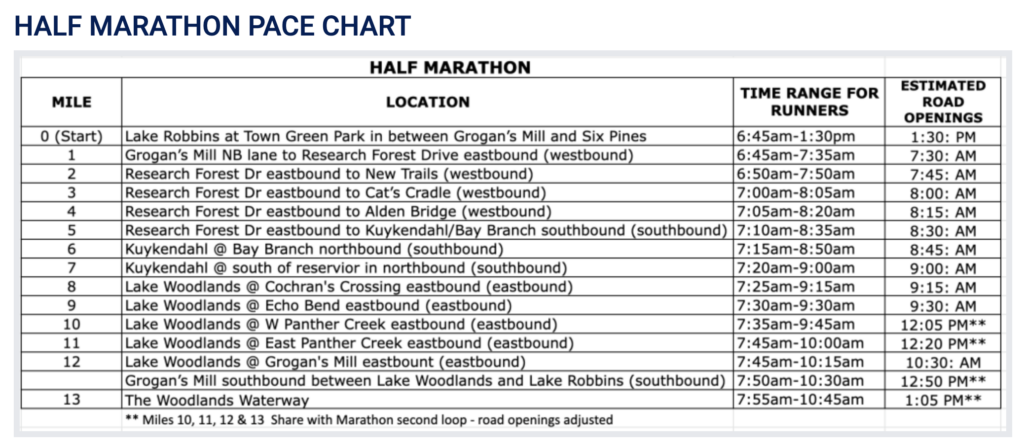 Eastbound Lake Woodlands Drive will have all lanes closed between 6:30 a.m – 11 a.m. from Kuykendahl to Grogan's Mill. Lake Woodlands westbound will have CONTRA-FLOW (Vehicles will be traveling east and west from Lake Front Circle to Cochran's Crossing).
RECOMMENDED COMMUTE AND DRIVING PRACTICES DURING THE EVENT:
Only residential traffic is recommended through and around the racecourse during the hours of 6:30 a.m. and 1:30 p.m.
Roads Open for Travel:

Research Forest westbound
Branch Crossing north and southbound
Woodlands Parkway east and west
I45 north and southbound
Kuykendahl southbound

Race Route Estimated Road Opening times:

Eastbound Research Forest Drive 8:45 am (fully open)
Northbound Kuykendahl 9:20 am (fully open)
Northbound/Southbound Gosling 1015 am (fully open)
Lake Woodlands Drive (westbound – converted to contra-flow for eastbound traffic) 6:30 am-11 am
Woodlands Parkway Westbound On Ramp/Grogan's Mill – 11:30 am (fully open)
Businesses and neighborhoods will be accessible during the race.
For more information, please visit http://thewoodlandsmarathon.com and click TRAFFIC GUIDE at the top of the page. If you need specific information, The Woodlands Marathon Management recommends you email admin@thewoodlandsmarathon.com. Updated information will be posted on http://thewoodlandsmarathon.com.
Source: The Woodlands Township, The Woodlands Marathon