Events
Tribute to The Woodlands Music Festival and Ticket Giveaway
By |
Experience live music and fun at the inaugural Tribute to Woodlands Music Festival on Saturday, March 31, 2018 from 12 p.m. to 11 p.m. in Town Green Park in The Woodlands, Texas. Learn more and purchase tickets at https://bit.ly/TributeTWMusic
Produced by Inspire Productions, attendees will have the opportunity to sing along to great classics and listen to the 60's, 70's, 80's, 90's, and 2000's cover bands playing live on the event stage and will be heard throughout the festival.
Band Lineup
The Tribute Band lineup includes, VHT – Van Halen Tribute Band, Subdivided – Rush Tribute Band, Black Dog – Led Zepplin Tribute Band, Rusted Cage – Soundgarden Tribute Band, Foo Fakers – Foo Fighters Tribute Band, Nightbird – Fleetwood Mac Tribute Band, Grey Vinyl – Creedence Clearwater Revival Tribute Band, and Fab 5 –  Beatles Tribute Band.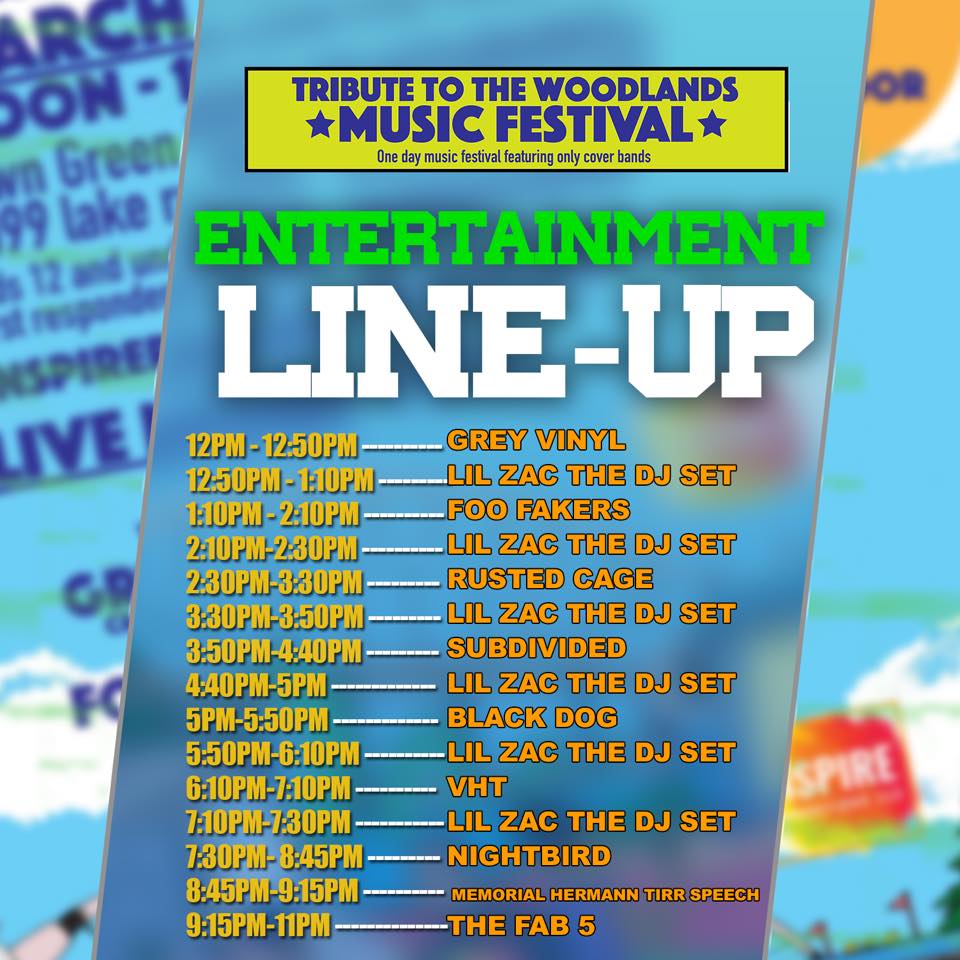 The festival will also include food trucks, a kids zone, vendors, silent auction, and a VIP area. Memorial Hermann TIRR is the nonprofit organization of the festival, will be present at the event, and make a special speech on stage at 8:45 p.m.
T-Mobile will also be onsite with a charging station for attendees to charge their phones, if needed.
The first 50 attendees will receive a voucher for a "buy 1 get 1 free" coupon towards festival t-shirts. Festival t-shirts will be printed with various designs live on site and available for $20 per t-shirt.
Food trucks and vendors include Voodoo Momma's Cajun, Kettle Express, Mi Patio Grill, Refill Stattion Pizza, Wings on Wheels, Greek Squad, KICPOPS, BC Co. Fancy Snowballs, Oh My Gogi! BBQ, Bundt Cake-a-holic alcohol infused bundt cakes, Crepe Xscape and more.
Parking will be available all around the venue including two parking garages near the Waterway that are open to the public. Free parking and UBER is also available in and around The Woodlands.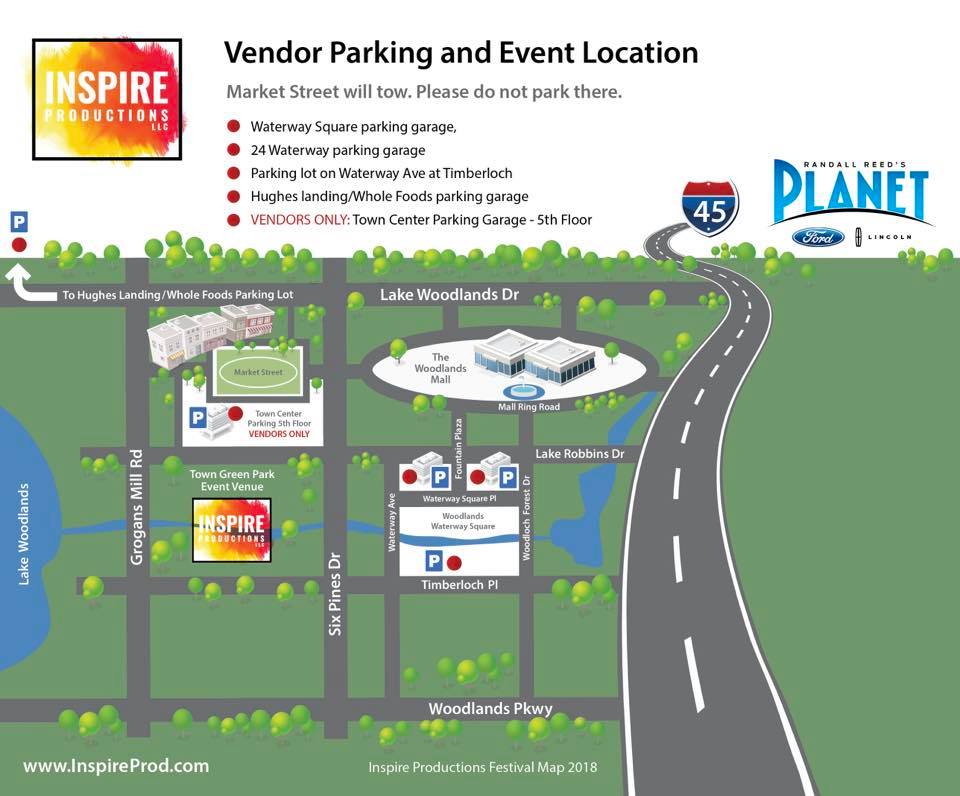 General Admission tickets are $7 online before the event and $10 at the gate on the day of the event. The event is free for kids, police, military, veterans, first responders, and teachers with a valid ID.
VIP Tickets are $80 and include a VIP wristband and badge, access to the VIP shade tent with tables, chairs, private bar, 2 complimentary beverages, 1 food voucher ($10 value), VIP Food Fast Pass that allows you to ski8p the lines at all food vendors, small bites and appetizers, complimentary Massages sponsored by Massage Heights Panther Creek, unlimited non-alcoholic beverages, private restrooms, and a VIP gift bag.
Purchase tickets online at https://bit.ly/TributeTWMusic
All ages are invited and dogs on a leash are welcome on the festival grounds. Attendees must be 21 or older to consume alcohol. No outside food or drinks are allowed, no weapons of any sort are permitted, every person will be subject to a search, and all bags will be checked.
Ticket Giveaway
Hello Woodlands is giving away 4 Tickets to the Tribute to The Woodlands Music Festival! Enter to WIN 4 Tickets to enjoy the Tribute to The Woodlands Music Festival on Saturday, March 31, 2018 by simply entering your name and email address below and click "Enter" by Sunday, March 25, 2018 at 11:59pm CST. One winner will be selected, contacted by email on March 26, and receive 4 tickets to the festival. Good luck!
***The contest is NOW CLOSED! Congratulations to Angela I. for winning our Tribute to The Woodlands Music Festival ticket giveaway!***
Sponsors of the Tribute to Woodlands Music Festival include Planet Ford, Drink HeyDay cold brew coffee, Woodlands Car Care, Events Plus, Grand Central Park, America's ER, Bud Light, Hello Woodlands, and Link Local.
Learn more about theTribute to Woodlands Music Festival and upcoming events by Inspire Productions at Inspireprod.com, like and follow the Inspire Productions Facebook page, and join the Facebook event here.