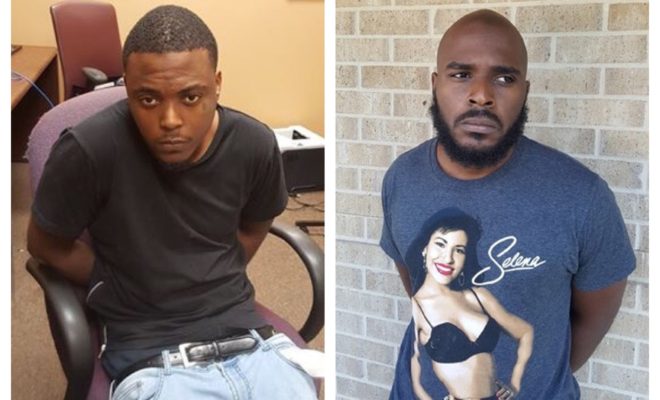 News
Two Gang Members Arrested for Burglary
By |
On August 31, 2017, at 1:20 pm, Deputies with the Montgomery County Sheriff's Office were dispatched to a vehicle disturbance near North High Oaks and Sawmill Rd. Deputies were advised that a dark in color Audi and a tan Lexus were racing or one was chasing the other.
Deputies arrived and found that the tan Lexus was occupied by two black males that had burglarized a vehicle which belonged to the person driving the Audi.
During the investigation, Deputies learned that the victim had just left the Wells Fargo Bank located at 9595 Six Pines Drive, The Woodlands, TX after making a withdrawal. The victim then drove to the Randall's Shopping Center located at 2250 Buckthorn Place, The Woodlands, TX. The victim entered the storefront and immediately realized he left his money in his vehicle. As he exited the store, he observed that his vehicle had a broken front passenger window and the tan Lexus driving away from his dark colored Audi.
The victim chased the suspects in the Lexus who attempted to get away from the victim. The Lexus entered neighborhood and began driving down multiple streets. Nearly every street in the neighborhood is a dead end with a cul-de-sac. The victim attempted to block the suspects in, but the suspects struck the victim's car in order to get away.
The victim continued chasing the Lexus until the Lexus turned north on another dead end street. At that time, the suspects exited the Lexus while it was still in gear and fled on foot running north and jumping a fence.
Additional Deputies from the Sheriff's Office arrived and subsequently caught both suspects. They were identified as Clark, Spencer (9/01/93 B/M) and Vanduren, Coron (12/13/89 B/M.) Both suspects are documented 59 Bounty Hunter gang members. Both were charged with Aggravated Assault and Engaging in Organized Criminal Activity.
Sheriff Rand Henderson wishes to extend his gratitude to the victim in this case who was able to keep an eye on these criminals and advise our Deputies where they had fled. "I have no doubt that our arrest of these suspects not only solved this crime, but prevented future ones as well." Sheriff Henderson adds, "this is what we can do when the community and law enforcement work as partners."
Source:
Lieutenant Scott Spencer
Montgomery County Sheriff's Office
Executive Division