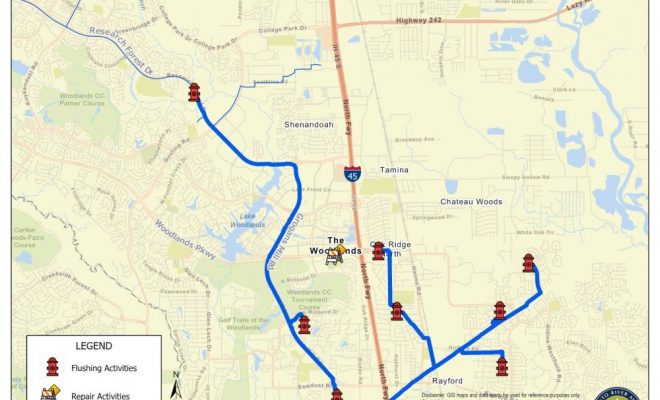 Photo provided by San Jacinto River Authority
News
Two SJRA Projects Begin Week of March 9th in The Woodlands
The Woodlands, Texas – The San Jacinto River Authority (SJRA) will be working in The Woodlands area starting March 9th on two projects: one on Many Pines Road, just south of Woodlands Parkway and the other along a surface water transmission line that begins at Research Forest Drive and Bear Branch Sportsfields.
Starting March 9th: Line Repair on Many Pines Road
Mallard Construction will begin repair on a well collection line that was struck last month by a utility boring contractor. Traffic will be temporarily impacted (see map attached). Water service is not expected to be impacted. Crews will work Monday through Friday 7:00am – 6:00pm. Activities are expected for approximately five days. Residents may contact Aaron Schindewolf at 281-367-9511 with questions.
Starting March 10th: Surface Water Line Flushing beginning at Research Forest and Bear Branch Sportsfields
Chlor-Serv will perform flushing and disinfection activities to the southern portion of the SJRA surface water transmission system in The Woodlands. Temporary impact to traffic may occur at select locations along the 14-mile water line (see attached map for impacted areas). The flushing contractor will work 24 hours a day for up to two days. However, flushing, disinfection, and testing activities will last approximately 72 hours. Water service will not be impacted. Residents may contact the SJRA Groundwater Reduction Plan (GRP) Division at (936) 588-1662 with questions.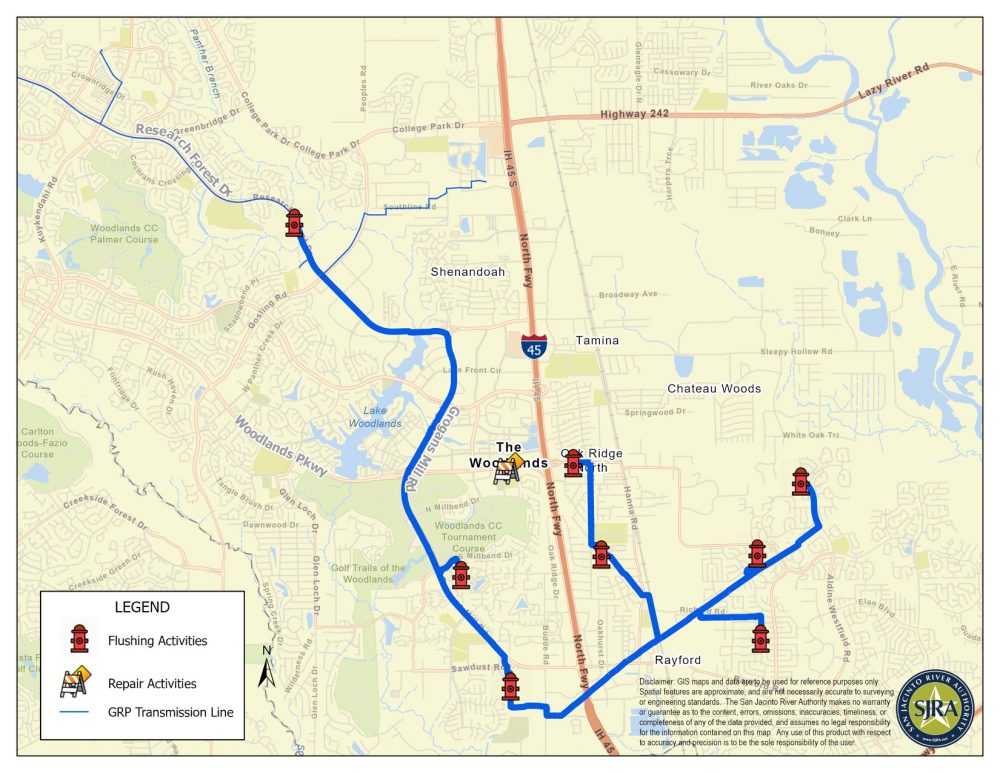 One of the major river authorities in Texas, SJRA's mission is to develop, conserve, and protect the water resources of the San Jacinto River basin. Covering all or part of seven counties, the organization's jurisdiction includes the entire San Jacinto River watershed, excluding Harris County.
For additional information on SJRA visit our website at www.sjra.net, like SJRA on Facebook @SanJacintoRiverAuthority, follow us on Twitter @SJRA_1937, or find us on Instagram @SanJacintoRiverAuthoritySJRA.
Source: San Jacinto River Authority