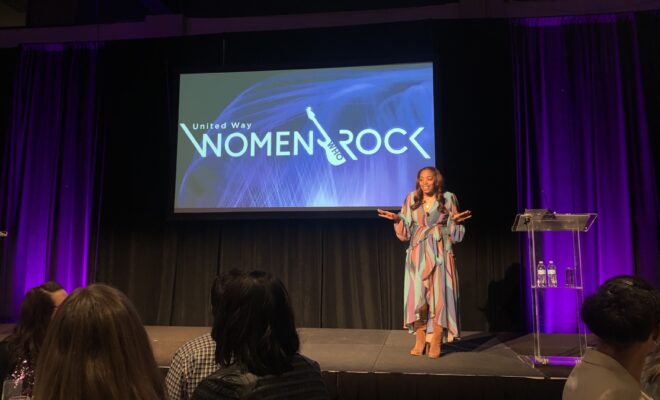 PHOTOGRAPHY BY TIFFANY MARASCIO, HELLO WOODLANDS
Events
United Way of Greater Houston Holds Annual Fundraiser for Women Who Rock Scholarship Program
By |
United Way of Greater Houston held its annual Women Who Rock fundraiser March 4, 2022 at The Woodlands Waterway Marriott Hotel & Convention Center. The event helps raise funds for scholarships through the Women Who Rock Child Care Scholarship, which underwrites child care and resources for deserving young parents who are committed to pursuing post-secondary education. Recipients of this scholarship receive financial coaching through a partnership with United Way THRIVE and The Women's Resource Center.
View photos from the event taken by Tiffany Marascio on the Hello Woodlands Facebook page below and HERE.
The event celebrated the women who earned the scholarships and the community that has supported them. Guests were encouraged to dress for the event in rock-inspired outfits, to reflect the theme of "Women Who Rock." Over 600 guests were in attendance.
Attendees were able to hear from some of the scholarship recipients about how the scholarships have transformed their lives.
The Keynote Speaker, business and life coach Retha Nichole, spoke on the theme "One Woman Can Make a Difference, Together We Can Rock the World." She inspired and encouraged the crowd to be a part of the community by reaching out to take care of each other, as the scholarships have taken care of the recipients.
Learn more about United of Way Greater Houston here: www.unitedwayhouston.org.
Learn more about the scholarship program here: www.unitedwayhouston.org/montgomery/strategic-initiatives.