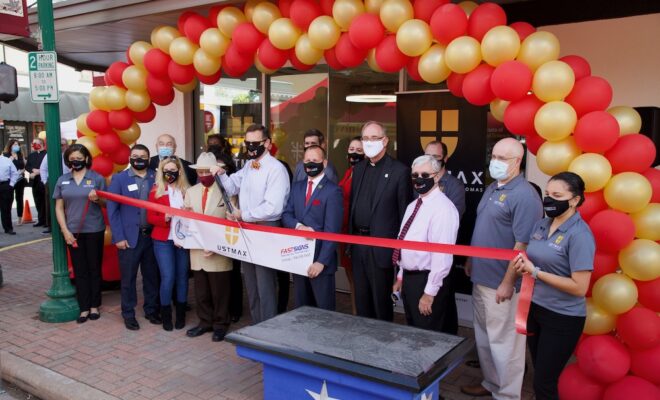 Photo by Rod Prado, Hello Woodlands
News
University of St. Thomas opens Micro-Campus in Conroe
By |
University of St. Thomas Houston cut the ribbon, opening a micro-campus in the heart of Conroe, Texas, on Tuesday, October 20. The storefront USTMAX Center is located on the downtown square at 336 N. Main Street.
This innovative facility, named after Patron Saint of Innovation Maximillian Kolbe will serve the higher education needs of the residents of Montgomery County.
Watch the video of the ribbon cutting event below:
Videography by Rod Prado, Edited by Jennifer Bruse of Hello Woodlands
View photos taken at the event on our Facebook page and below:
Photography by Rod Prado, Hello Woodlands
UST and Conroe Celebrate UST's Arrival
The festive event included music, food, dignitaries, donors, business people from Conroe and The Woodlands, the media, balloons and Lenny, the UST spirited lion mascot, arriving in a horse-drawn carriage to interrupt the festivities. Guests received tours, and the building was blessed by the UST Chaplain Fr. Paul English.
Also on hand was Carla E. Alsandor, PhD., who serves as the USTMAX Center interim director. With her was recruiting coordinator and Conroe resident Brenda Banegas.
"University of St. Thomas is proud to be Montgomery County's only private, four-year university," UST President Richard Ludwick said. "Conroe is the fasting growing city in Texas. We want to be a part of that growth and support further expansion of the region's economic base. By providing educational opportunities, UST will help community members and businesses to grow and thrive.
"We listened and heard that there is demand for nursing and cybersecurity education, as well as a growing interest in business-related programs. We offer all of these and more at USTMAX Center. At present, we make available 14 degree programs and three certificate programs. We will continue to add online opportunities and, by listening to community members, develop custom academic options to suit their needs."
UST Offers Free Spring 2021 Tuition for Technology Associate Degrees
As a gift to the Montgomery county students and parents, Dr. Ludwick announced that the spring 2021 tuition for associate's degrees in cybersecurity, network technology and electronic technology will be FREE to new students.
A Dream Come True
The dream of a campus in Conroe jumped to life when Conroe officials including the late mayor Toby Powell and City Councilman Jody Czajkoski invited UST to explore opening the Catholic college in their booming town dubbed miracle city. That invitation was the beginning of a journey to provide affordable and accessible education to prospective students in that area. A UST alumnus, Vince D'Amico '52 donated Conroe land to UST for the endeavor.
Already off to a great start, UST offered its first degree, an Accelerated Bachelor of Science in Nursing degree this summer at a state-of-the-art lab facility in Shenandoah, Texas.
To learn more about the USTMAX Center, go to stthom.edu/MAXcenter.
Source: University of St. Thomas