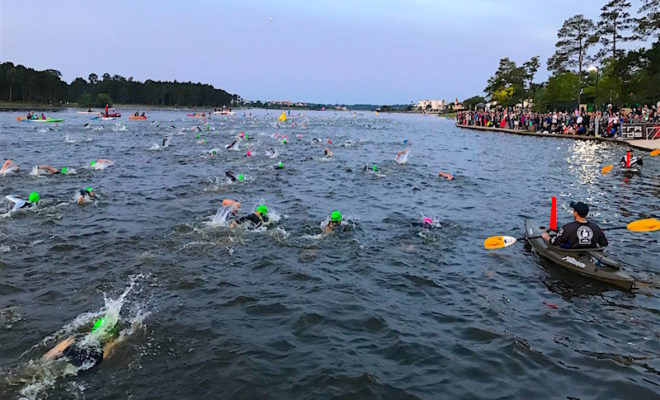 Fitness & Sports
UPDATES: IRONMAN North American Championship Texas in The Woodlands
By |
The Memorial Hermann IRONMAN North American Championship is currently underway in The Woodlands this Saturday, April 28, 2018.
Nearly 3,000 athletes from 50 countries, ages 18 to 78 years old are participating the triathlon that started at 6:25 a.m. with a 2.4-mile swim in Lake Woodlands, beginning at North Shore Park and ending in the canal at Town Green Park.
Watch the Hello Woodlands LIVE broadcast:
Highlights from the beginning of the race:
The 112 mile bike course navigates through The Woodlands, then enters into Northern Harris County where athletes travel two loops on the Hardy Toll Road.
Watch as athletes transitioned from the swim to the bike course at Town Green Park:
The day ends with a 26.2-mile run taking place entirely within The Woodlands and concluding with a spectacular finish on Waterway Ave.
LIVE Broadcast as the first pro athletes cross the finish line:

Matt Hanson won the 2018 Memorial Hermann IRONMAN Texas North American Championship in a time of 7:39.25.

Melissa Hauschildt is the women's 2018 Memorial Hermann IRONMAN North American Champion.
Competitors have 17 hours after the final swim wave begins. View Course Maps
The Memorial Hermann IRONMAN® North American Championship Texas triathlon offers a $150,000 professional prize purse and 80 age-group qualifying slots for the 2018 IRONMAN World Championship, taking place in Kailua-Kona, Hawai'i.
Roads in and around The Woodlands, Texas will be impacted starting as early as Saturday, April 28 at 7 a.m. View Traffic Impact and Routes
Follow Hello Woodlands at @HelloWoodlands on Facebook, Instagram and Twitter for live videos and photos from the race!