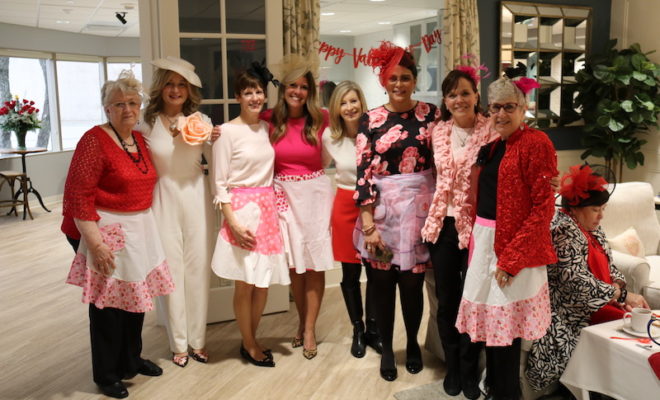 Calendar
Valentine's Day Tea for Cancer Patients
By |
At Canopy, a cancer survivorship center at Memorial Hermann The Woodlands Medical Center, volunteers came together to host the 2nd Annual Valentine's Day High Tea for guests who are currently battling cancer and cancer survivors on February 14, 2018.
Ladies came to the event dressed in High Tea fashion and enjoyed a proper English tea complete with sandwiches, scones, cakes, and delights. The event was a special time for cancer patients and survivors to come together, share their stories, and support each other during their battle and survivorship.
Patti Jorgensen, co-chair of the event, shared, "Valentine's Day can be a lonely day for a lot of people. We wanted to make sure everyone felt loved, especially after going through so much. After attending last year's event, many have been excited about Canopy's 2nd Annual Valentine's Day Tea. The tea was something that together they could look forward to, enjoy buying a new hat, and spend a day with their friends. It's a wonderful way to support each other and know that no one is alone in this journey."
View photos from the event on the Hello Woodlands Facebook page!
Canopy is the first-of-its-kind cancer survivorship center in Montgomery County that offers a wide variety of programs and services to address the emotional, physical and social needs of those touched by cancer. As a caring community of hope, healing and empowerment, Canopy enhances the quality of life for individuals affected by cancer and for those who support them during their journeys.
Learn more about Canopy by visiting www.woodlandscanopy.org.