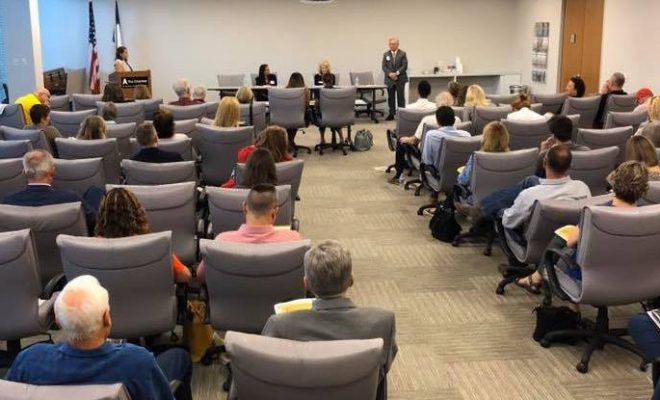 News
VIDEO: The Woodlands Township Candidate Forum
By |
The Woodlands Area Chamber of Commerce's Business Advocacy Council hosted a candidate forum for the 2019 race on Tuesday, October 15, 2019 from 4-6 p.m. at the Chamber's Lakeshore Boardroom, located at 9320 Lakeside Blvd. in The Woodlands.
Three at-large positions on The Woodlands Township Board of Directors will be elected in the November 5, 2019 election, designated as positions 5, 6 and 7.
Watch the video of the forum on the Hello Woodlands YouTube Channel below:
Candidates in Ballot Order
Ballot positions for candidates who have filed are as follows:
Position #5:
Rashmi Gupta
Walter Cooke
Shelley Sekula-Gibbs
Position #6:
Alan Richel
Ann K. Snyder
Louis Granados
Tom Chumbley
Position #7:
Bob Milner
David Cassidy
Walt Lisiewski
Andy DuBois
Each office carries a two-year term and all three positions are elected at large by voters in The Woodlands Township in both Montgomery and Harris County. Visit the township's website. 
Voting Eligibility
To vote in The Woodlands Township election, you must be a registered voter in the county of your residence and a resident of The Woodlands Township.
Early voting begins October 21, 2019. Find your polling place and a sample ballot at MontgomeryVotes.org