People
Volunteers from Local Nonprofits Honored at Women of Distinction Luncheon
By |
THE WOODLANDS, TX — Montgomery County Women's Council of Organizations (MCWCO) board of directors hosted more than 400 people at its annual Women of Distinction luncheon on Friday, May 3, 2019, at The Woodlands Waterway Marriott hotel.
Known by its name "Women of Distinction," the luncheon honors designated, extraordinary volunteers in the community for various nonprofits within Montgomery County. In its 29th year, the event rightfully celebrated 29 distinguished volunteers. The 2019 Women of Distinction honorees are:
Betty Byrd, Montgomery County Republican Women's Club
Brittney Bates, Montgomery County Women's Center
Carol Brushwood, Cypress Woodlands Junior Forum
Carolyn Gray, Women Inspiring Supporting Entrepreneurs
Cindy Hardin, The Woodlands Arts Council
Dawn Candy, Montgomery County Association of Business Women
Deborah Butler, The Pavilion Partners
Donna Stedman, Henry's Home Horse and Human Sanctuary
Edna Asare, Children's Books on Wheels
Elvira Graham, Interfaith of The Woodlands
Jennifer Colerick, Junior League of The Woodlands, Inc.
Karla LaFitte, National Charity League The Woodlands Chapter

Katie Gillespie, Love Fosters Hope
Laura Everson, Montgomery County Youth Services – YES to YOUTH
Layne Carrell, The Woodlands Republican Women
Lindsey Wiegand Lackey, Executive Women's Alliance
Lois Clarke, Memorial Hermann The Woodlands Medical Center Auxiliary
Louise Phillips, Pregnancy Assistance Center North
Maggie McPherson Marmack, Faith Fighting Cancer
Meagan Jamaluddin, New Danville
Melissa Young, Leadership Montgomery County
Olimpia Petzold-Rodriguez, Canopy at Memorial Hermann The Woodlands Medical Center
Rebecca Schneider, The Woodlands Methodist School
Roseanne Ganley, Interfaith Community Clinic
Ryan Mathes, Rotary Club on The Woodlands
Susan Mack, The Breast Cancer Charities of America
Teresa Starr, The Woodlands Charities
Theresa Wagaman, National Charity League, Bluebonnet Chapter
Vanjia Thomas, Community Assistance Center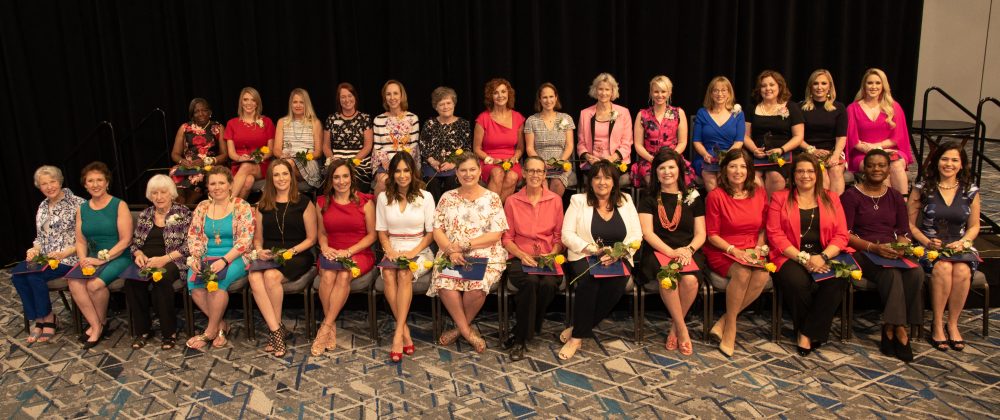 The luncheon including a special speaking presentation from Gigi Woodruff of YMCA of the USA as well as owner of Gigi Woodruff & Associates where she uplifted attendees with a motivational speech about the importance of volunteerism.
Woodruff is recognized for her ability to engage an audience in dialogue and collaborative learning. Currently serving as the Senior Leadership Development Manager for the Talent and Knowledge Management Department at the YMCA of the USA, Gigi focuses her attention on developing executive and volunteer development initiatives that advance a leader's competence and confidence as they navigate the growing complexity and uncertainty of today's business environment.
The Women of Distinction luncheon was formed in 1990 to bring light to the volunteer community. Local 501(c)(3) nonprofit organizations operating in Montgomery County can become a member of MCWCO. Each year the member organizations gather to honor their "Women of Distinction." She is recognized for the numerous hours, unyielding commitment and loyal dedication she has provided their agency.
For more information about the Women of Distinction luncheon and the Montgomery County Women's Council of Organizations (MCWCO), please visit www.mcwod.org.
Montgomery County Women's Council of Organizations serves nonprofit organizations by providing a forum for agencies to network and update each other regarding services and resources. Find our more on the website, www.mcwod.org, or connect with MCWCO on Facebook at www.facebook.com/mocowod.