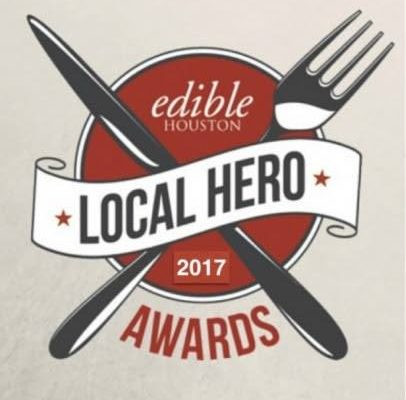 Food & Drink
Vote For Your Local Food Heroes
By |
Who is your local hero? Edible Houston is asking locals to cast their vote online for their favorite food or farming organizations and businesses serving the Greater Houston area.
Edible Houston is an independently owned, community-based bi-monthly publication with a mission to celebrate the seasonal, local food and culture of the greater Houston region through insightful stories, source guides, seasonal recipes and edible events. Edible Houston's annual Local Hero Awards are "people's choice" awards, nominated and voted on by supporters and readers, one vote per email address. The awards were created in order recognize the hard work of our local favorite food and farming organizations and businesses have put into championing farm fresh, locally-produced food in the greater Houston area.
From nearly 700 nominations across the greater Houston area have been narrowed down to 43 nominees that online users can vote for their favorites until  until February 15th. Awards will be granted in the following categories:
Farm
Farmers Market
Farmers Market Vendor
Chef
Mixologist or Sommelier
Restaurant
Food Truck
Food Shop Specialty
Food Artisan
Beverage Artisan (alcoholic)
Beverage Artisan (non-alcoholic)
Non-Profit Food Organization
Food Writer
Two of the nominees include local favorites, Falacos Food Truck and Hot Line Pepper Products.
Voting for the Edible Houston 2017 Local Hero Awards starts Wednesday, January 11th and ends on Wednesday, February 15th. Visit the main event page and read more details about the nominees in each category: https://ediblehouston.ediblecommunities.com/food-thought/get-out-vote-vote-your-local-heroes
Winners will be invited to the annual awards ceremony to be held on Wednesday, March 1, 2017 at Prohibition Supperclub & Bar and will highlight each winner in one of their upcoming 2017 issues. Every year edible Houston also works with local artists to design custom awards for the winners, and give them to recipients during the ceremony.