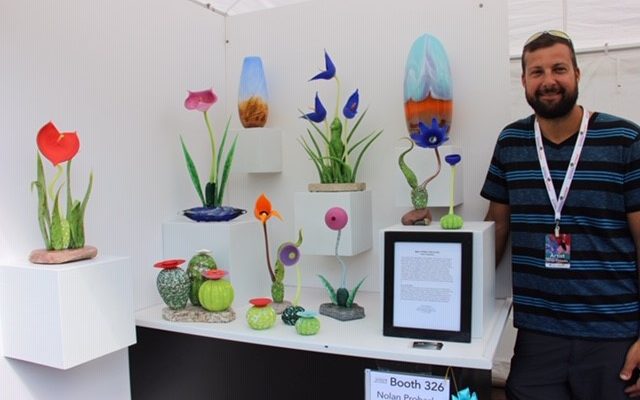 Art & Culture
Waterway Arts Fest to Feature Natural Wonders in Glass by Artist Nolan Prohaska
By |
THE WOODLANDS, TX – Glass Artist Nolan Prohaska, chosen as the Featured Artist for the 2019 Woodlands Waterway Arts Festival, will display his colorful, natural wonders at the Festival, set for the weekend of April 13 and 14 along The Woodlands Waterway and in Town Green Park. Nolan's work was selected at the 2018 Festival to represent the highest quality of work among over 200 fine artists who are juried into the event each year. His glass creations appear on the advertising and marketing for the 2019 Festival.
In the Artist Statement on his website, DanceWither Glassworks, Nolan says that he has always been fascinated by the outdoors, a love that was nurtured by his family. Upon entering the University of Wisconsin River Falls in 1997, he was pursuing a degree in horticulture with a minor in liberal arts. During his sophomore year, he found himself in an introductory course for glass and discovered that he had a talent for working with the material. His pieces lean toward the natural world, and are heavily influenced by his surrounding environments.
From that early foray into glass design, he has been a successful glass artist for more than 13 years. "I enjoy connecting indoor spaces with the outdoors by creating pieces inspired by desert sunrises, waterscapes and beautiful plants and flowers," Nolan says. "Utilizing both blown and solid working techniques, I create intricately assembled structures. I also create vessels in a variety of shapes, inspired by landscapes and seascapes," he continues. "In either case, all my pieces of glass become a reflection of my awe toward the natural world around us."
"Nolan Prohaska's original glass art is a "must see" at the Festival this year," said Artist Relations Coordinator Sally Richard. "His process and the unique forms he designs are truly a testament to his artistic vision and technique. The vibrant colors and intricate shapes make Nolan's art extremely appealing to those who appreciate and value fine art."
To purchase tickets for the 2019 Woodlands Waterway Arts Festival, visit www.thewoodlandsartscouncil.org.
The continued success of The Woodlands Waterway Arts Festival is made possible by the generous support of our anchor sponsors: The Woodlands Development Company, a division of The Howard Hughes Corporation; Stella Artois, the official beer of the Festival, and Visit The Woodlands.
Photo caption: 2019 Featured Artist Nolan Prohaska creates wonders of nature in glass. His intricate and colorful sculptures will be on display at the 2019 Woodlands Waterway Arts Festival April 13 and 14. To purchase tickets, go to www.thewoodlandsartscouncil.org. For more information about Nolan and his work, visit www.dancewitherglassworks.com.
The Woodlands Arts Council provides regional cultural and educational enrichment opportunities that encourage, support and promote the performing and visual arts in our community. From the award-winning Woodlands Waterway Arts Festival to the year-round community and educational outreach programs of Because Art Matters, the council has one primary goal….making our community better, Because Art Matters!