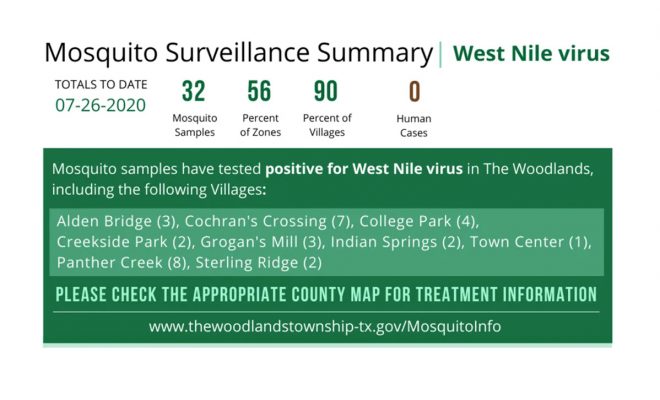 News
West Nile Virus Mosquito Surveillance Update
By |
THE WOODLANDS, TX – On July 29, 2020, The Woodlands Township Environmental Services Department released an update of the number of mosquitoes that have tested positive for West Nile Virus (WNV) as of July 26, 2020.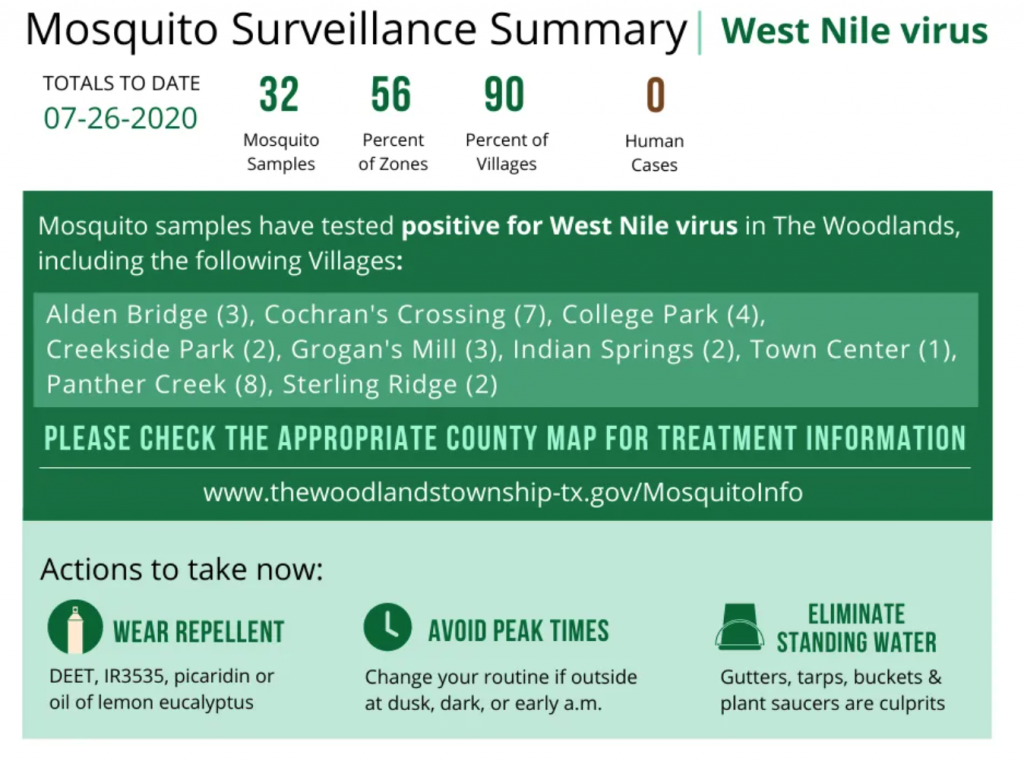 The Woodlands Township Mosquito Surveillance Program indicates disease activity in over half (56%) of zones and 9 of 10 Villages returning a mosquito sample positive for WNV out of the 32 samples taken. There have been no human cases reported in The Woodlands to date.
The following are the results for each Village:
Alden Bridge – 3
Cochran's Crossing – 7
College Park – 4
Creekside Park – 2
Grogan's Mill – 3
Indian Springs – 2
Town Center – 1
Panther Creek – 8
Sterling Ridge – 2
The Township recommends several personal protective measures, including:
Wear repellent when outdoors when West Nile virus is known to be circulating. There are special considerations for children – see this Parents Guide to Repellent. Repellent is especially important if someone: 

Is outside in the early morning or evening hours when mosquitoes are most active
Is over age 50
Has underlying health conditions  
The mosquitoes that carry WNV are more active at dusk, dark, and the early dawn hours. Consider changing your routine if you are normally outdoors during these times, or create a barrier by covering up skin with long sleeves and pants. 
"Drain after Rain" to deny mosquitoes a place to lay their eggs and reproduce. Empty out water that accumulates in toys, tires, trash cans, buckets, clogged rain gutters, and plant pots.  
Treat water you do keep – in bird baths, rain barrels, and ponds – with non-toxic Mosquito Dunks®. Cheap, easy, and safe for pets and wildlife, you can find them at your local hardware store.  
Backyard and Patio Measures
Use an oscillating fan while outdoors (overhead fans are not effective at keeping mosquitoes away)
Keep french drains and meter boxes clean and free of standing water
Consider using rain barrels and creating a rain garden in your yard
Use liquid garlic concentrate diluted with water and apply with a pump sprayer to plants and structures around the perimeter of your yard
Water landscape deeply and infrequently – an inch a week is enough
The mosquito treatment map and schedule is available for the following local areas:
South Montgomery County map and information is available here
Harris County map and information is available here
To report a problem area or to request more information, contact the Environmental Services Department at enviro@thewoodlandstownship-tx.gov or call 281-210-3800. 
Sources: The Woodlands Township Environmental Services Dept., The Woodlands Township's Guide to Reducing Mosquitoes