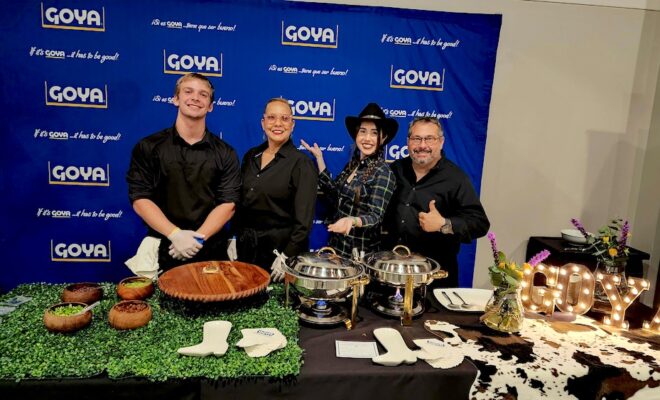 Photo Credit: Nick Rama
Food & Drink
Wine and Food Week hosts For the love of TEXAS! All Things Texans Love
By |
For the love of TEXAS! All Things Texans Love, part of Wine and Food Week, was held on Friday, June 10, 2022 at The Woodlands Waterway Marriott Hotel & Convention Center.
View photos from the event on the Hello Woodlands Facebook page and on Instagram:
Some of the favorite local restaurants to bring their best Texas-inspired bites were: Craft Grill, 3rd Coast BBQ & Catering, Killen's BBQ, Federal Grill – The Woodlands, Harlem Road Texas BBQ, Mandi Cocina Mexicana, Thistle Draftshop, Hearsay On The Waterway, Black Walnut Cafe and Bundt Cake-A-Holic to name a few.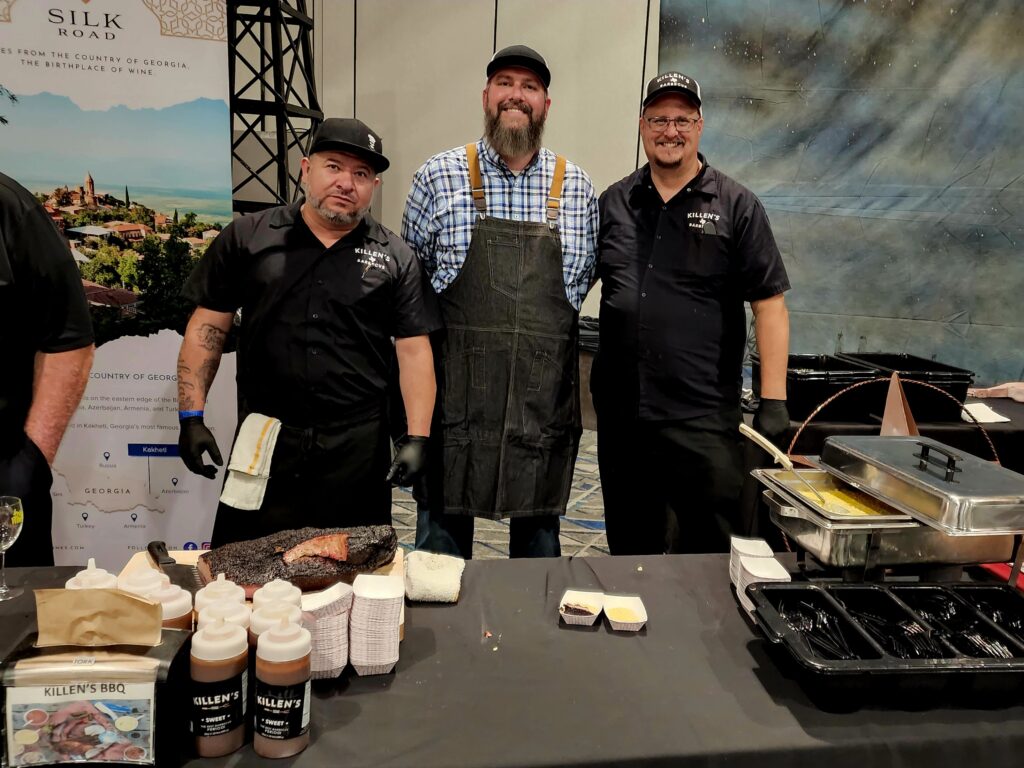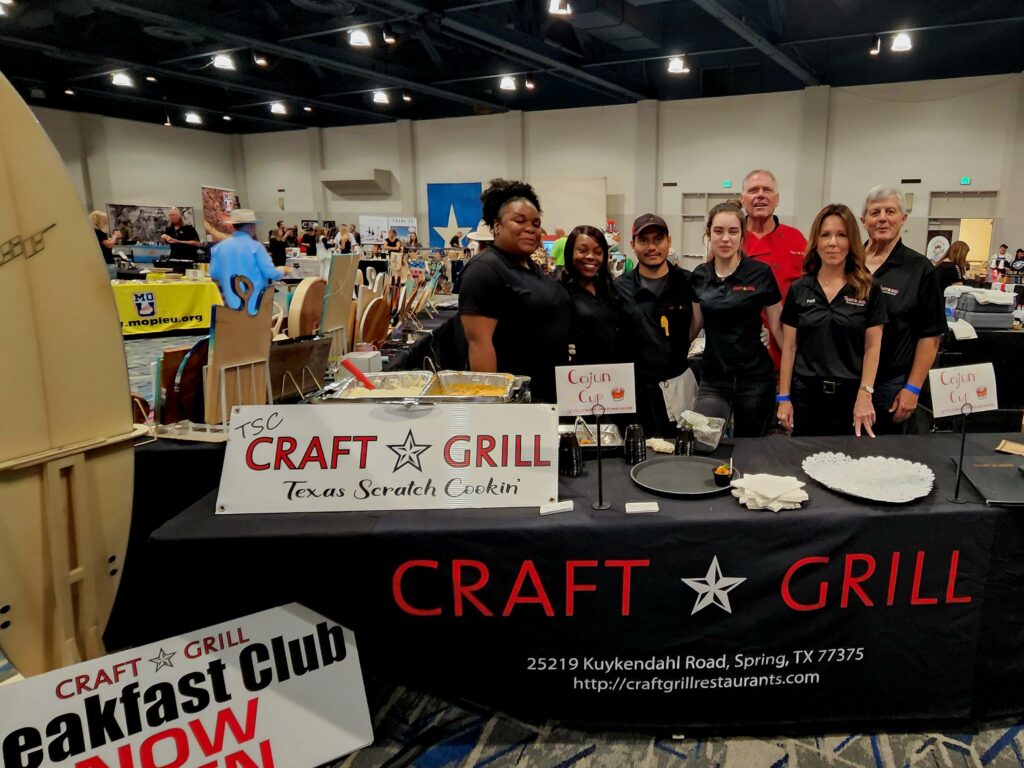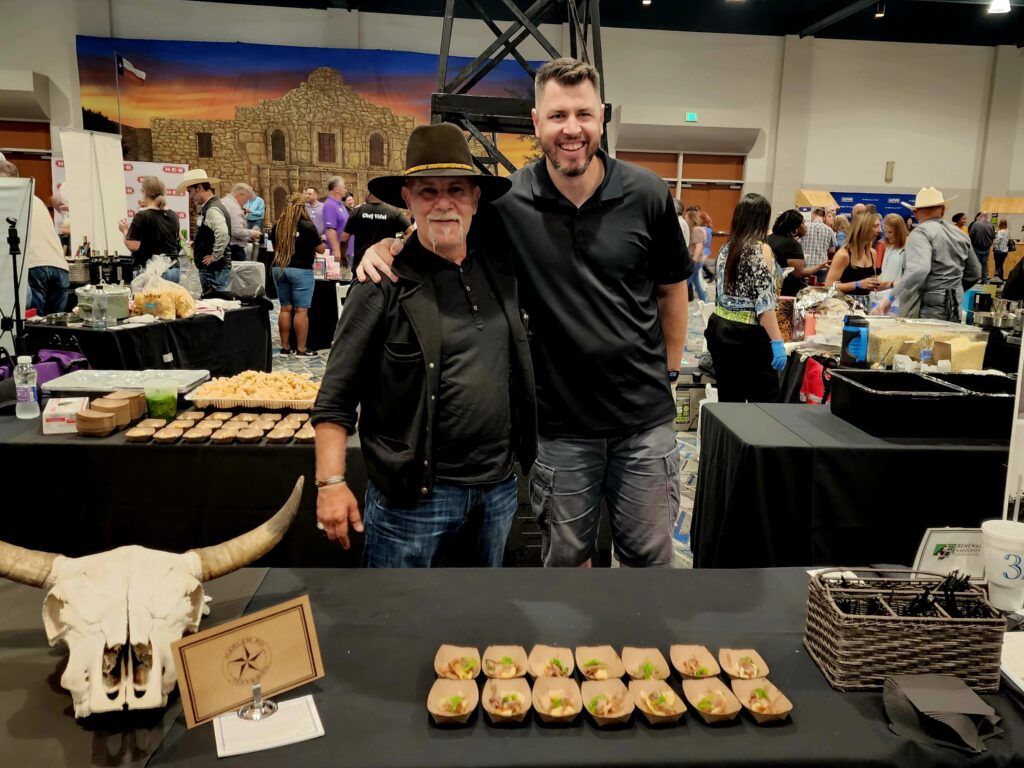 So many wonderful bites were sampled by all in attendance, from a Cajun Cup – with gouda grits, crawfish cream sauce and blackened shrimp from Craft Grill, to a variety of BBQ bites from 3rd Coast BBQ, Killen's BBQ, Harlem Road Texas BBQ and True Texas BBQ from HEB.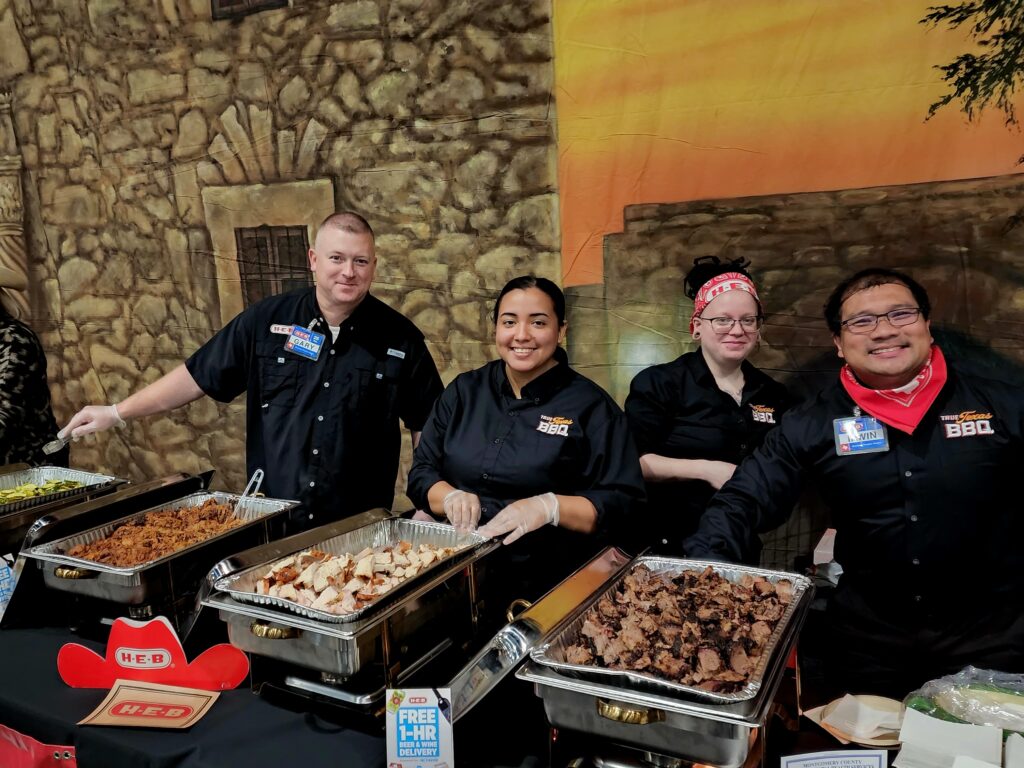 Tex-Mex bites such as crispy tacos, queso and chips from Escalante's Fine Tex-Mex and chicken fajita tacos from Fajita Pete's – The Woodlands / Conroe were enjoyed by all.
Bringing us South of the Border were Mexican bites from Mandi Cocina – Fresh ceviche and Cafe di Fiore – cactus Ceviche and macho shrimp. Kokomos – birria tacos and empanadas. Thistle Draftshop wowed the crowds with a Rodeo bite – Beer braised pork with bacon jam and house slaw on top of a pretzel crostini, Bacon jam made with chocolate, cold brew, habanero and Mole.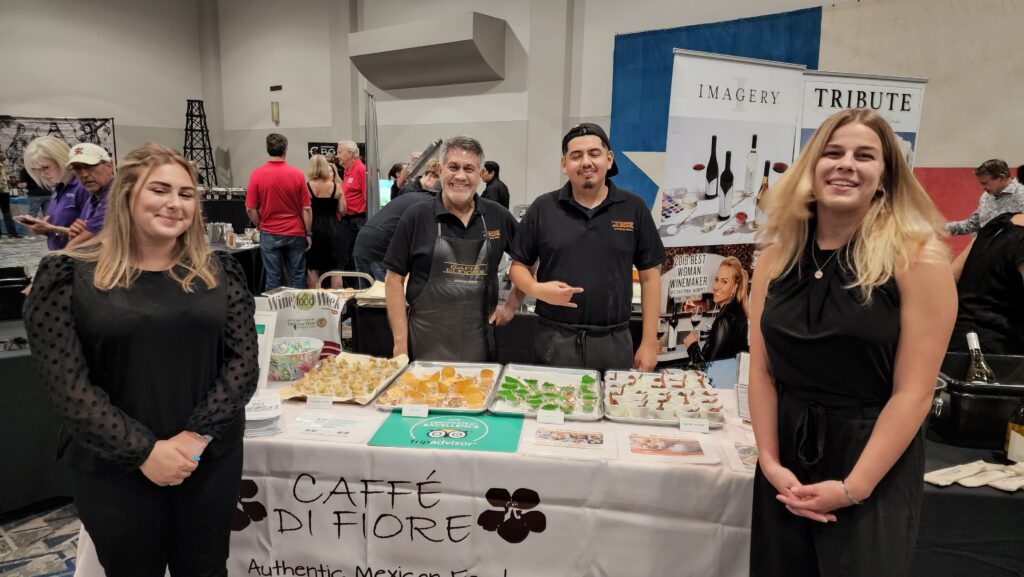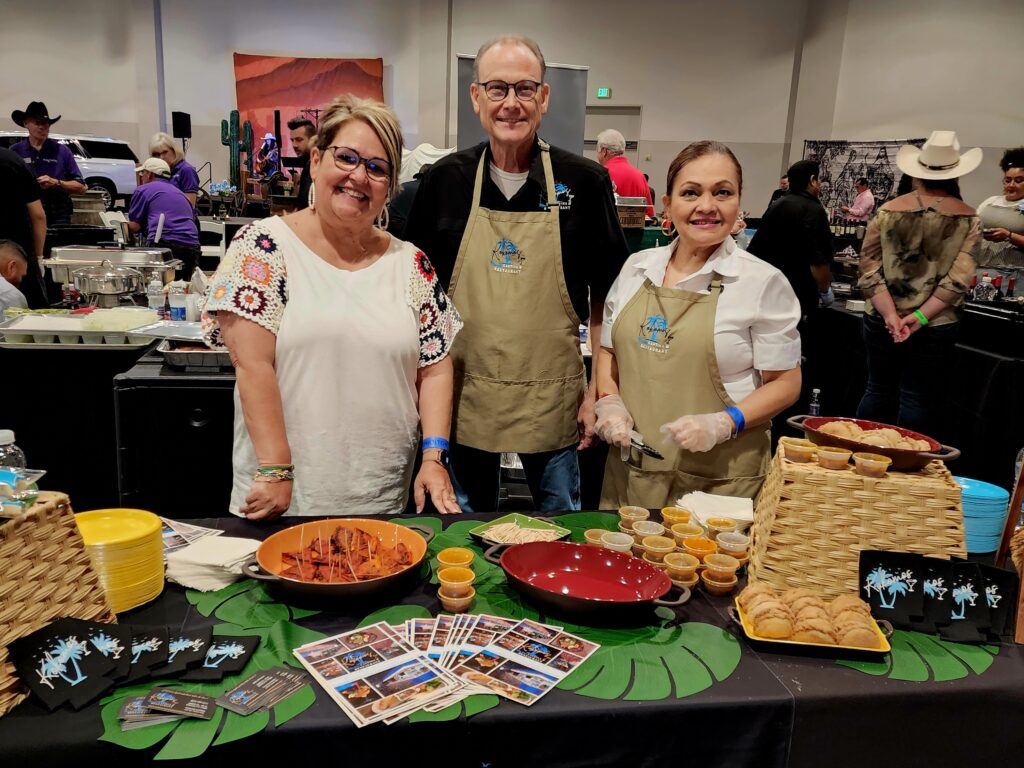 Texans love meat and were definitely not disappointed by Federal Grill who was smoking beef rib table-side that was served with truffle mac n cheese and a bone marrow bordelaise. Adding to the savory selections, Dosey Doe brought Pitmaster croquettes, and Black Walnut with wagyu meatballs.
Desserts were in full effect, HTX Nitro Creamery was on site making liquid nitrogen ice cream and Dragon Kisses, made from liquid nitrogen meringues. Pop one in your mouth and your breath looks like a smoking dragon. Bundt Cake-A-Holic had Peach Mimosa alcoholic infused cakes. Whisky Cake served up samples of their namesake. MO U served up Bourbon Chocolate Pecan Pie.
Wines, Champagne, Tequila, Margaritas, Beer and even rum samples were around every corner. Live music stage, an Alamo backdrop, chuck wagons, and even a cowboy / cowgirl hat vendor.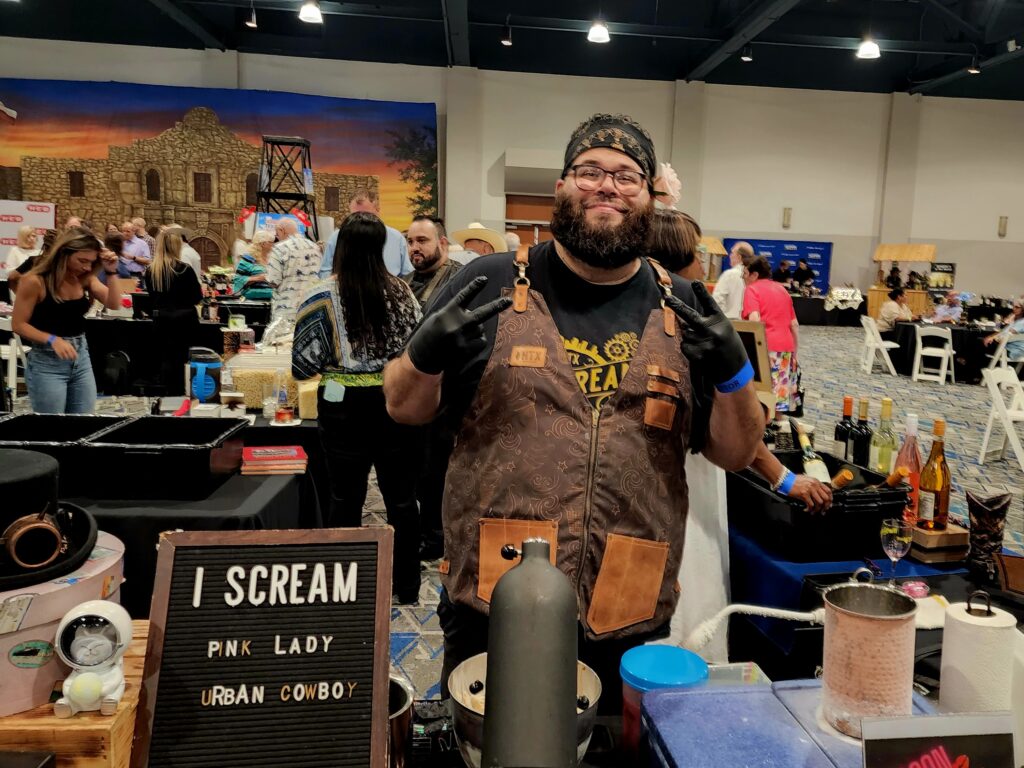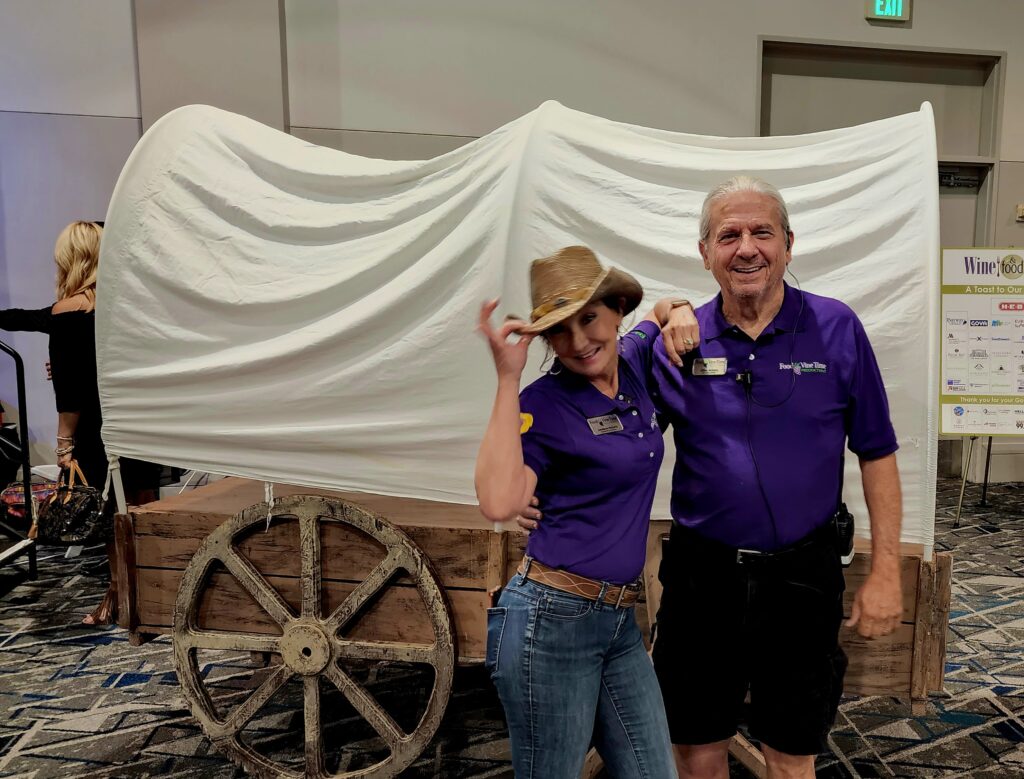 Other participating restaurants and bites from Aruba, Bloody Revolution – Gourmet Bloody Mary Mixes and Goode Company Fish Camp. Clifton and Constance of Food & Vine Time Productions were the social butterflies of the event, who put on this event in such a great way to celebrate our great state.
Learn more about Wine & Food Week and purchase tickets at WineandFoodWeek.com/events
Nick Rama is a food writer, contributor of Hello Woodlands, and shares his restaurant experiences on Nick's Local Eats at NicksLocalEats.com and the TX BBQ, Burgers and Brew Facebook page. Nick enjoys helping the small business owner, supporting his community with fundraising for food banks, and plans tasting events with locally owned mom and pop restaurants.