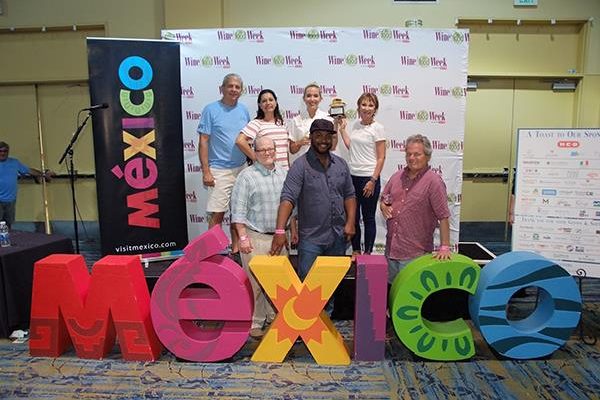 Food & Drink
Wine and Food Week Schedule and Ticket Giveaway
By |
The 2018 Wine and Food Week is just around the corner with events happening throughout The Woodlands on Tuesday, June 5 through Sunday, June 10. Learn more about the schedule of events and enter to win tickets to the upcoming Sips, Suds and Tacos event below!
For the full list of events and to purchase tickets, visit wineandfoodweek.com/events.
Wine and Food Week Schedule of Events
Tuesday, June 5   7 – 10:00 p.m.  It's A Guy Thing at The Woodlands Country Club The Palmer Course
It's what a man's man wants! Big bold wines and craft beer to satisfy every taste to wash down the delicious fare from featured restaurants.
Sit down for a shoe shine, puff on a cigar, while soaking in the live music and you've got the perfect "man's man" experience. Attendees can try their hand at poker and take their chances at winning fabulous door prizes. Guests should bring or wear their finest shoes or favorite boots and have them polished and shined while sitting back and relaxing. There are more surprises in store with door prizes and fun takeaways!
Cost: $25
Learn more
Wednesday, June 6   7-10 p.m.   Wine and Dine with Kirby's at Kirby's Prime Steakhouse
Join Kirby's Steakhouse, in The Woodlands, for an exciting wine dinner featuring Meeker Vineyards!
Cost: $125 all inclusive (tax and gratuity included)
Learn more
Thursday, June 7    5:30-8:30 p.m.   H-E-B Wine Walk at Market Street
There will be lots of fun to be had at this year's H-E-B Wine Walk at Market Street, as live music will have the crowds swinging and swaying while sipping on their favorite beverage. Attendees can grab a keepsake glass and enjoy an evening out with friends as Market Street is transformed into a wine walkabout with wine industry experts sharing their fruit of the vine.
The 34-acre Market Street becomes a festival-like atmosphere with guests enjoying wines from around the world, food sampling and demonstrations and an offering of Chef selections.
Upgraded VIP tickets offer the finest wines on Market Street before anyone else.
Participate in the John Cooper School Signature Series charity wine pull. You can be on of the lucky ones to take home a premium bottle of wine for a $10 donation. Everyone who participates in the wine pull gets a bottle of wine.
Two live music stages fill the air with lively entertainment. The Ben E. Keith Craft Beer Garden offers 80 indulgent selections for the most discriminating beer-loving palates.
Cost: $20, $75 for VIP
Learn more
Friday, June 8   6:00-9:00 p.m.    Sips, Suds & Tacos at The Woodlands Waterway Marriott Hotel & Convention Center
The doors open at 6:00 pm for wine and craft beer sampling and the aromatic tacos will rev up any appetite. At 6:30 pm, the tacos are served and then it's "game on" for the Taco Take-Down.  Guests will choose their favorite taco while the judges choose theirs and restaurants and chefs compete for the coveted Taco Takedown Trophy.
Attendees can enjoy ice cold craft brews or a choice from scores of wines; plus there's live music so the party doesn't stop when bellies are full. Dance the night away to the sounds of an energetic mariachi band through 9:00 pm.
Each guest ticket includes entrance into the event, high energy music, tacos from competing chefs, interactive activities and wine and beer samples.
Cost: $25 includes some of the best tacos in town and wet your whistle with beer and wine. Your ticket includes: Tacos from competing chefs, wine and beer samples, live music and more. $25 + Online Convenience Fee: $2.95 + tax
Learn more
TICKET GIVEAWAY
Hello Woodlands is giving away 4 Tickets to Sips, Suds & Tacos Friday, June 8th from 6-9 pm at The Woodlands Waterway Marriott Hotel & Convention Center. Enter to WIN 4 Tickets to enjoy the event by simply entering your name and email address below and click "Enter" by Thursday, May 31, 2018 at 11:59pm CST. Must be age 21 and up to enter. One winner will be selected, contacted by email, and receive 4 tickets to the wine walk. Good luck!
***The contest is now CLOSED! Congratulations to Vene C, the winner of our Sips, Suds & Tacos ticket giveaway. Stay tuned for more exciting updates and ticket giveaways by signing up for our email newsletter and following @HelloWoodlands on Facebook, Twitter, and Instagram.***
Saturday, June 9   4:30-10:00 p.m.   Platinum Wine Vault Collectors Tasting
An exclusive tasting where participants mix and mingle with experts well-versed in the finest of wines. A luxurious affair with highly acclaimed wines for discriminating collectors and enthusiasts.
Each participant receives a premium keepsake wine glass and rubs elbows with visiting special guests and experts. $250 per person entry fee includes access into the Platinum Wine Vault, the Wine Rendezvous Grand Tasting, the "Mercedes-Benz of The Woodlands Luxury VIP Lounge" and the opportunity to mix and mingle with special guests. The Platinum Wine Vault closes promptly at 6:30 pm. The Wine Rendezvous Grand Tasting & Chef Showcase begins at 7:00 pm.
Cost: $250 includes entrance into the Grand Tasting with access to the Premium Lounge starting at 7 pm.
Saturday, June 9    7:00-10:00 p.m.   The Wine Rendezvous Grand Tasting & Chef Showcase at The Woodlands Waterway Marriott Hotel & Convention Center
Tabbed as one of the most spectacular wine and culinary events in the country, the "Wine Rendezvous Grand Tasting & Chef Showcase," presents guests with the opportunity to slip into their finest threads and be in the company of serious wine enthusiasts and outstanding culinary talent.
It all takes place within the glistening atmosphere of The Woodlands Waterway Marriott Hotel and Convention Center which provides the ultimate experience of elegance and charm. The Chef Battle is for the $5,000 cash prize and the coveted Waterford Crystal Chef of Chefs award trophy. Sixty accomplished Chefs from near and far are personally invited to showcase their talents for the attending guests and esteemed judges as they bring their best and take out all the stops.
Guests can enjoy chef demonstrations, over 500 wines and food from 60 restaurants. The Champagne Cove will greet patrons upon arrival and offer an array of sparkling selections to start their experience. Finish a fabulous evening on a sweet note with desserts by renowned pastry chefs vying for the "Just Desserts" Award. Enjoy selections of confectionery perfection as the night's dessert extraordinaire is crowned.
A limited number of upgrades are available into the Mercedes-Benz VIP Experience, stocked full of premium wine selections not available on the general tasting floor. Guests of the Mercedes-Benz Lounge will rub elbows with the Wine & Food Week's special guests, winemakers, culinary judges and authors while enjoying créme de la créme wine selections in their upgraded keepsake glass.
Cost: $125 includes 500+ wines, live action preparations by accomplished Chefs, charity auction and a sweet ending to the evening in the "Just Desserts" Zone. $125 + Online Convenience Fee: $6.35 + tax
Learn more
Join us for the 2018 Wine and Food Week in The Woodlands! Learn more about the week of events and purchase tickets at wineandfoodweek.com.