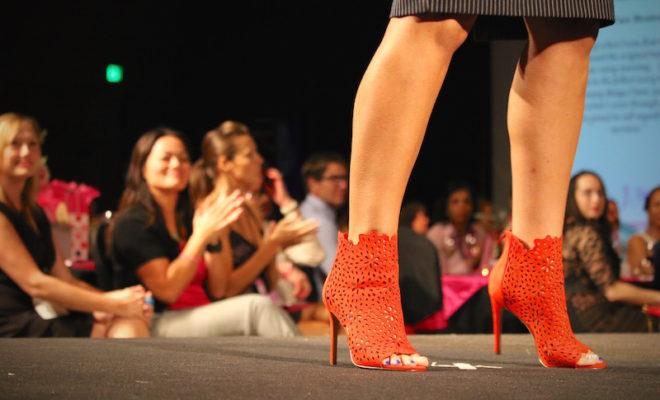 Photo by Hello Woodlands
Calendar
Fashion and Fun at iGoPink's Wine Women & Shoes Fall Fundraiser
By |
Hundreds gathered together on Thursday, September 29th at The Woodlands Waterway Marriott for a night of fashion, wine, and fun for a great cause! The third annual Wine Women & Shoes Houston, presented by EXIT Lone Star Realty and benefiting The Breast Cancer Charities of America, was a great success and an evening to remember.
Upon arriving to the grand event, Maseratis from Northside Maserati and the "Pink Lady", aka the iGoPink SUV, greeted guests in the valet drive through before checking in to claim their passes. Attendees then got to walk on a pink carpet, strike a pose with Mindy Harmon Photography, and visit with vendors in the lobby before entering the main ballroom and grabbing a wine glass.
After stopping for wine tasting was provided by CHLOE Wine, guests had the opportunity to shop from local vendors and boutiques, Dillard's, Kendra Scott, LUCHO, Rhinestone Leopard, Armarillo de la Bella, Magnolia Mey, and Marmi. While shopping and sipping, many purchased raffle tickets or in this case keys to "Key to the Closet", where one lucky woman will win a closet worth $5,000, plus bid on the silent auction and enjoy Sip & Sparkle station with Kendra Scott.
Guests took their seats at pink tables with fabulous flower arrangements provided by H-E-B as the show kicked off with a live auction with Katie Holditch of Blo Blow Dry Bar. Erica Johnson, executive director of The Breast Cancer Charities of America, then shared an emotional testimonial video by Stephanne Davenport, County Treasurer at Montgomery County and breast cancer survivor, and thanked the crowd on making a difference in the lives of breast cancer patients in our community and across the country.
The event featured a New York style runaway and the crowd cheered as Breast Cancer Survivors walked the runway in the latest fall fashions by Dillard's, Kendra Scott, and LUCHO. Awards for the "Best in Shoe" and "King of Sole" were announced before the Shoe Guys took to the stage, tossing beads, rings, and tokens to the audience in the grand finale.
Learn more about the event and view photos on the Hello Woodlands Facebook page!
The Breast Cancer Charities of America was grateful for all of their event sponsors, which include: Maserati, CHLOE Wine, Tiff's Treats, H-E-B, Dr. Lind Plastic Surgery, Stephens & Gatewood Associates Dentistry, Woodforest National Bank, The Woodlands Compounding Pharmacy, Pinnacle Insurance, Avanti Senior Living, Four Seasons Veterinary Hospital, Massage Heights Panther Creek & Spring Creek, KINKY® Cocktails, 1960 Family Practice, The Woodlands Waterway Marriott, Morgan Stanley, Shag Salon, Style Revival, Kendra Scott, LUCHO, Rhinestone Leopard, Armarillo de la Bella, Magnolia Mey, Marmi, DJ Hollywood Steve, Mindy Harmon, My Wallet My Style, Tara Flannery Photography, J Stacy Photography, Woodlands Photo Co., AGB Videography, SpeedPro Imaging, The Woodlands Lifestyles & Home, PKWY Magazine, PR Luxury Media/reviewit.Flair.Vida Social Magazines, Woodlands Monocle, The Woodlands Journal, Hello Woodlands, Woodlands Online, FOX 26, WoodlandsHits.com, and KSTAR Country Radio.
The Breast Cancer Charities of America (BCCA) is a non-profit organization with new global headquarters in The Woodlands, Texas.  BCCA is dedicated to educating and empowering women to prevent and survive breast cancer.  Through their numerous program services and resources, BCCA is able to partner with over 450 hospitals nationwide to serve women.
To find out more information visit: www.iGoPink.org