Photo Credit: Memorial Hermann
Health
Woodforest Bank Community Terrace at new patient South Tower at Memorial Hermann The Woodlands to open June 2022
By |
THE WOODLANDS, TX (Dec. 9, 2021) – Leaders with Woodforest National Bank and Memorial Hermann The Woodlands Medical Center came together to celebrate the naming of the Woodforest Bank Community Terrace at the new patient South Tower at Memorial Hermann The Woodlands, scheduled to open in June 2022. The event took place on November 15, 2021.
The terrace is named in recognition of the generous $500,000 gift Woodforest National Bank made to Memorial Hermann The Woodlands to enhance patient care for the residents of this community and beyond.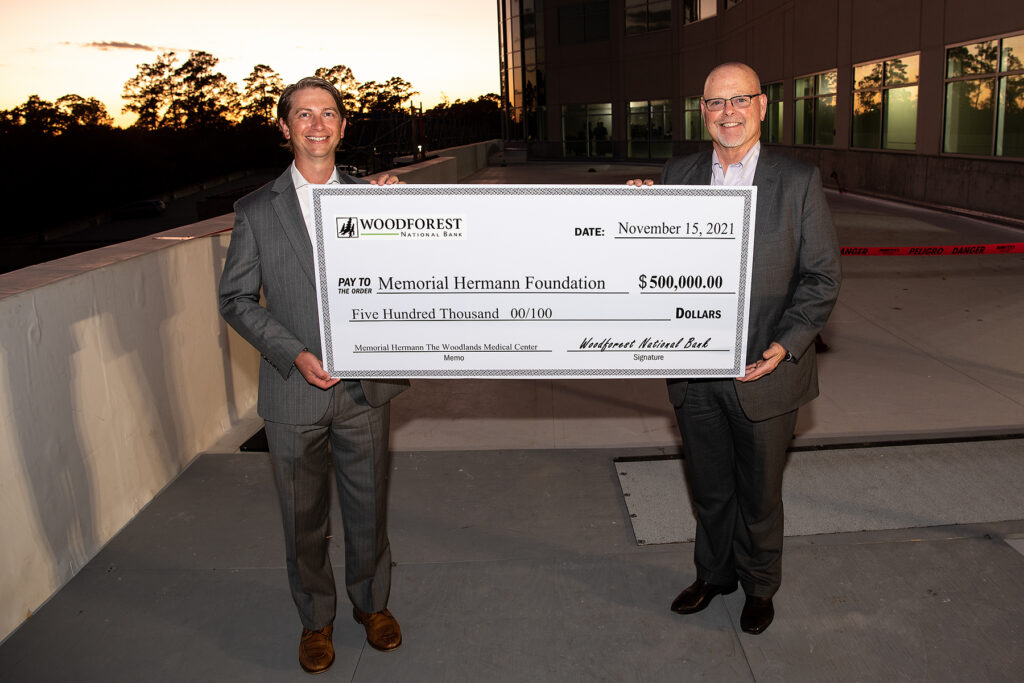 "What Memorial Hermann has done for this community over its 36-plus years here is unbelievable, and we've seen this campus continue to grow and provide jobs. We took the construction tour of the South Tower earlier this year and had the opportunity to hear how it will make a distinct impact for our community. That's what we at Woodforest National Bank aim to do," said Jay Dreibelbis, President & CEO, Woodforest National Bank. "We want to continue to make a difference locally and are pleased to be a part of Memorial Hermann The Woodlands's major expansion."
The campus broke ground on its $250 million renovation and expansion in November 2019. As a Level II trauma center, Memorial Hermann The Woodlands provides quality care to those in need of the highest level of care. The campus currently treats more than 92,000 patients each year through Emergency Center visits and inpatient admissions. Its current capacity of 397 licensed beds could increase to as many as 535 licensed beds and 30 observation beds upon completion of the project.
The centerpiece of the expansion is the new 332,510-square-foot, eight-floor South Tower. The tower will include space for administrative functions, additional operating rooms, endoscopy suites, post-acute care unit, a conference/education center, cardiopulmonary and catheterization labs, interventional suites, a 36-bed patient care unit, an intensive care unit, and space allocation for adding even more patient beds in the future. Consequently, the tower will also allow for the renovation and expansion of more than 100,000 square-feet in other areas of the hospital, including food services, imaging, surgery support, pharmacy services, TIRR Memorial Hermann, orthopedic services, and inpatient care areas.
"Memorial Hermann was the original hospital in our community, so we feel it's a great privilege and responsibility to care for this region. I know Woodforest National Bank is a longstanding proud member of this community and is vital to what makes our community so great. Our partnership with Woodforest National Bank supports Memorial Hermann's vision to create healthier communities, now and for generations to come. The South Tower illustrates how we continue to grow and adapt to meet the needs of this community, and we are grateful that Woodforest National Bank is a part of it," said Justin Kendrick, Senior Vice President & CEO of Memorial Hermann The Woodlands Medical Center and Memorial Hermann Northeast Hospital.
Source: Memorial Hermann