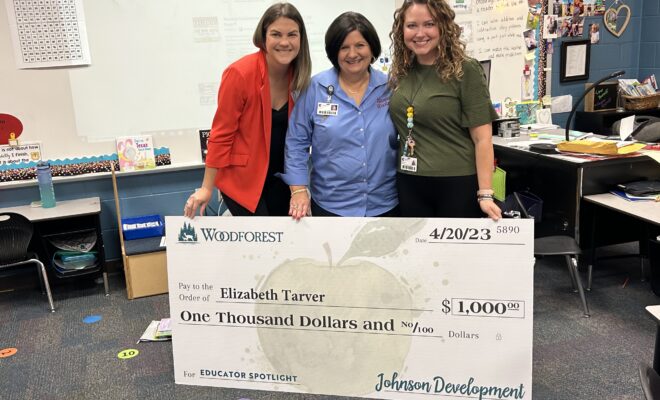 Lifestyle
Woodforest Honors Local Teachers With Spotlight Awards
By |
MONTGOMERY, TX – Woodforest recently honored two teachers with $1,000 each as part of the community's ongoing Educator Spotlight Awards program.
The awards went to first-grade teacher Elizabeth Tarver at Conroe Independent School District's Stewart Elementary in Woodforest and Boone Suttles, an eighth-grade teacher and athletics coach at Oak Hills Junior High in the Montgomery Independent School District. The Educator Spotlight Awards recognize teachers and staff members at schools serving Woodforest. Nominations are taken from residents.
Tarver was nominated by four parents who commended her for making learning fun and modeling kindness and compassion.
"I love the joy being around children brings me," Tarver said. "They are like coworkers who are always joyful and loving, and those that are not, I feel blessed to be able to help them cope with what is preventing that from happening."
She tries to make learning as hands-on and authentic to real life as possible. Her students incubate chicken eggs for science, use manipulatives for math and write letters to Santa. What she loves the most is helping children develop reading skills.
"I love that I am in a grade that teaches students to decode and read books," she said. "Many first graders enter barely reading 50 words and they leave us reading short chapter books. It is so beautiful to witness and see their pride and confidence grow."
Tarver said she will use the money to purchase new innovative science tools, grow her student library with currently trending books and update many outdated flexible seating options in the room to allow more movement for the children throughout the day.
Suttles teaches and coaches three different sports at Oak Hills Junior High, often working more than 12 hours per day according to his wife Amy who nominated him for the award.
The busy educator teaches Applied Engineering and Applied Business, Marketing and Finance to eighth-grade students. He coaches seventh- and eighth-grade football, as well as seventh-grade basketball. He is also the golf coach.
"I enjoy the bond you get to build with your students throughout the years, whether it be in the classroom or through coaching," Suttles said. "The opportunity to help mentor and/or be a role model is also beneficial."
He plans to use the money to purchase consumables for his classroom.
"I like to build and make things and so do the kids," he said. "This money will help with that tremendously."
He is grateful for the award and wants parents to know he has the best interests of their children at heart.
"I am a teacher and a coach, but also a parent," he said. "I don't do anything different or treat anyone different than I do or would my own kids. I always have the best interest in kids and try to guide them in the best direction."
Woodforest grants two Educator Spotlight Awards each quarter. The next awards are planned for ­­­October. The community is zoned to Lone Star Elementary, Oak Hills Junior High and Lake Creek High School in Montgomery ISD and Stewart Elementary, Peet Junior High and Conroe High School within Conroe ISD.
Homes in Woodforest are priced from the mid $200,000s to more than $1 million. Learn more at www.woodforesttx.com.
About Woodforest 
Woodforest, a project of Johnson Development Corp., is a 3,000-acre master-planned community surrounding Woodforest Golf Club, one of the top-ranked daily-fee golf courses in the Houston area. The development offers a broad array of housing choices and prices — luxury homes, patio, townhomes, and custom homes priced from the $260,000s to more than $1 million — targeted to lifestyle-oriented buyers. Woodforest is slated for more than 5,000 homes and a full complement of amenities, retail and commercial properties. One of the nation's top-selling master-planned communities, Woodforest is five miles north of The Woodlands and six miles south of Conroe. Convenient access just seven miles west of Interstate 45 is provided by Fish Creek Thoroughfare, a major north/south thoroughfare connecting Conroe in Montgomery County and Tomball in Harris County. For more information, visit www.WoodforestTX.com or call 936.447.2800.
About Johnson Development
Dedicated to creating vibrant, sustainable and connected neighborhoods, Johnson Development was founded in 1975 and is a nationally recognized, award-winning residential and commercial land development company. Now celebrating 48 years, the company has set the standard for successful master-planned communities in top residential markets around the country, including the Houston-area communities of Sienna, Woodforest, Cross Creek Ranch, Grand Central Park, Veranda, Harvest Green, Imperial, Edgewater, Riverstone, Cross Creek West, Jordan Ranch, and Tuscan Lakes. The company also is developing Viridian and Trinity Falls in Dallas region, Lake Arrowhead north of Atlanta, and Bryson in the Austin area. Johnson Development has had more top-selling master-planned communities than any other developer in the nation over the past decade. An affiliate of Johnson Development — Johnson Development Services — manages development of boutique communities within the Johnson portfolio, including Amira and Candela, in the Southwest Houston area, and Nolina in Georgetown. For more information, visit www.johnsondevelopment.com or on LinkedIn.