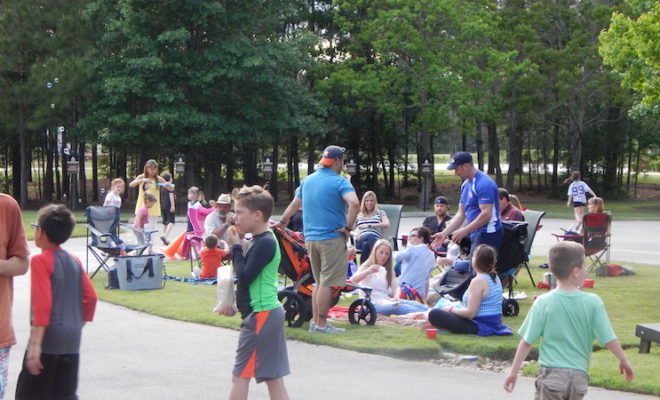 Events
Woodforest Hosts Rockin' Block Party April 21
By |
Montgomery, Texas –  Woodforest will be rockin' around the block from 10 a.m. to 5 p.m. with live music, food and games on Saturday, April 21.
The public is invited to mix and mingle with Woodforest residents at 212 Fox Trail Road during a traditional block party. Activities will include lawn games, inflatables, face painting, chalk art and more.
Flame-kissed food in the form of hot dogs and sausages will be served up by Miss Mary's Happy Hot Dogs. Snow cones will cool things down.
Adults age 21 and older can savor their own icy treats in the form of margarita samples courtesy of Southern Rum Runners. The alcohol catering service also will have beer for sale. A lemonade stand will be available for younger party-goers.
A highlight of the event will be live music by Houston-based cover band Sick Duck, playing current hits as well as favored tunes from the 80's and 90's. Guests also can groove to the musical stylings of Erick Smith and DJ Chico.
"Woodforest is a neighborhood for everyone, no matter their age or stage of life," said Virgil Yoakum, general manager of Woodforest. "It's an opportunity for the public to come out and get to know us in a relaxed setting, have some fun and visit our gorgeous model homes."
Complimentary shuttle service will take visitors on a tour of the community's 19 well-appointed model homes including multi-million-dollar showcase homes.
Later, adults age 21 and older can move over to the Bonterra Clubhouse, 300 Bonterra Boulevard, for an evening of "Fire & Dice" from 5 to 8 p.m. The casino party promises gaming tables, signature cocktails and an opportunity to explore the active adult resort-style enclave.
Both events are on the April Drools Home Tour calendar. The tour, sponsored by Woodforest developer Johnson Development, encourages the public to visit hundreds of homes, including 170 models and nearly 500 available homes in 14 Johnson communities throughout the month. Homes will be open 10 a.m. to 6 p.m. Mondays through Saturdays and noon to 6 p.m. Sundays. Admission is free.
Tour maps and event details are available at www.houstonhometour.com. For more information about Woodforest, visit www.woodforesttx.com.