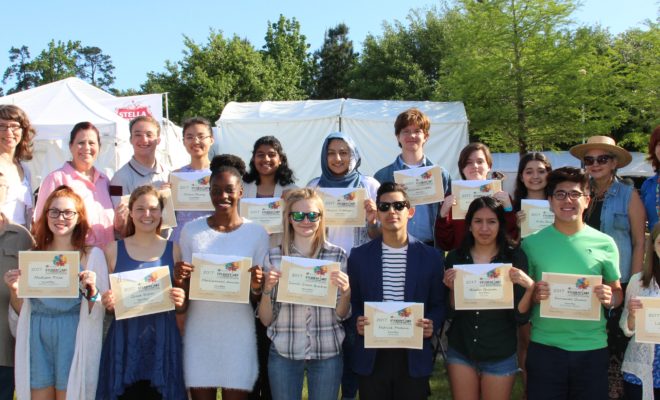 Lifestyle
The Woodlands Arts Council Awards Scholarships to Student Artists
By |
Student artists from Montgomery County high schools were awarded $21,000 in scholarships by The Woodlands Arts Council (TWAC) and had their work exhibited at The 2017 Woodlands Waterway Arts Festival, April 7-9.
Local high school juniors and seniors submitted their work to TWAC annual Student Art Scholarship competition in the categories of Painting, 2D Mixed Media, 3D Multi-Media, Drawing, Digital Art and Photography. 
Scholarships were awarded for first, second and third place winners in the amounts of $2,000, $1,000 and $500 respectively and honorable mention award winners were invited to display their work at the festival.
"We are grateful to be able to facilitate this opportunity for art students through our "Mentoring Youth" initiative in conjunction with our education and outreach programs," said TWAC board member Kim Lacayo. "We are also appreciate the sponsors and donors who make it possible to give over $20,000 annually so students can continue their education and pursuit of art."
Awarded first, second and third place respectively in the Painting:

 

Obie Amudo (John Cooper), Lily Taylor (Woodlands-College Park) and Sarah Grace Brecher (Oak Ridge); Mixed Media, 2D: Fernando Osuna (Woodlands-College Park), Aailyah Martinez (Oak Ridge), Marin Markel (Woodlands); Drawing: Patrick Medina, Claire Zhang and Mishal Siddiqui (Woodlands-College Park); Mixed Media, 3D: William Liebbe, Madison Price, Grace Ritch (John Cooper); Photography: Kristen Drake (Caney Creek), Andi Bailey, Michael Bohnet (Woodlands-College Park); Digital Art: Nicole Chacon, Alexander Nutt (Woodlands-College Park), Sarvani Desabhotla (John Cooper).
The Woodlands Arts Council provides regional cultural and educational enrichment opportunities that encourage, support and promote the performing and visual arts in our community. From the award winning Woodlands Waterway Arts Festival to the year-round community and educational outreach programs of Because Art Matters, the council has one primary goal…. making our community better, Because Art Matters!