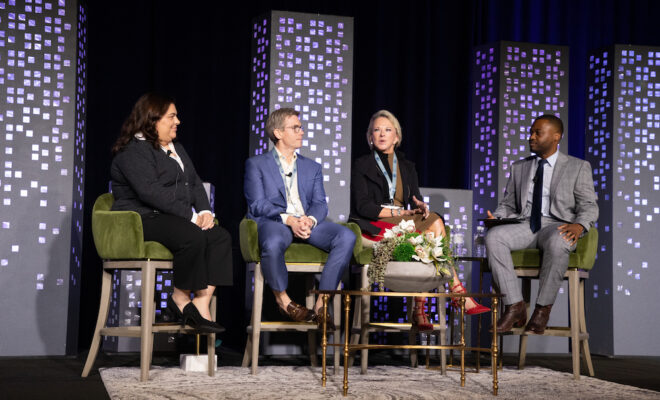 Photo Credit: Rod Prado
Business
Woodlands Chamber hosts 37th Annual Economic Outlook Conference
By |
The 37th Annual Economic Outlook Conference took place on Friday, February 24, 2023 at The Woodlands Waterway Marriott Hotel & Convention Center.
The Economic Outlook Conference, produced by The Woodlands Area Chamber of Commerce, is a highly anticipated conference for hundreds of high-profile business leaders to gain insight and knowledge on the trajectory of our economy – and ways to prepare for the growth to come. National and local speakers addressed attendees on the economy, trends and growth on topics related to The Woodlands community, Texas and the Nation.
View photos from the event on the Hello Woodlands Facebook page:
This year, U.S. Congressman Dan Crenshaw shared a National Economic Update. The Keynote Speaker was Bill Ackman, Chairman of the Board of The Howard Hughes Corporation and CEO of Pershing Square Capital Management, L.P., who answered questions provided by Bob Charlet, President of the Houston Business Journal.
Gil Staley, CEO of The Woodlands Area Economic Development Partnership, shared the annual Community Update and presentation stating, "Job losses are in our rear-view mirror! Our 2023 workforce survey revealed unprecedented job growth year-over-year, after reporting a historic loss of nearly 2,000 jobs last year. This phenomenon can best be attributed to organic growth of our local businesses. 12 of our 13 business sectors that are identified in our major employer's group experienced job growth, demonstrating the strength of our local economy." The now 86 major employers, or employers with 100 or more employees, located in The Woodlands area provides 40,119 non-retail jobs in 2023 (compared to 36,673 in 2022). Healthcare has been the #1 largest industry four years in a row with 30.9% or 12,397 jobs, with Education at #2 with 18.9%.
Author Joel Kotkin, described as "America's uber-geographer," was a featured speaker who shared about "the great reshuffle" on how there is an accelerated shift to suburbs, the impact of online work, residue from rising crime and disorder, and the slowing of the urban "renaissance." Kotkin shared statistics and trends on how families are moving away from major cities to the suburbs and moving out of states like California and New York to states like Texas and Florida.
As lunch was served, Charles Blain, President of Urban Reform and Urban Reform Institute, moderated the Corporate Relation Panel including panelists Deborah Wild, President and CEO of Cellipont Bioservices, Jaime Castle, President and CEO of Obagi Cosmeceuticals, and Robert S. Barnwell, IV, CEO of Centric Infrastructure Group, who shared why they chose The Woodlands has their businesses' headquarters.
J.J. Hollie, President of The Woodlands Area Chamber of Commerce, shared, "I think the theme from this year's Economic Outlook Conference is, 'If you weren't here, you really missed out.' There was so much great information…Make sure to join us next year." Watch the full message below:
Learn more about The Woodlands Area Chamber of Commerce's Economic Outlook Conference and register today at www.eocthewoodlands.com
The Woodlands Area Chamber of Commerce is greater Houston's largest business association representing the interest of 1,200 local employers since 1978. Learn more at www.WoodlandsChamber.org.