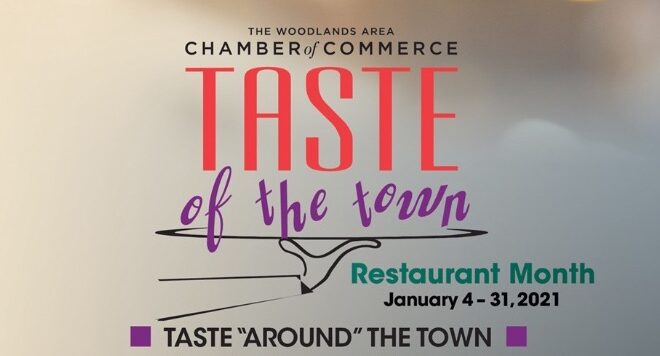 Events
Woodlands Chamber to host 35th Annual Taste of the Town "Restaurant Month"
By |
The Woodlands Area Chamber of Commerce will be hosting its 35th Annual Taste of the Town 2021 in a new and different format. Rather than meeting for one night at The Woodlands Waterway Marriott, this year the event will take place on-site at all participating area restaurants during the entire month of January. Ticket prices are only $25.00 per person.
Event Coordinator, Jennifer Coyle states, "For over 30 years, Taste of the Town has been the ultimate foodie experience. This year we are thrilled to kick it up a notch and invite our guests into the actual restaurants where they can experience the ambiance of each location as well."
Taste of the Town Restaurant Month will run from Monday, January 4, 2021 through Sunday, January 31, 2021. Margie Taylor of Taylorized PR states, "I have volunteered my time to help coordinate the event for the last 5 years and am thrilled to bring a new concept of Taste of the Town to the community. The reinvented concept spans nearly 4 weeks to entice the community to sample 'tastes' of our local member restaurants at their venues during January 4- January 31." Ticket holders will be able to visit participating restaurants for a "taste" of their featured menu item(s), much like the samples that were normally provided at previous Taste of The Town. Restauranteurs will feature samples of their best mouth-watering appetizers, entrees, desserts and/or drinks, and invite guests to pop in or stay for more.
The Chamber will be highlighting each participating restaurant and encourages guests to visit as many as they can during the month-long event.  Each establishment will have an app to scan guest tickets. Restaurants will be competing for the coveted title of "People's Choice Award" in categories including: Best Appetizer; Best Entree; Best Dessert; voted on by participating taste of the town guests.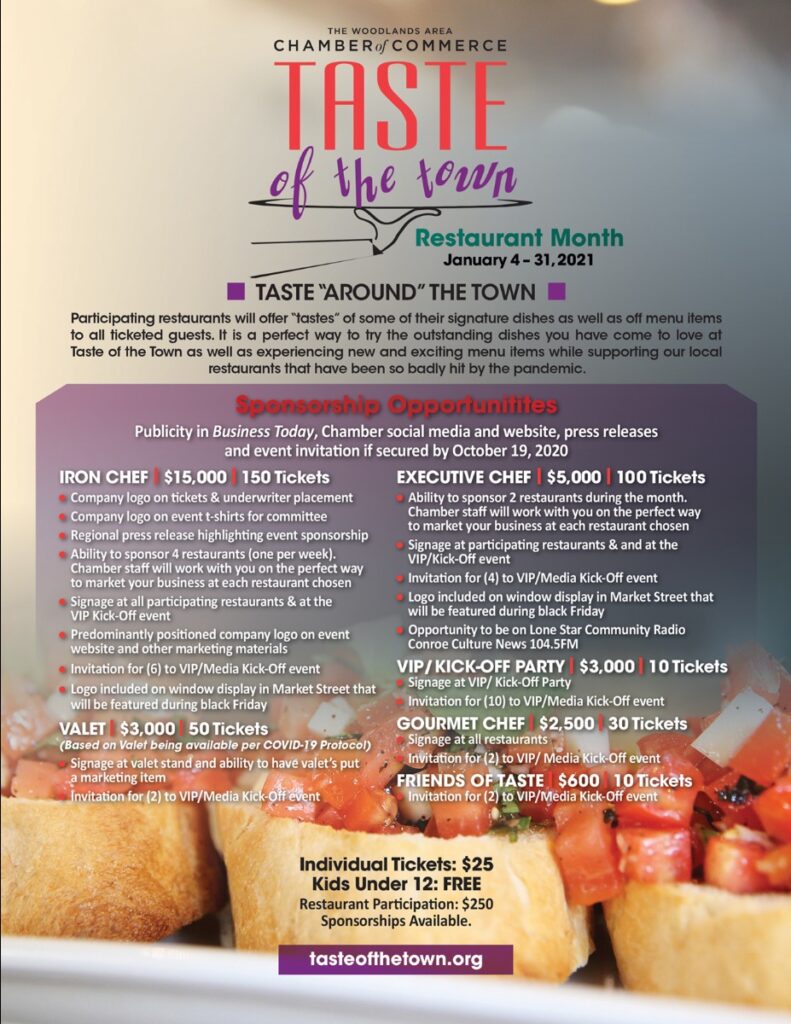 Nicole Preston of Community Impact Magazine and member of the Chamber Board of Directors states, "Taste of the Town is an event the community looks forward to every year. The Taste of the Town committee is excited that we are able to reinvent the same great theme of the Woodlands Area Chamber supporting local restaurants in the area, while maintaining the safety and health precautions in place while we recover from this global pandemic. This year's month long 'Taste Around Town' will bring you the very best of what our restaurants have to offer and we look forward to the community connecting the way only food and the Chamber can do!"
For more information or to register as a participating restaurant, please visit www.tasteofthetown.org or contact jennifer.coyle@woodlandschamber.org .
Tickets for the event are now available via www.tasteofthetown.org and are only $25 per person (processing and handling fees apply).
For more information about The Woodlands Area Chamber of Commerce, please visit www.woodlandschamber.org or call 281-367-5777. 
Source: The Woodlands Chamber of Commerce