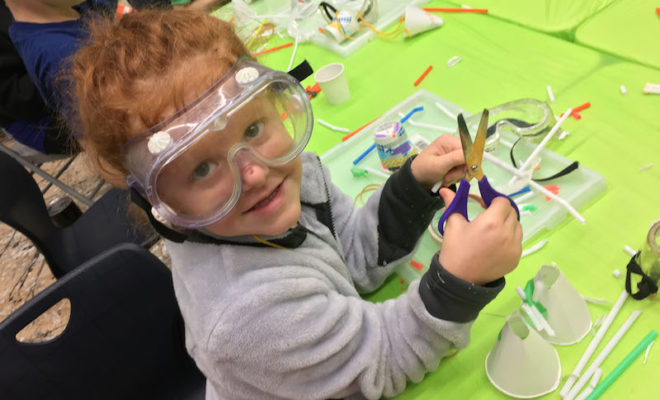 Events
Children''s Museum receives NISE Earth and Space 2018 Toolkit
By |
THE WOODLANDS, Texas –- –The Woodlands Children''s Museum has gained access to a large collection of Science, Technology, Engineering and Mathematics (STEM) materials this year, just in time to incorporate them into the museum's Spring Workshops.
""The Woodlands Children''s Museum would like to announce that we are the proud recipient of the Earth & Space 2018 Toolkit from NISE (National Informal STEM Education Network),"" said Angela Colton, executive director of the museum. "We are one of 15 museums in Texas this year with the opportunity to create engaging, hands-on science activities with the ideas and tools that NISE has provided,"" Colton added. ""Children will benefit from the toolkit during Got Science?, which we're offering as a Spring Workshop and as a Spring BreaKation Workshop.""
The Got Science? Spring Workshop is geared for homeschooled students ages 4 and 5 where participating children are introduced to the disciplines of biology, chemistry, human anatomy, space and physics.
Activities include:
Exploring the physical and chemical properties of elements, compounds and mixtures.
Experimenting with a variety of slimy, fizzy and gooey substances.
Touching base with a few insects, dinosaurs and mammals.
Discovering facts about the solar system – and about themselves.
The Got Science? Spring Workshop is scheduled for 9-11 a.m. on Tuesdays, March 20-May 8. It costs $89 for museum members and $109 for nonmembers. The museum also will present a special, one-week version of Got Science? for children ages 5 through 8 during Spring BreaKation, when the museum hosts activities for children whose schools are closed for Spring Break. Students can attend the Spring BreaKation Got Science? program from 9 a.m.-noon March 12-16.
For more information about The Woodlands Children's Museum , visit woodlandschildrensmuseum.org or call 281-465-0955.
Source: The Woodlands Children's Museum