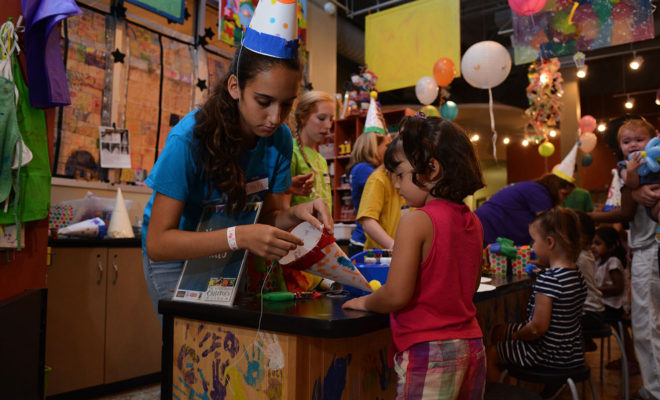 Business
The Woodlands Children's Museum to celebrate 7 Years
By |
The Woodlands Children''s Museum takes birthday parties seriously! So, when the museum reaches the seven-year mark at its Panther Creek Village Shopping Center location, 4775 W. Panther Creek Drive, Suite 280, it''s going to celebrate in a big way.
The public is invited to attend the birthday party, set for Friday, July 14, which will feature inflatables from the Houston Rockets, marionette shows, balloon sculptures, silly songs, art projects and, of course, birthday cake.
""We're so excited about celebrating our birthday with the community,"" Angela Colton, executive director of the museum, said. ""Part of our mission over the years has been creating an environment of excitement and discovery for children, and that's what we intend to do during our party.""
Birthday activities will run from 10 a.m. to 5 p.m. and, thanks to the new Augusta Pines Walmart, visitors will have three opportunities to sing "Happy Birthday" and eat some birthday cake at 11:50 a.m., and 1:10 and 2:50 p.m.
Entertainers will include Marionette Playhouse which features hand-crafted puppets and marionette shows on an elaborate stage complete with drapes, lighting and sound. Puppeteer Jean Kuecher will present Three Little Pigs at 1:30 p.m. and Very Hungry Caterpillar at 2:20 p.m.
Also on the entertainment line-up is AndyRoo & The AndyRooniverse, an interactive children's music show that has appeared at the Houston Livestock Show and Rodeo and Smithsonian National Museum of Natural History, among other venues. Their performances are set for 10:30 and 11:20 a.m., and 12:10 p.m. A long-time favorite at the museum, Silly Songs with Gabe, will perform at 12:40, 3:10 and 3:50 p.m. Visitors also can check out Storybook Theatre at 11 a.m. and 2 p.m. Along with the scheduled events, party-goers will be able to play on the Houston Rocket's inflatables in the atrium and watch Daisy the Clown make balloon sculptures throughout the day.
All birthday party activities are included in the museum's daily admission price of $6 for adults and children age 1 and older. The museum is recommended for ages 7 and under.
To learn more about The Woodlands Children's Museum, hours of operation and ways to support the nonprofit, visit woodlandschildrensmuseum.org or call 281-465-0955.