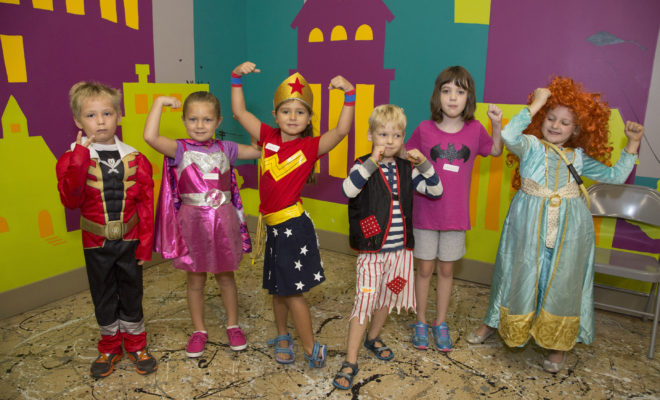 Calendar
The Woodlands Children's Museum Celebrates Super Hero Day
By |
Wonder Woman will be making an appearance at The Woodlands Children's Museum this summer.
The "Woman of Steel," to be portrayed by Samantha Bello, will be available for photo opportunities 10 a.m.-2 p.m. Friday, August 4, to help the museum celebrate Super Hero Day. Children are invited to visit the museum at 4775 W. Panther Creek Dr., Suite 280, dressed in their favorite super hero costume or T-shirt that day.
""We love watching children''s imaginations take flight as they transform into their favorite heroes,"" Angela Colton, executive director of the museum, said. ""Children can never get enough dress-up time, and a recent study has found that children who pretend to be super heroes tend to identify with the characters' positive traits, including focus, perseverance and grit.""
Also during Super Hero Day, children will have a chance to hear a super hero-themed book when "Super Reader" Jan Streelman presents Story Book Theatre at 11 a.m.
Children will be able to decorate their own capes in MUSE – the museum's art area.
At the table next to the MUSE, children can make special super hero masks. The museum has dedicated the table to the late Kirk Alyn, who was the "Original Superman." The actor lived in The Woodlands after his retirement.
Before they leave, children can pose for pictures in front of a special backdrop. Parents are encouraged to bring their phones or cameras to capture the moment.
Making Super Hero Day possible is Texas Children's Urgent Care, our super heroes for children's emergency wellness.
While they're at the museum on Aug. 4, families will have an opportunity to check out the Usborne Book Fair in the museum's atrium 10 a.m.-5 p.m.
"The founder of Usborne books, Peter Usborne, is known for bringing fun, colorful nonfiction books to children," Colton said. "When families buy Usborne books at the fair, they'll be helping our museum earn free titles that we can share during Shadow Puppet Theatre and Storybook Theatre."
Super Hero Day activities are included in the museum's admission cost of $6 per person age 1 year and older. The museum is recommended for ages 7 and under.
To learn more about The Woodlands Children''s Museum, its hours of operation and ways to support the nonprofit, visit woodlandschildrensmuseum.org or call 281-465-0955. The museum is always looking for sponsors or partners for events. Follow the museum's Twitter handle @thewoodlandscm.