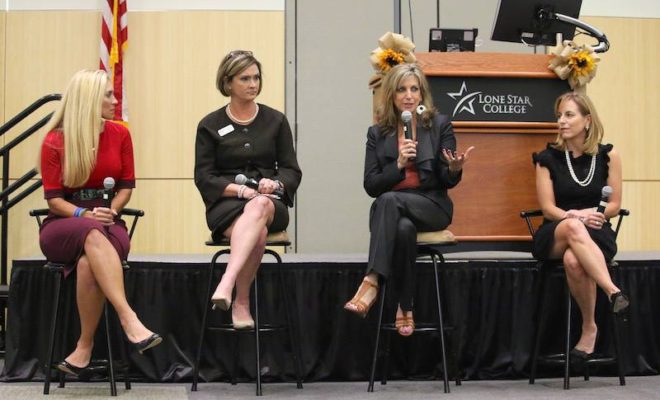 Business
WISE Conference gives back through Local Scholarships and Charity
By |
The Women Inspiring, Supporting and Empowering (WISE) Conference will return for its fifth year in The Woodlands on Wednesday, Sept. 27, 2017, at Lone Star Corporate College at 5000 Research Forest Drive.
The annual conference is a cooperative effort between Women On A Mission To Earn Commission (WOAMTEC), Montgomery County Association of Business Women (MCABW) and Business Women's Forum (BWF). WISE caters to professionals with a desire to learn more about work-life balance and gather tools, tips and strategies to implement and streamline their businesses.
The one day conference is committed to the empowerment of women through personal and professional development as well as giving back to local women and charity organizations in our community.
Hello Woodlands Jenny Kelley had the opportunity to interview Dawn Candy, the 2017 WISE Conference coordinator. Watch the video below:
The 2017 WISE Conference will be offering three $1000 scholarships to women in our communities who have a desire to further their careers through education, expand business, or start a new one. Applications will be accepted until August 31, 2017 and scholarships will be awarded based on personal vision and community service.
Each year, the WISE Conference planning committee chooses at least one Montgomery County charity to acknowledge at the conference and give a portion of the proceeds.
"This year the WISE Conference will donate a portion of the proceeds to Meals on Wheels Montgomery County" said Dawn Candy, the 2017 WISE Conference coordinator. "The WISE Conference is more than a women's business conference – we believe in giving back to those who could use a helping hand, and we will continue to support our community."
Meals on Wheels Montgomery County exists to improve the lives of these homebound seniors and help keep them out of costly nursing homes and hospitals. Serving more than 500 meals each weekday, Meals on Wheels Montgomery County helps our aging neighbors remain well nourished, connected to the community, and independent within the comfort of their own home.
The WISE Conference will feature speakers Angela F. Carter, President and CEO of AFC Power Strategy Group, Inc., Dr. Lisa Rister and Dr. Dawn Schwab of Spinal Care Chiropractic Center, Melanie Bush of Better Bookkeepers, Inc., Kathy Tautenhahn, and Vice President of Amazing Spaces Properties. Attendees will also be able to enjoy complimentary head shots as well as visit vendor booths, a health and wellness pavilion, meet local businesses and vendors, and network with women professionals and entrepreneurs.
To learn more about the WISE Conference, apply for the WISE scholarship, and purchase tickets, visit TheWiseConference.com and follow the story on Facebook at https://www.facebook.com/TheWISEConference.