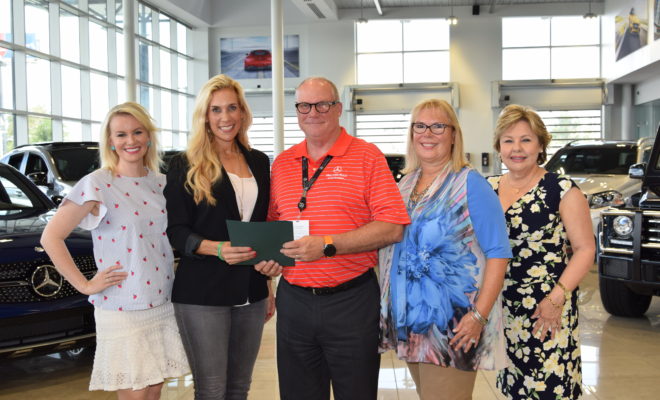 Events
The Woodlands 2017 Hometown Heroes Announced
By |
Four individuals, one business and one nonprofit have been selected as the 2017 Hometown Heroes. Rob Johnson, Amy Lecocq, Bob Milner, Melissa Young, Cassidy Joined for Hope and The Woodlands Christian Academy are the honorees who will be recognized for their many contributions to the community at The Woodlands Celebration of Excellence Gala, benefiting Interfaith of The Woodlands.
The gala will be held on Saturday, October 7, 2017 at The Woodlands Waterway Marriott Hotel and Convention Center with Honorary Chairs, Mr. Peter Huntsman and Mrs. Brynn Ballard Huntsman. The 2017 Hometown Heroes were chosen by a selection committee comprised of Hometown Heroes alumni, a group which includes 109 residents of The Woodlands and 14 businesses who have contributed to the educational, civic, cultural and spiritual fabric of the community. This annual tradition of honoring Hometown Heroes began in 1999 as part of The Woodlands 25th Anniversary Celebration and has continued ever since. This year, there was an overwhelming response for nominations of nonprofits and the selection committee decided to add a new nonprofit category to highlight philanthropic efforts in the community.
"Honoring Hometown Heroes is a treasured tradition that celebrates the amazing individuals, businesses and organizations that continue to enrich our community with numerous contributions. Each honoree's incredible generosity and dedication have made a lasting impact that will inspire generations to come," shared Missy Herndon, President & CEO, Interfaith of The Woodlands.
Amy Lecocq and her husband Richard Shapiro, moved to The Woodlands in 1994 and have two sons, Ben and John. Formerly a federal prosecutor for almost twenty years, Lecocq now enjoys spending time with her family and volunteering with various organizations in the community.
Lecocq has devoted thousands of hours to ensure the success of many events and organizations including The Woodlands Arts Council, serving recently as president and continues to remain on their Board of Directors. The Woodlands Arts Council organizes and operates the annual Waterway Arts Festival – a nationally leading three-day outdoor arts festival that has brought over two hundred juried artists to the community. Lecocq also helped start The John Cooper Signatures Author Series and was chair of John Cooper Fine Arts Council and numerous other programs and events. For many years, she has been the driving force behind the success of the performing and visual arts in The Woodlands.
Lecocq served as past president of the Indian Springs Village Association and was instrumental in helping start The Voter Awareness Council, a bipartisan organization aimed at increasing voter participation. She currently is their vice president. She has been a tutor for Literacy Volunteers of America, Montgomery County for many years.
"Amy has brought her energy, passion and love for the arts to our community in so many ways that have contributed to making our community unique and the wonderful place it is to live in. Her belief in the importance of the arts and how it can make a difference in people's lives and our community has been put into action over the past two decades," said Cindy Hardin, Advisory Board, The Woodlands Arts Council.
Bob Milner and his wife Teresa reside in The Woodlands and have four adult children, two grandchildren and five dogs. He is Co-Owner of Mercedes-Benz of The Woodlands.
Milner serves on several boards such as Cynthia Woods Mitchell Pavilion, Montgomery County Crimestoppers, The Woodlands Area Chamber of Commerce, The Woodlands Economic Development Partnership, #21 Strong Foundation and The Woodlands Arts Foundation.
Milner has supported and volunteered with many causes in The Woodlands including Johnny Mac Soldier Fund, Montgomery County Animal Shelter, Montgomery County Youth Services, Angel Flight, Hope's Path, Interfaith of The Woodlands, Memorial Hermann In the Pink of Health, Texas Children's The Woodlands Hospital, The Woodlands Waterway Arts Council, Habitat for Humanity, local schools and numerous dog rescue groups just to name a few.
Milner was recognized by Ernst and Young as a Gulf Coast Regional Finalist for Entrepreneur of the Year for 2016 and also was awarded the prestigious Mercedes-Benz USA Best of the Best Award.
Milner enjoys playing golf and spending time with Teresa along with their five rescue dogs. He is passionate about victims of cancer and animal rescue.
George Lindahl, 2010 Hometown Hero, shared, "Bob truly cares about those in need and is so generous with his time and talents. Hometown Hero and Bob Milner are synonymous."
Melissa Young has had roots in The Woodlands since 1990. Young and her husband, Jeff, have two young sons. As president of a very successful company, Corporate Incentives, Young gives of her time and resources to many local organizations in the community.
Young was recently selected to be Vice Chair of Leadership Montgomery County (LMC). She has mentored many LMC class members on class projects during the past two years. She is chair of Montgomery County Regional Council of the United Way of Greater Houston, United Way of Greater Houston Board of Directors and a member on Thrive Council, a committee of United Way of Greater Houston. Young was instrumental in providing support for Montgomery County United Way with their recent reorganization. She serves on the Executive Leadership Council for The Woodlands Area Chamber of Commerce and supports the Leukemia and Lymphoma Society. Young was also honored this past year with Houston Business Journal's 40 Under 40.
Young enjoys spending time with friends and family, especially her husband and their two young sons, along with travel, food and wine.
"When Melissa commits herself to a cause or an organization, you know she will give 100%," shared Linda Nelson, 2015 Hometown Hero.
Rob Johnson and his wife, Christine, have lived in The Woodlands for over twenty years and have two sons, Matt and Dan.
Johnson is Assistant General Counsel of Legal Services at Exxon Mobil Corporation. He is an outstanding community citizen who is deeply involved in several organizations in The Woodlands. Johnson serves as Vice Chair for Interfaith of The Woodlands Board of Directors and was instrumental in starting the Development Committee at Interfaith. Johnson is an Interfaith Community Clinic Board member and supports CASA of Montgomery County as well.
Johnson is chair of the Pastor-Parish Relations Committee of Christ Church United Methodist and also serves on Christ Church's Church Council. From 2003 until 2016, he served as an Assistant Scout Master and Merit Badge Counselor for Boy Scout Troop 889, chartered by Christ Church United Methodist in The Woodlands.  He serves on the board of Houston Volunteer Lawyers, which is the pro bono arm of the Houston Bar Association. He is a Life Fellow of the Houston Bar Foundation. Johnson is also Executive Vice President of the American University Alumni Board and a member of the American University School of Public Affairs Dean's Council. Johnson dedicates his time to be an active pro bono volunteer and currently is representing two U.S. military veterans in efforts to obtain benefits they are due as a result of their service to our country. The Houston Business Journal named Johnson, Best Assistant General Counsel, in September 2006.
Johnson enjoys golf, travel, military history and spending time on Cape Cod with his family.
"Rob is an exemplary leader in the community. His high regard for all persons motivates him to seek the best through the empowerment of better living. His devotion to care for all of God's creation is lived out in selfless service. He exemplifies the vision of Building a More Caring And Loving Community. He is a Hometown Hero in every respect," said Dr. Daniel T. Hannon, 2008 Hometown Hero.
Cassidy Joined for Hope is a nonprofit foundation focusing on teen suicide and prevention and has made a significant impact in The Woodlands community. After the loss of their beautiful teenage daughter, Cassidy, to suicide, Kim and Jud Hess created the nonprofit in her honor. Less than five months later, Kim was compelled to share her daughter's story to 1,500 people at an event in partnership with Memorial Hermann The Woodlands Hospital and The Woodlands Development Company. With an overwhelming response and encouragement from others, Kim found the strength to continue to make it her mission to bring awareness to the growing problem of teen suicide in the community.
The group began with Cassidy's closest friends who were determined to bring awareness to the topic of suicide and prevent the loss of any more teens in the community. They established a club at The Woodlands College Park High School (Cavs Joined for Hope) and hosted several education events throughout the school year. As a result, Concordia Lutheran's Saders Joined for Hope and Lone Star College's Mavs Joined for Hope will start this fall. Cassidy Joined for Hope will continue to seed and support any Joined for Hope school club to help bring awareness to those in need. Cassidy Joined for Hope was able to award six scholarships through the Cassidy Hess Memorial Scholarship to Cavs Joined for Hope Club members. Cassidy Joined for Hope was recently the recipient of The Woodlands Art League's, "Hearts for Hope" project.
"At Cassidy Joined for Hope, we believe that breaking the silence and talking about taboo topics such as teen suicide and by promoting hope, kindness and safe places for honest discussions about the pressures today's kids are facing – saves lives. We are working in partnership with many community and national resources to provide a prevention education program to parents, kids and educators. I see the feedback of hundreds of letters, texts and notes after an event and know that we are saving lives by just telling Cassidy's story. We are just getting started," shared Tracey Bieser, Cassidy Joined for Hope Board Member.
The Woodlands Christian Academy is an independent, Christ-centered college preparatory school that integrates learning with biblical faith and challenges students to reach their highest potential- spiritually, academically, physically, and socially – for the glory of Jesus Christ. Julie Ambler, Head of School, has assembled an exceptional team of administrators who manage the academic, financial, development, marketing, technical, facilities and admissions operations of the school. The Woodlands Christian Academy serves approximately 650 students from pre-kindergarten through 12th grade. They are active members of The Woodlands Area Chamber of Commerce and The Woodlands Area Economic Development Partnership.
The Woodlands Christian Academy is an Apple Distinguished School, recognized for its integration of technology into the classroom. Woodlands Christian is one of only eleven schools in Texas to earn this honor. The Woodlands Christian Academy has been certified as a Best Christian Workplace based on meeting the exacting standards set by the international, research-based organization, the Best Christian Workplaces Institute.
"The Woodlands and George Mitchell have always prioritized the need for quality education in our community. Whether it be early childcare, great public schools, private educational, or higher educational opportunities, it was important to give everyone a choice for their children. The Woodlands Christian Academy epitomizes a local community Christian/ Faith-based education at its best. Julie Ambler's leadership has lead to an accomplished and recognized institution in which we can all be proud," said Dan Hauser, 2006 Hometown Hero.
Criteria for the selection of the Hometown Heroes included, but were not limited to:
Positive role model
History of volunteerism
Sacrificing personal gain to achieve noble goals
Leadership and courage
Embodies the values of The Woodlands community; family values, importance of education, the arts and culture, environmental consciousness
Dedication to public service
The Woodlands Celebration of Excellence honoring Hometown Heroes is the largest annual fundraiser for Interfaith of The Woodlands, the first social services organization in the community. Individual tickets will go on sale August 1.
This year, The Woodlands Celebration of Excellence Gala Committee is excited to debut the Hometown Heroes Giving Circle. This is an opportunity for individuals and businesses to make a donation in honor of a 2017 Hometown Hero (or in honor/memory of a past Hometown Hero) as a way to pay tribute to their incredible commitments to serving the community.
Donations to the Hometown Heroes Circle will be directed to Interfaith of The Woodlands to directly help individuals and families in crisis through financial assistance for rent, mortgage, utilities, gasoline, prescription drug assistance, emergency shelter, food, clothing, senior programs and offers counseling, job training, and child care.  Interfaith of The Woodlands exists to build a more loving and caring community through service. To honor a hero today, donations can be made online at woodlandsinterfaith.org/gala or by calling Rachel Ray at 832-615-8225.