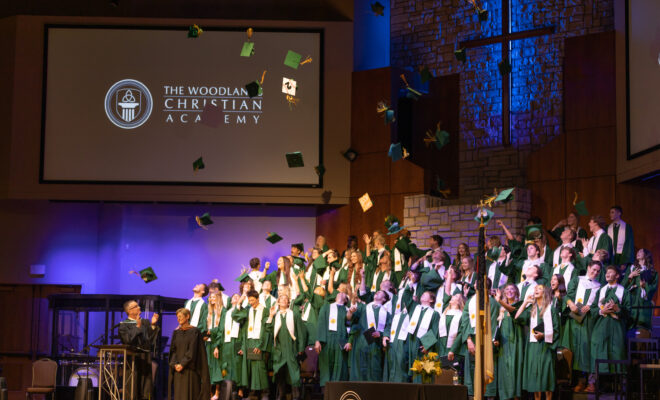 Photo Credit: The Woodlands Christian Academy
People
Woodlands Christian celebrates Seniors at Baccalaureate and Commencement
By |
After safely reopening campus in August of 2020, The Woodlands Christian Academy celebrated a successful year on Friday, May 21, with a commencement ceremony honoring 61 graduates. The Class of 2021 earned a record-breaking $8,966,728 in merit-based scholarship dollars, averaging $147,000 per student. The class includes two National Merit Scholars, four national Merit Commended Students and eight athletes who are committed to continue their athletic careers on the collegiate level.

The ceremony was held at Crossroads Baptist Church and opened with a processional and prayer before 2021 Valedictorian, Joshua Mueck, addressed his classmates. "Class of 2021," he said, "I challenge you to not measure your worth based on what the world values; to use every difficult situation as an opportunity to grow; to take time to develop true relationships with others; to be grateful for those that have taken time to invest in your life; and to remember to rely on God in all things."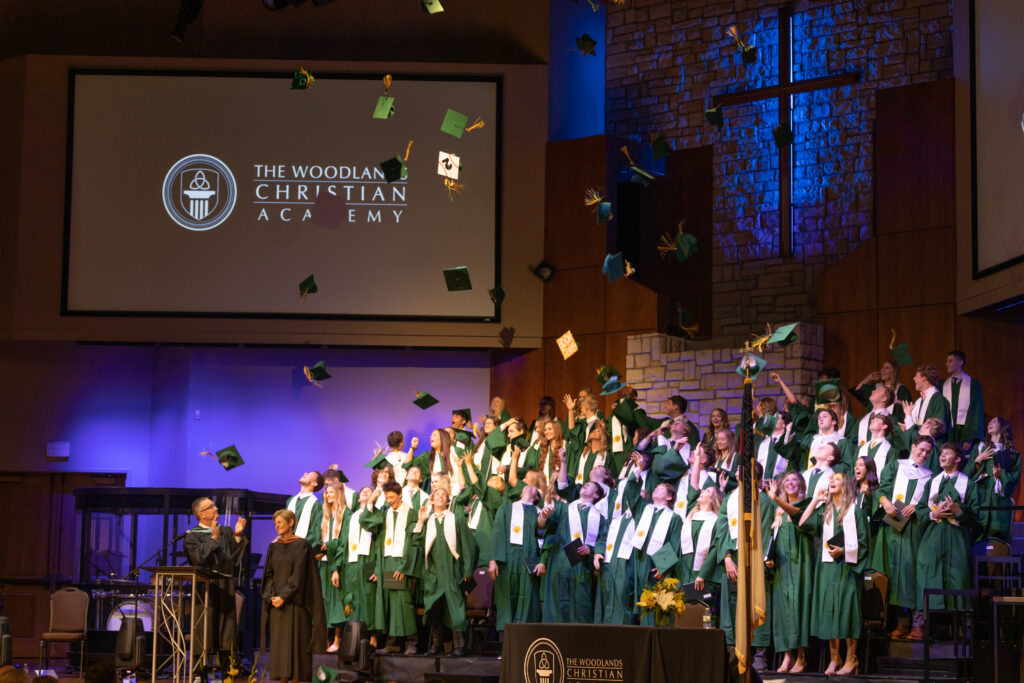 The day before graduation, Woodlands Christian held a Baccalaureate service with worship and a special message of faith to the senior class. This service is year-end tradition at most Christian educational institutions. For TWCA, it is used as not only a send-off for the graduating class, but also offers an opportunity to "charge" the current junior class with shining his/her "light of leadership" on campus as they take their place as seniors in the fall.

The service ended with a special invitation for senior parents to pray together as a family and the feeling of love was palpable. Stephen Clark, High School Principal, said that "taking time to pray as a family and as a community was truly a special time."

Woodlands Christian offers a rigorous academic program with faith integrated in the curriculum and co-curricular activities, providing students with a distinct college prep experience unlike any other. As an independent school, students at Woodlands Christian have the freedom to pray inside classrooms, though out campus, with both their peers and teachers. Woodlands Christian is now enrolling grades PreK – 12th for the 2021-2022 school year.
The Woodlands Christian Academy is an independent, Christ-centered college preparatory school that integrates learning with Biblical faith and spiritual growth, and challenges students to reach their highest potential – intellectually, creatively, physically and socially – for the glory of Jesus Christ. For more information visit twca.net.
Advertisement