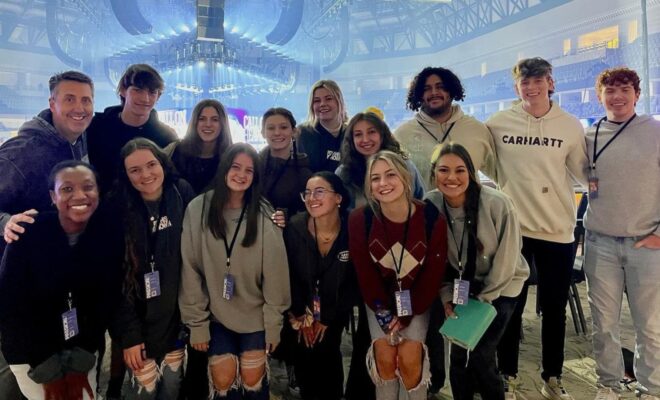 Events
Woodlands Christian Seniors and Alumni Worship Together at Passion Conference
By |
FT. WORTH, TX – Twelve Woodlands Christian seniors, along with Coach Tom Earle and Ms. Jasmine Mitchell, traveled to Ft. Worth for an incredible fellowship experience. The Passion conference took place on December 28-30, 2022, with approximately 13,000 students in attendance. Designed to ignite the faith of college students and high school seniors, Passion is a movement to get students living for God.
This marks the seventh year Coach Earle has taken a group of seniors to Passion, to inspire students about what college ministry could look like, and to remind them they aren't alone in their faith. Students got to meet up with 11 TWCA alumni who were also attending the conference.
Everyone was blown away by the knock-out speakers, including Louie Giglio, Ben Stuart, Sadie Robertson Huff – to name a few. The worship experience was moving, with Kari Jobi, Crowder, Passion Music and more.
According to senior Keala Chamberlain, "Every moment in and out of the arena those three days was absolutely life-changing. The worship was such an incredible thing to experience, the music and the overall vibes were just amazing – it could give anyone chills. Everyone was raising their hands and singing their hearts out for Jesus without any judgment."
Students came away from the conference with a newfound passion to worship God, to spend time reading the Bible, and to prioritize their relationship with Christ. It was a great way to end the year and kick off 2023!
Woodlands Christian offers a rigorous academic program and seeks to raise servant leaders who will impact the world. Faith is integrated in the curriculum and co-curricular activities, providing students with a distinct college prep experience unlike any other. Woodlands Christian is now enrolling grades PreK – 12th for the 2023-2024 school year with waitlists forming.
The Woodlands Christian Academy is a PreK – 12th grade college preparatory school that integrates learning with biblical faith and challenges students to reach their highest potential – spiritually, academically, physically and socially. For more information visit twca.net.