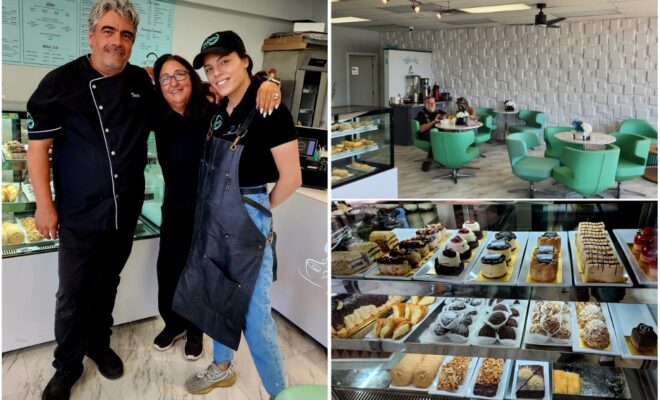 Photo by Nick Rama
Food & Drink
Eat Local: Sweet Greek Pastries & More
By |
Owned by Yannis Karagiannis and Christina Iconos, with help from their daughter Aereti, the newly opened, family-owned Sweet Greek Pastries & More Bakery and Restaurant in Spring, Texas, is serving authentic Greek food and pastries.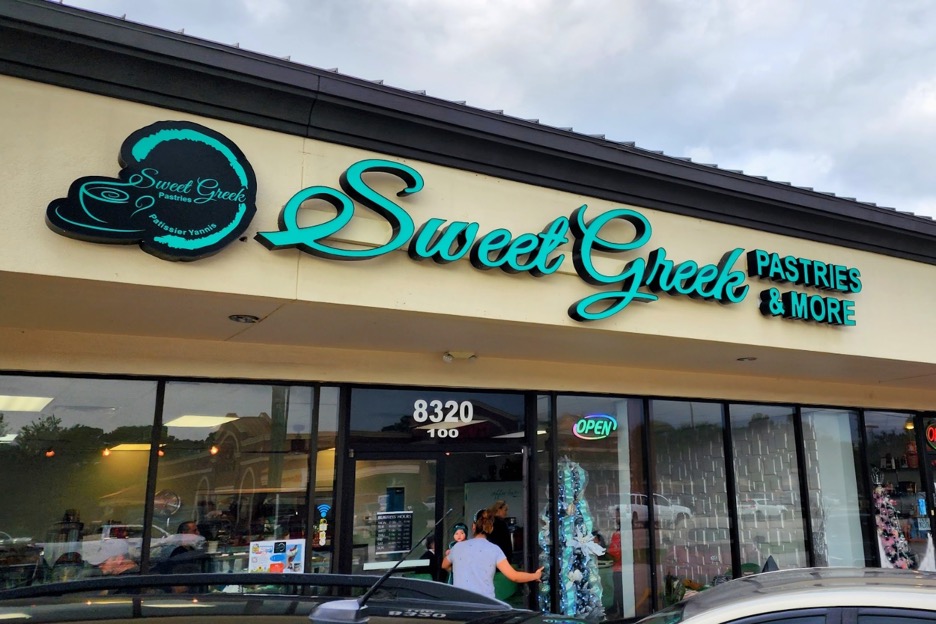 The Name
The name Sweet Greek was coined by Yannis and Christina's daughter Nikki, and it was the perfect fit for their little casual eatery.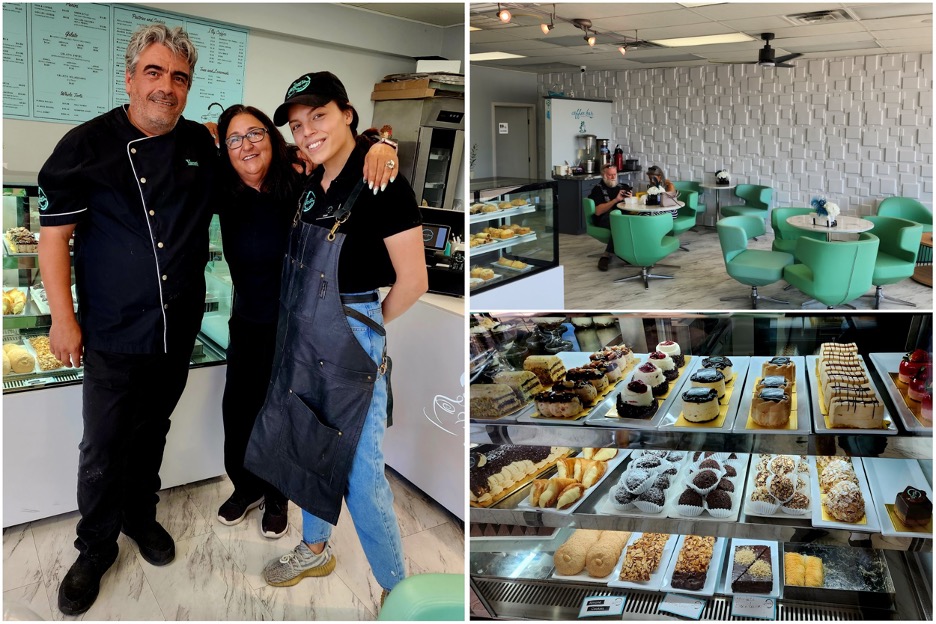 The Story
Yannis and Christina have called the Spring area home since 1966. Yannis is a third generation pastry chef from Greece, and the main baker at Sweet Greek. He learned his craft from his grandfather and father, in addition to the Culinary Pastry University in Thessaloniki, Greece.
Yannis started the pastry department at Niko Nikos in Houston and worked there for 10 years. Christina also worked there for 4 years in the human resources department. Opening their own place was their dream and much closer to home at 8320 Louetta Road, Ste. 100, Spring, TX 77379. Sweet Greek opened August 25.
THE GOODS
Greek sweets and desserts are the specialty at Sweet Greek, all from family recipes handed down over three generations. Yannis makes many different varieties of Greek cookies and pastries.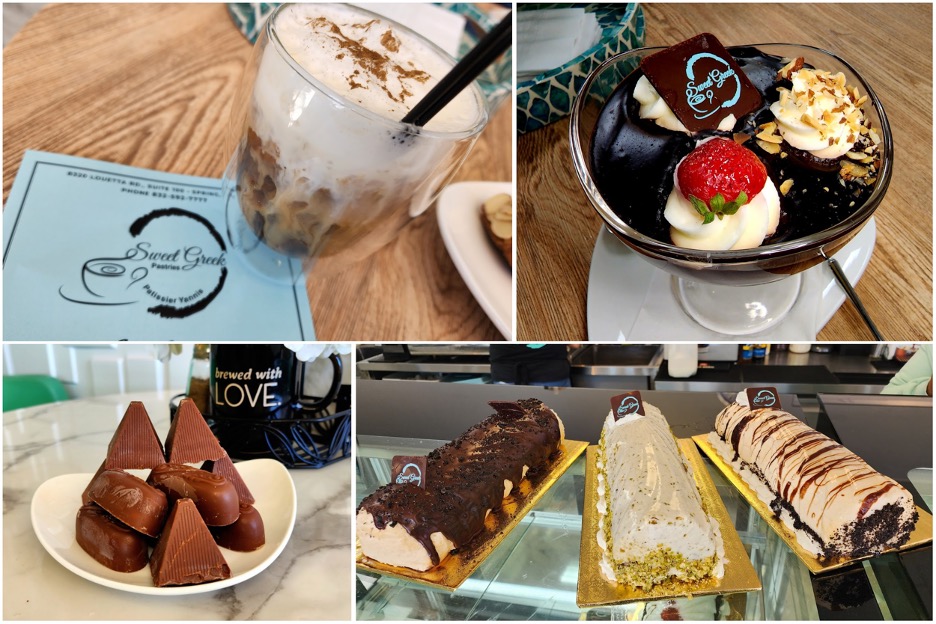 Cookies include:
Koulourakia – orange infused cookie
Kourabiedes – Greek wedding cookies
Melomakarona – cinnamon, clove and nut cookies
Almond cookies, florentines, and seasonal cookies
Crowd favorites are the traditional baklava – layers of nuts and filo in honey sauce, and the galaktoboureko – filo dough stuffed with semolina custard with honey sauce.
The dessert case doesn't end there. Guests can choose from beautiful tortes (available in biscotti, strawberry, chocolatina, caramel, black forest and almond), truffles, chocolates, petit fours and even a case of assorted gelato that is all made in house daily.
Additionally, there are standouts that are usually hard to find in the area:
Kataifi – shredded filo dough filled with nuts & spices
Profiterol – vanilla and chocolate custard with eclair puffs
Ekmek – vanilla custard with kataifi base
Rizogalo – rice pudding
Trigona – baked filo filled with vanilla custard
Milfai – puff pasty layered with vanilla cream, topped with powdered sugar and cinnamon
When asked what makes Sweet Greek's coffee special, Yannis replied, "Illy coffee is voted #1 in the world, once you taste it no other coffee compares."
Sweet Greek serves more than baked goods, sweets, and desserts. The eatery offers a variety of pitas – puff pastry made in house filled with various fillings such as beef Wellington, ham Gruyère and bechamel, spanakopita, kolokithopita, and tiropita. Guests will also find sweet and savory crepes, paninis, coffee, and more.
THE FAMILY FAVORITES
The family describes their personal perfect meal at Sweet Greek, from start to finish.
Yannis: "Chicken mushroom crepe with salad, and poutinga (walnut cake topped with white chocolate pudding), accompanied by a Fredo espresso."
Christina: "Ham & Gruyere pita with a side salad, and biscotti torte with an Americano hazelnut coffee."
Areti: "Chicken pesto panini with a side salad, profiterol (like an eclair in a bowl), and a cold brew."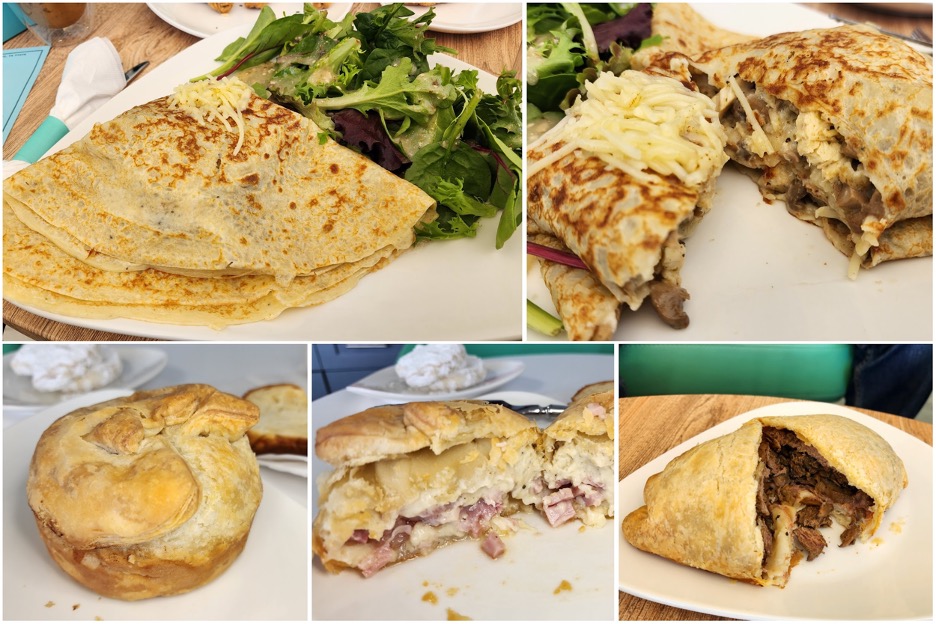 WHAT THE LOCALS ARE ORDERING
Pita: Ham & Gruyère
Panini: Chicken pesto
Savory crepe: chicken mushroom
Sweet crepe: Nutella & strawberries
Cookie: Kourabiedes (Greek wedding cookie)
Gelato: Amaretto
Torte: Biscotti
Chocolate/Truffles: Gianduia
Pastry: Kornedakua
Coffee: Freddo cappuccino
Phyllo dough dessert: Baklava
Traditional Greek specialty dessert: Galaktoboureko
COMMUNITY
Sweet Greek donates to several schools and churches and has recently participated in raising money for pets that need homes, teaming up with Nick's Local Eats – Sweets For Charity benefiting AAR – Abandoned Animal Rescue.
WRAPPING IT ALL UP
It's a family affair at Sweet Greek. Christina enjoys working with her family, describing it as "A blessing to be with our loved ones every day." Christina attributes her restaurant's success to the community, sharing that it comes from "Word of mouth! We make everything in house and use only the best ingredients and it shows in our dishes."
What you will find at Sweet Greek is a family-friendly and fast casual atmosphere, expert and welcoming owners, and beautifully handcrafted Greek pastries, desserts and savory lunch/dinner options with something on the menu for all. Sweet Greek is authentic and a welcome change to the Spring/Klein area.
Christina shares five words to describe Sweet Greek: "Delicious, inviting, fresh, authentic, homemade."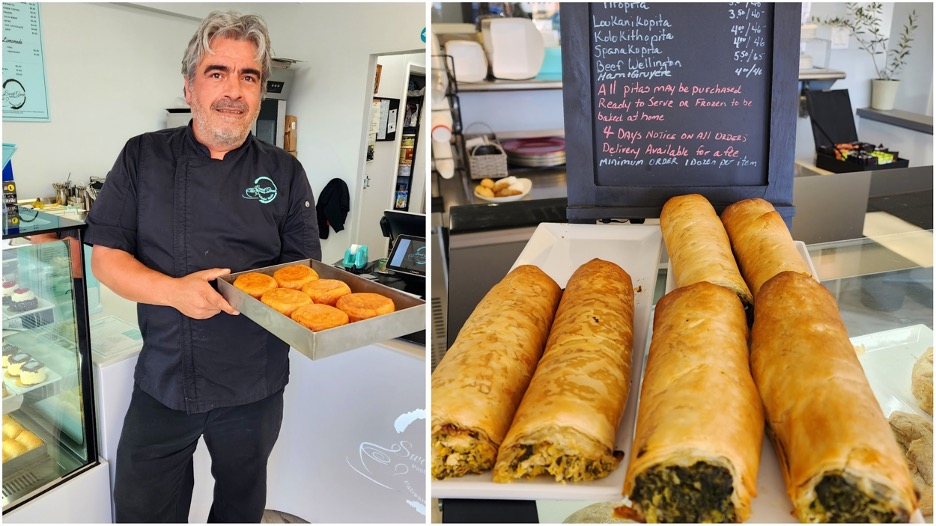 Sweet Greek Pastries & More
Address: 8320 Louetta Road, Ste. 100, Spring, TX 77379
Phone: 832-592-7777
---
Nick Rama is a food writer, contributor to Hello Woodlands, and shares his restaurant experiences on Nick's Local Eats at NicksLocalEats.com and on the TX BBQ, Burgers, and Brew Facebook page. Nick enjoys helping small business owners, supporting his community by fundraising for food banks, and plans tasting events with locally owned mom and pop restaurants.