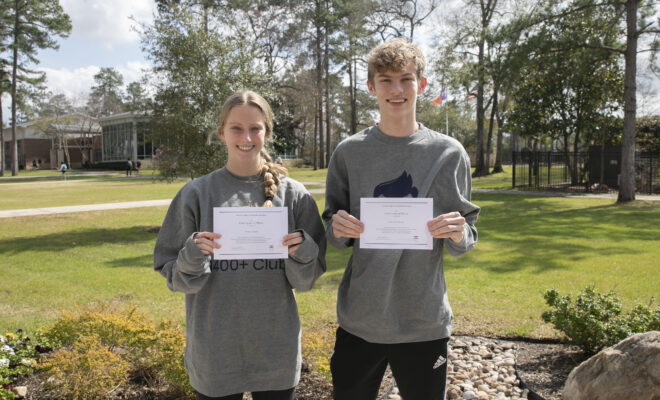 Photo courtesy of The Woodlands Christian Academy
News
Woodlands Christian Seniors named National Merit Scholarship Program Finalists
By |
Two students from The Woodlands Christian Academy have advanced to Finalist standing in the 2023 National Merit Scholarship Program. Avery Buck and Seth Culberson placed among the top 15,000 scorers of the over one million students who entered the competition by taking the 2021 Preliminary SAT/National Merit Scholarship Qualifying Test (PSAT/NMSQT®) and represent less than one percent of all U.S. high school seniors. They are now eligible to win a National Merit Scholarship.
"We are so proud of Avery and Seth! Their hard work preparing for these standardized exams is paying off with incredibly high test scores and college acceptances across the country. Because of their tenacity and dedication to excellence, they will surely be successful in all their endeavors. We can't wait to see what the future holds for them both," said Mrs. Amy Rowe, Director of High School Academic & College Advising.
Woodlands Christian offers a rigorous academic program with college preparation starting in 8th grade and SAT/ACT test prep for 9th-11th grade. One hundred percent of graduating seniors are admitted to colleges or universities. Woodlands Christian is now enrolling grades PreK – 12th for the 2023-2024 school year.
Advertisement
The Woodlands Christian Academy is a PreK – 12th grade college preparatory school that integrates learning with biblical faith and challenges students to reach their highest potential – spiritually, academically, physically and socially. For more information visit twca.net.