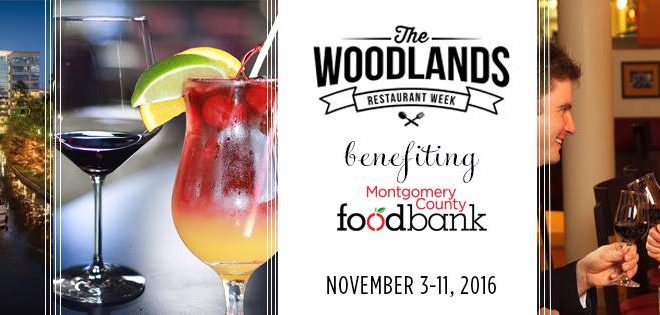 Calendar
The Woodlands Restaurant Week
By |
The Woodlands Restaurant Week is BACK!
The Woodlands Monocle will be hosting the second The Woodlands Restaurant Week (TWRW) benefiting Montgomery County Food Bank to be held from November 3 through November 11, 2016.
Throughout the week, participating restaurants will offer a dedicated TWRW menu to guests and will donate a portion of the bill ($1 to $3 per person) to the Montgomery County Food Bank (MCFB) that will help feed food insecure people in our county.
From MCFB's superb buying power from a generous network of companies and organizations, each $1 donated buys 3.5 meals to feed those in need within our community. 75,000 individuals in Montgomery County are food in secure and by you dining out with family and friends, you can help extend their mission to end hunger.
PARTICIPATING RESTAURANTS
The Refuge Bar And Bistro
Landry's Seafood
Robard's Steakhouse
Perry's Steakhouse
Fielding's Wood Grille
Fielding's Local Kitchen
Current
Schileci's New Orleans
Cyclone Anaya's
Grotto Italian
Babin's Seafood
Pallotta's Italian Grill
Moyz Street Food
Crush Wine Lounge
Kirby's Steakhouse
To learn more about TWRC or to sign up as a participating restaurant, please visit thewoodlandsrestaurantweek.com
Stay tuned for new ideas and exciting ways to get involved!