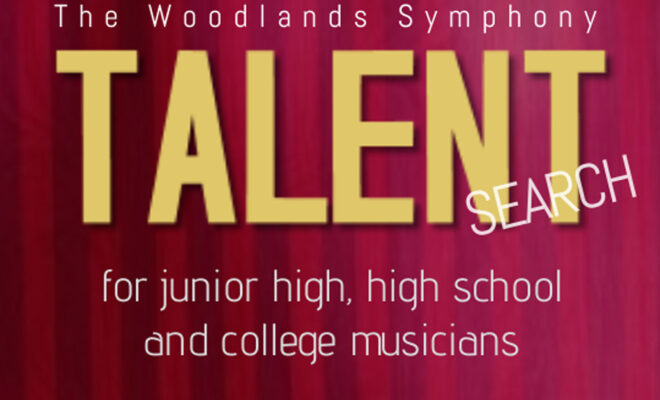 Art & Culture
Woodlands Symphony and Woodlands Area Youth Symphony Announce Talent Search
By |
THE WOODLANDS, TX – The Woodlands Symphony Orchestra (WSO) is conducting an online only Talent Search accepting a limited number of players to join them this year for concerts, master classes, and community outreach.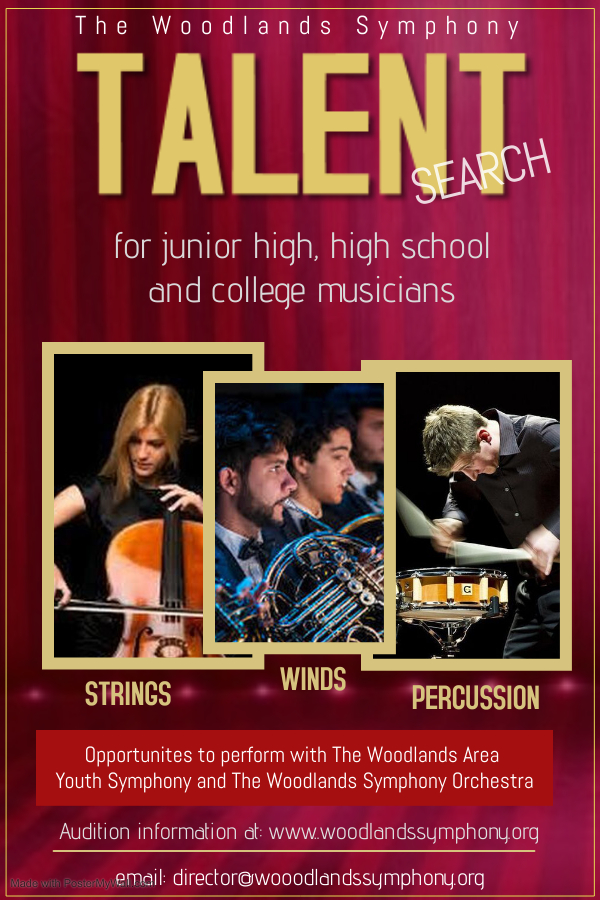 The Woodlands Area Youth Symphony (WAYS) accepts only the best young musicians in the region for membership in order to maintain the highest level of musicianship. Along with regularly scheduled concerts, students are invited to play one concert per semester with the WSO and sit side-by-side with professional musicians. There are additional opportunities to participate in master classes and auditions for solos throughout the season. Students accepted into the program through the Talent Search do pay a tuition to offset expenses associated with running the program and a limited number of scholarships are awarded each semester.
Participation is open to students that have studied classical music in school and have received private lessons for three years or more. The Talent Search is intended to reach those enrolled in junior high, high school or college band and/or orchestra. Home schoolers without a music program will receive an exception.
Students will submit three audition videos including lyrical playing, technical mastery, and scale requirements with specific details found on the WSO homepage under the tab "WAYS Handbook." Visit www.woodlandssymphony.org for more information.
The Talent Search is now open and continues until Saturday evening January 16. All accepted will be notified by Sunday January 17 for rehearsals beginning Thursday, January 21st. Contact Darryl Bayer, Artistic Director for personal assistance at director@woodlandssymphony.org.
The WSO has completed six successful seasons as a regional orchestra with the very best musicians from The Woodlands and the adjacent cites of Conroe, Spring, Oak Ridge, Montgomery, Magnolia, and Tomball. Under the Artistic Direction of Darryl Bayer, the WSO and WAYS have performed in a variety of venues with a wide range of music from symphonic to rock, movie and video game scores, plus the Collaborative Arts Series with theatrical productions, artists and choirs.
WAYS, the WSO's youth orchestra is partnered with Celebration Music School performing at Celebration Church and in the community. WAYS students will rehearse in a large facility each Thursday evening with plenty of space for social distancing. The music literature is challenging requiring students to rise up each season with a side-by-side concert alongside the members of the WSO.
The WSO and WAYS are both full orchestras with the common goal to create a culture of multi-generational love for the classical arts. The WSO is dedicated to honoring musicians in the area that are professionals, educators and members of the community with a passion for classical music. WAYS was created to give young musicians an environment to participate in a high-level full orchestra on a consistent basis.