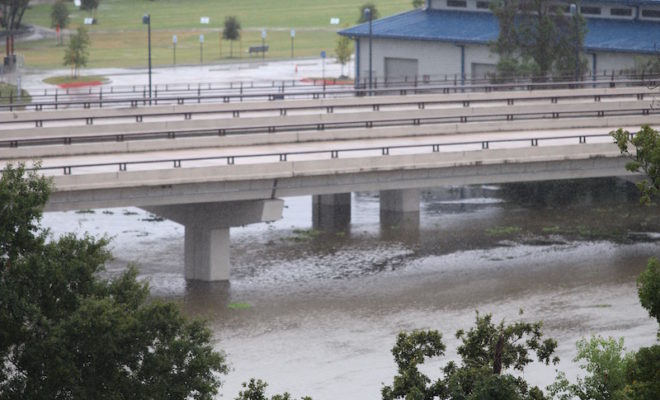 Hurricane Harvey
The Woodlands Township reports on Harvey Effects
By |
THE WOODLANDS, TEXAS – As of August 26 at 3 p.m., Harvey has been downgraded to a Tropical Storm moving NW at 2mph.
The current forecast has the storm tracking to the N/NE by Monday, August 28, 2017, passing west of Montgomery County.
Montgomery County will remain on the "dirty" side of the storm bringing additional rainfall to the area. Predictions indicate Harvey will be downgraded to a Tropical Depression.
The Woodlands Fire Department and Montgomery County Office of Emergency Management (OEM) continue to monitor the storm forecast. Depending on the information provided, the OEM is prepared to open shelters in Montgomery County on Saturday night if needed.
Spring Creek levels are currently forecasted to be below the levels that were experienced on the Tax Day and Memorial Day floods.
The Woodlands area has received approximately 5.8 inches of rain since the event's onset.  Lake Woodlands and Bear Branch Reservoir are releasing water over their respective spillways as expected for the accumulated rainfall. Spring Creek is expected to crest late Monday or early Tuesday morning.
Lake Conroe is currently one-half foot under pool.  Hydrologists will determine whether it is necessary to release water from the lake later this afternoon or early this evening.
The Woodlands Fire Department has not experienced any significant incidents or water rescues at this time.  All available resources are in position to respond if needed.  WFD will appropriately staff the Emergency Operations Center throughout the storm, continually monitor the situation, and provide periodic updates as needed.
The Woodlands Fire Department has received reports of juveniles playing in high water areas on rafts in Alden Bridge.  WFD reminds all residents to stay out of rising waters due to unpredictable currents and unforeseen dangers.
The Woodlands Township continues to monitor heavy rains produced by Hurricane Harvey throughout the weekend into next week.
The Woodlands Waterway Trolley system will not operate today, and Sunday's operations will be determined later today/tonight.
The Township Recycling Center on Research Forest Drive will not be open today.
Montgomery County Office of Emergency Management released this information this morning:
Tornado watch in effect until 1:00PM today
Flash Flood Warning for Southwestern Montgomery County
Flood warning in effect for a portion of Montgomery County Hurricane Harvey continues to move inland, bringing bands of rain over our area. Periods of heavy rain, wind shears and tornadoes remain in our immediate forecast. This is a prolonged tropical cyclone and we anticipate severe weather thru Wednesday. The track forecast continues to show very slow movement for the next 5 days this means periods of heavy rain from today into at least Wednesday. Catastrophic flooding is expected to devastate Texas. Montgomery County Rainfall predictions for the weekend are between 10 and 15 inches. During dangerous, life threatening, flooding situations law enforcement will call for specific areas to evacuate. If you live in a flood prone area or you have flooded before make preparations and be ready to leave your home at a moment's notice. Plan to stay with family or friends that live in an area that does not flood.
For more information, see Montgomery County website: https://mctxoem.org
The Woodlands Township encourages residents to monitor both Montgomery County and Harris County emergency operations and use links available at www.thewoodlandstownship-tx.gov/emergency. In addition, residents should monitor local news stations and be prepared.
According to credible forecasts, The Woodlands residents should expect prolonged rain, potential sustained wind, and possible flooding in some areas.
"The Woodlands Township Fire Department is coordinating with emergency crews and resources in Montgomery and Harris County," according to Township Chairman Gordy Bunch. "We are just outside the major impact zone, but still could see sustained winds and heavy rains. Our Township employees are monitoring the storm and working with emergency officials." The Township also advises residents to utilize the additional resources below in developing their emergency preparedness plans:
Residents of The Woodlands Township residing in Montgomery County can sign up to receive emergency alerts via phone or email from the Montgomery County Office of Emergency Management at https://www.smart911.com. When you are creating your profile, you must check the box next to Share my Smart911 Profile with TX-Montgomery-County-911 to support emergency preparedness.
Residents of The Woodlands Township residing in Harris County can sign up to receive emergency alerts at www.911.org.
Here are the official Office of Emergency Management links for both Montgomery and Harris counties:
https://readyharris.org/ for Harris County
https://mctxoem.org/ for Montgomery County
For emergency-specific information specific to The Woodlands, listen to K-Star Country, KVST 99.7 FM, the official emergency broadcast partner of The Woodlands Township.
Sign up for the Township's emergency notification system (www.thewoodlandstownship-tx.gov/notifyme) which is designed for major weather events that threaten citizens and reaches thousands of residents via text messages and email. In the event of a community wide emergency, the Emergency Alert icon on the Township's website home page will turn red and will blink "Active" as well as feature a webpage banner alert.
Stay connected and download our official mobile app – TheWoodlands311. The application can be downloaded for free on an iPhone or Android device by searching "TheWoodlands311" in the App store or on Google Play.
TheWoodlands311 for Android
TheWoodlands311 for iOS 
Sign up for the Talk of the Township, a frequent newsletter from the Township, at www.thewoodlandstownship-tx.gov/notifyme.
Follow The Woodlands Township on Facebook (/TheWoodlandsTownship), Twitter (@TheTownshipTX) and Instagram (@TheTownshipTX) for important up-to-date news alerts.
Follow The Woodlands Township Transportation Department on Twitter (@TownshipTransit) for communications regarding The Woodlands Express Park and Ride commuter bus service notices, reminders, interruptions and other transit emergency notifications.
Anyone interested in monitoring Lake Conroe levels, releases, rainfall totals, or stream flows can visit www.sjra.net and click on the link for "Lake and River Conditions." This link can be found near the top right corner of the home page where current lake conditions are listed.
For more emergency preparedness tips and information specific to The Woodlands, please visit www.thewoodlandstownship-tx.gov/getready or www.thewoodlandstownship-tx.gov/emergency.
In the event all communication efforts fail, residents may go to one of The Woodlands' eight fire stations for the latest updates. You can find out more about The Woodlands Fire Department and where the stations are located at www.thewoodlandstownship-tx.gov/firedepartment.
Hurricane Preparedness Checklist
Batteries: Have enough on hand to provide power for flashlights and radios.
Food Items: Stock food items that have a long storage life and do not necessarily require cooking. In addition, if you have a liquefied propane (LP) camp / barbecue grill, purchase propane before the storm approaches.
Have a Safe Room: Select a room in your house that is free of windows. The room should be large enough for everyone in the house to fit. The safe room is also the place to be if there a tornado warning in The Woodlands.
Know Your Insurance Company: If a problem arrives at your home due to weather related problems, knowing your insurance company's agent before can help a great deal in speeding up the insurance claim.
Know Your Neighbor: Get to know your neighbors and help each other out. A storm can damage one house and the house next door can go completely unharmed. Good neighbors can assist each other during weather generated disasters.
Radio: Have a battery-powered radio in your home to provide your family a source of information during the storm.
Secure Your House: Inspect your home for tree branches hanging over your roof. Trim your trees before hurricane season. Secure all large windows and sliding glass doors with plywood or cardboard to help prevent your windows from breaking.
Shelter-In-Place: If you stay, high winds, tornadoes and flooding can be extremely hazardous. If you must go out, be sure to tell someone and only go for an emergency.
Water Supply: Have plenty of water on hand before the hurricane arrives. Supplies will be limited when a storm is approaching. You should have at least four gallons of water per family of four per day for cooking and drinking.
For more information on The Woodlands Township, please call 281-210-3800 or visit www.thewoodlandstownship-tx.gov.
Source: The Woodlands Township