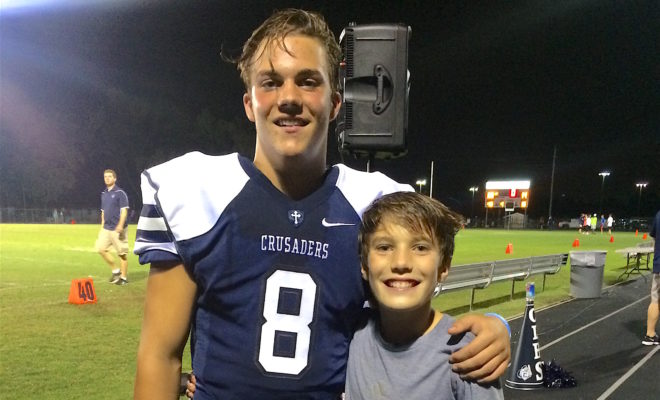 Fitness & Sports
High School Football Star Dedicates Season to Children's Cancer Research
By |
THE WOODLANDS, Texas—One local teen is devoting his last season of high school football to further pediatric cancer research. Hayden Yezak, 17, is a breakout star on the Concordia Lutheran High School football team. Hayden has enlisted the help of his younger brother, and the two have joined forces with Kick-It for Cancer to support research on a local and national level.
The star kicker is playing the game that he loves to raise money for a cause that is close to his heart. Hayden, who has some of the most impressive statistics in his district, decided to devote his season to Isabelle Nicole, who passed away after her battle with pediatric cancer. Hayden is incredibly close to Isabelle's family. Isabelle's aunt, Rebecca Callahan, was a classmate of Hayden's, and her grandmother worked at Concordia Lutheran High School.
"I saw what her family went through, and so when I had the chance to help raise money for pediatric cancer I signed up right away," Hayden said. Once he began his Kick-It campaign, he knew he had to enlist his brother, Hudson. Hudson has also joined Kick-It in support of pediatric cancer research, and is playing his season to honor the memory of Jake Hickford, a young boy who was a member of the Trinity Lutheran School family where Hudson now kicks.
"So little money goes to childhood cancer research," Hayden lamented. "When I heard the statistics it blew my mind. I would love for the support of childhood cancer research to gain traction. I really hope that being a Kick-It Champion will at least help raise awareness."
The brothers' efforts are already taking effect. Their campaigns have already raised more than $1,700 and Hayden is incredibly proud to be sharing this experience with his brother. The two are both Kick-It Champions, and their dedication to serving their community is inspiring.
"I really want to be a good role model for my little brother. So if I can help to honor Isabelle's memory and make my family proud, it's something I'm really happy to be doing."
Learn more and support the Yezak brothers' campaigns:
Hayden Yezak's Kick-It Campaign page
Hudson Yezak's Kick-It Campaign page