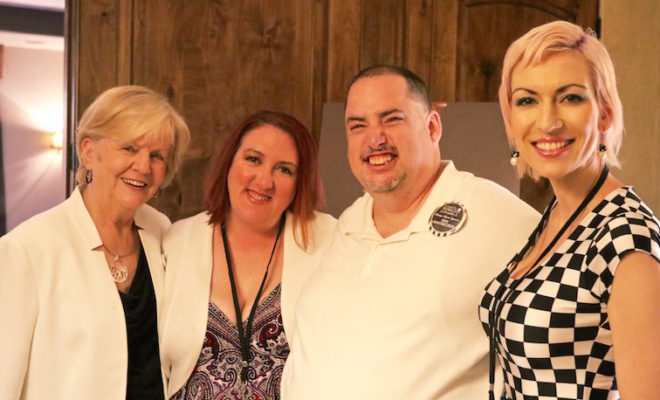 Calendar
180 Minutes Around the World with Bridgewood Farms
By |
Founded in 1967, Bridgewood Farms is celebrating 50 years of providing programs and services for intellectually and developmentally disabled people and their families in Montgomery County.Thanks to the dedication of the staff, board of directors, and supporters of Bridgewood Farms, the 501(c)(3) tax-exempt, non-profit organization has become an integral part of Montgomery County over the past five decades.
The organization's 9th annual "180 Minutes Around the World" wine tasting fundraising event with wines from 14 regions took place at MainStreet America on Saturday, April 8th 2017, from 6:30 to 9:30 pm. Funds raised will allow Bridgewood Farms to continue to provide and grow the programs and services for the intellectually and developmentally disabled and their families. Each participant received a wine glass with a handmade ceramic wine charm (made by the clients) and a passport. Attendees traveled through the regions of the world getting their passport stamped while tasting wines of that region.
Watch the LIVE interview at the Bridgewood Farms "180 Minutes Around The World" Wine Event with Jenny Kelley of Hello Woodlands, Holly Boss of WoodlandsHits.com, and Brandon of Bridgewood Farms.
Take a tour of the event on the Hello Woodlands Instagram page:
Too often, individuals with intellectual and developmental disabilities end up sitting at home because the activities that commonly fill our lives aren't designed to meet their needs. At Bridgewood Farms, they work to bridge the gap between the opportunities available in the community and the abilities of their clients. Programs provide the scaffolding necessary to build and maintain important skills throughout each individual's lifespan such as Adult Continuing Education, Social and Recreational Activities, Special Olympics, Respite Care, Horticulture, Cermanics, Pre-Vocational Training and Physical Education.
Bridgewood Farms' Executive Director Flo Nelson was originally looking for a way to help her son, a special needs child, stay engaged after graduating high school in 1982. Nelson became a coach for Special Olympics, volunteered at the organization, and when Bridgewood Farms moved to its current location at 11680 Rose Road, Conroe, Texas in 2001, she came onboard as the executive director. To this day, her son is one of nearly 200 active and involved clients at Bridgewood Farms.
Learn more about Bridgewood Farms and how the organization works to ensure that all citizens of Montgomery County – regardless of their intellectual abilities -have a place to lead happy, healthy, productive lives at BridgewoodFarms.org
View more photos and videos from the event on the Hello Woodlands Facebook page!