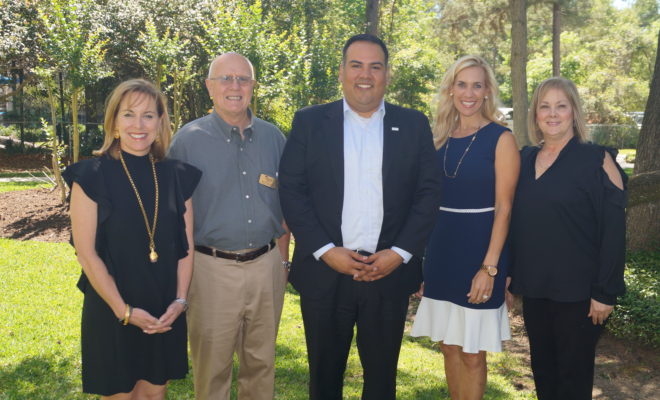 Calendar
Stephanie Decker to speak at Interfaith's Women Empowering Women Event
By |
Interfaith Community Clinic is excited to announce Stephanie Decker, "Tornado Mom," will be the guest speaker at the fourth annual Women Empowering Women (WEW) luncheon, presented by CHI St. Luke's Health, held at The Westin at The Woodlands on Friday, May 5, 2017 from 11:30 AM to 1:00 PM.
In March of 2012, a tornado ripped through the town of Henryville, Indiana. Stephanie Decker, a 37-year-old mother of three, found herself in a life-altering moment. As her house began to disintegrate around her, she shielded her two young children with her body. Her dream home fell in, crushing her legs, but because of her heroic actions, Stephanie's children were amazingly unscathed. At that point, doctors determined that parts of both legs would need to be amputated. Stephanie Decker has become a true symbol of survival and overcoming adversity. She has used her story to bring awareness for the Stephanie Decker Foundation. She has been featured on The Today Show, The Ellen DeGeneres Show, ABC World News Tonight as "Person of the Week", USA Today, USA Weekend, and People Magazine. Stephanie Decker was most recently featured on ABC's People Icons: Heroes & Survivors and in the March 20th edition of People Magazine.
Proceeds from WEW will benefit Interfaith Community Clinic. "The work that we do here at Interfaith Community Clinic is so important because these patients would otherwise fall through the cracks. They need preventive care and routine medication refills that most individuals take for granted," said Dr. Jack Lesch, Physician and Director of Interfaith Community Clinic. "This annual event raises much-needed funds for the clinic and continues to provide healthcare to the uninsured in our community," shared Missy Herndon, President & CEO Interfaith Community Clinic.
Interfaith Community Clinic opened its doors in 1996 to meet the medical needs of the uninsured population. As the needs of the community have grown, so have the services offered at the clinic. Today, the clinic continues to provide quality basic medical and dental care, counseling and patient services to individuals in need. A volunteer staff of licensed physicians, nurses, medical providers, dentists, dental assistants, dental hygienists, as well as translators and support personnel work together to provide patient care. Programs are provided free of charge and are funded by the generous financial support of grants, faith-based organizations, businesses, civic groups, and individuals.
For more information, please view www.interfaithcommunityclinic.org or call 281-364-7889.