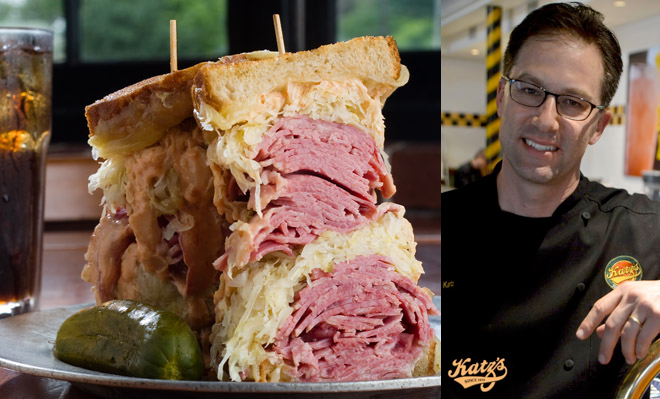 Calendar
Katz's NEVER KLOSES Coming to The Woodlands!
By |
The original, 24-hour Houston restaurant, Katz's Deli and Bar will be replacing Katz's Express. The new restaurant will bring the full Katz's outstanding menu, waiter service, a complete rebranding, specialized dinner menu items, and its' popular breakfast served 24 hours a day And on May 12 at the Relaunch KATZ'S WILL NEVER KLOSE!
"The only lox we have will be on our bagels", said Barry Katz, owner of Katz's Deli and Bar. "We opened our first New York style deli in 1979 in Austin and got so busy-we stayed open 24 hours and it became KATZ'S NEVER KLOSES."
The locks will be cut off the doors never to be closed again beginning Friday, May 12 from 6:00 pm -10:00 pm with many festivities including a New York trivia contest, a 1979 costume contest, promotional 1979 prices for lunch and dinner and phenomenal prizes!
Katz's Deli in The Woodlands will bring a modern, stylish, Brooklyn-inspired neighborhood feel while retaining the bustling, authentic deli experience that makes Katz's Deli a Houston favorite. The restaurant has teamed up with architecture firms Mirador Group and Michael Hsu, the designer of Uchis and various Shake Shacks. The new design and concept is geared toward bringing a taste of Brooklyn with a Texas twist to The Woodlands as it continues to grow and attract young professionals and families.
The Katz's Deli in The Woodlands will also offer full-service dining. The new menu will mirror the Montrose location's offerings, with new and unique items like Texas Pecan Hummus with Whipped Feta Dip served with Bagel Chips on the appetizers menu, as well as chicken and waffles for breakfast, New York oversized sandwiches and the famous cheesecake milk shake. The menu itself is also a 'big' change, since it's now the size of a New York tabloid. The restaurant will also be offering a wide range of local, domestic and seasonal beers on tap including Brooklyn Lager and a notable new wine list.
As a part of the promotional week, Barry Katz has announced 2 local charity events: Tuesday, May 9 50% of gross sales will benefit the Will Herndon Fund for Juvenile Batten Disease Research, and Wednesday, May 10 50% of all gross sales will go the KATZ and dogs with Operation Pets Alive (OPA) OPA is the designated nonprofit partner for the Montgomery County Animal Shelter. www.OperationPetsAlive.org
Currently on Westheimer Street and in the Portofino Center in The Woodlands, Katz's is also planning to expand from four to six more locations in the Houston area. To sample favorite Katz's Deli items today and enjoy a taste of New York in Texas visit www.ilovekatzs.com or stop by one of the locations to experience the excitement of the "city that never sleeps".
For more information about the grand re-opening event on May 12th, please contact Margie Taylor at margie@taylorizedpr.com.