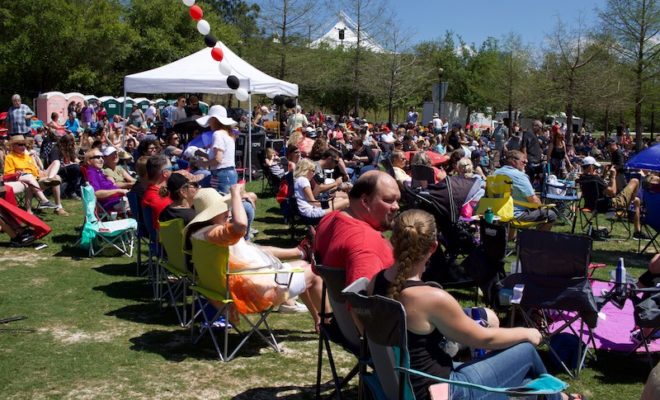 Events
A Tribute Music Festival to Remember
By |
The inaugural Tribute to Woodlands Music Festival was "an experience to remember" as thousands experienced live music and fun in Town Green Park on Saturday, March 31, 2018 from 12 p.m. to 11 p.m.
Produced by Inspire Productions, attendees sang along to great classics and listened to the 60's, 70's, 80's, 90's, and 2000's cover bands playing live on the event stage and will be heard throughout the festival. The Tribute Band lineup included VHT – Van Halen Tribute Band, Subdivided – Rush Tribute Band, Black Dog – Led Zepplin Tribute Band, Rusted Cage – Soundgarden Tribute Band, Foo Fakers – Foo Fighters Tribute Band, Nightbird – Fleetwood Mac Tribute Band, Grey Vinyl – Creedence Clearwater Revival Tribute Band, and Fab 5 –  Beatles Tribute Band.
Memorial Hermann TIRR was the nonprofit organization of the festival, was be present at the event, and made a special speech on stage at 8:45 p.m. TIRR Memorial Hermann specializes in physical therapy, occupational therapy and speech therapy for inpatients and outpatients affected by spinal cord injury, traumatic brain injury, stroke, amputation, multiple trauma and neuromuscular disorders.
Trey Diller of Inspire Productions made a surprise appearance, shared his experience in a car accident last year, and the success of his recovery from with TIRR Memorial Hermann. During the speech, Trey thanked TIRR Memorial Hermann, his family, friends, supporters – and to much to the crowd's delight – thanked and proposed to his girlfriend Kristin. …and she said yes!
The festival featured food trucks, a kids zone, vendors, silent auction, VIP area, and T-Mobile was onsite with a charging station for attendees to charge their phones. Food trucks and vendors included Voodoo Momma's Cajun, Kettle Express, Mi Patio Grill, Refill Stattion Pizza, Wings on Wheels, Greek Squad, KICPOPS, BC Co. Fancy Snowballs, Oh My Gogi! BBQ, Bundt Cake-a-holic alcohol infused bundt cakes, Crepe Xscape and more.
Hello Woodlands captured moments from the festival:

Jennifer Bruse from Hello Woodlands also reported LIVE at the festival:

Sponsors of the Tribute to Woodlands Music Festival include Planet Ford, Drink HeyDay cold brew coffee, Woodlands Car Care, Events Plus, Grand Central Park, America's ER, Bud Light, Hello Woodlands, and Link Local.
Learn more about theTribute to Woodlands Music Festival and upcoming events by Inspire Productions at Inspireprod.com, like and follow the Inspire Productions Facebook page, and join the Facebook event here.
View photos from the event on the Hello Woodlands Facebook page!