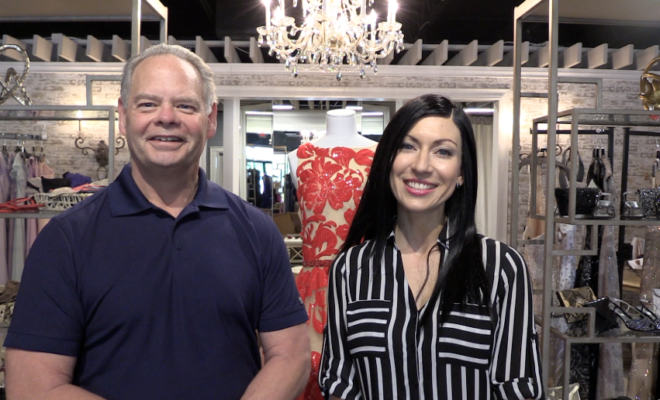 Events
Got the ring? Plan ahead, Be Prepared with Wedding Insurance
By |
Got the ring, planning for the wedding – but are you prepared for the unexpected? Hello Woodlands's Jennifer Bruse visited the local business, Crane's Dress Boutique, with Randy Lovelace of Paragon Independent Insurance Agencies to take a tour and talk about an important topic… Wedding Insurance!
Watch the video interview below and on the Hello Woodlands Facebook page.
The month of June is coming up which means many weddings are just around the corner. Did you know that in the Houston area, the average wedding costs in between $17,000 to $70,000?
Randy Lovelace shared, "Something that you want to consider – the 'what if.' Sometimes things that are out of our control happen. Such as the venue closes and goes out of business – or files for bankruptcy, something happens to the dress – God forbid. Things happen. The rings can get lost or damaged. The bridal gifts. Sometimes the venue may require a liquor liability or general liability to be able to use the facility. There are times and along the gulf coast – this has happened a time or two – that a hurricane or two might have shown up – and when that happens you may have to postpone your whole event. That means lost deposits, having to reschedule everything. These are all huge costs and someone is having to pay for that."
So, what is the answer? "Wedding Insurance," says Randy Lovelace. "A little known thing is Wedding Insurance. It actually exists. So for as little as $160 you can get a very basic package that covers some of these things and of course you can build on it depending on the size of your wedding. The average wedding costs in between $17,000 to $70,00. If you bought a car, you certainly want to protect your car. I'm all about peace of mind, so this gives you a peace of mind. In case the unforeseen unexpected thing happened then at least you've got protection. Have that insurance protection, kick back and relax, and have a great time."
Not only can you have a peace of mind, but you can also enjoy the buying process when choosing beautiful dresses and accessories – just like the ones we had the opportunity to see at Crane's Dress Boutique.
Located on I-45 N in the Woodridge Plaza of The Woodlands, Crane's Dress Boutique is a local formal dress shop with a large assortment of formal and cocktail dresses in stock for formal events and when shopping for Prom, Mardi Gras, a Gala, Guest of Wedding, Mother of the Bride, and more. Learn more about Crane's Dress Boutique at www.cranesdressbtq.com and visit their Facebook page.
For more information about Wedding Insurance and ways to protect your family, please contact Randy Lovelace by calling 281-298-0440 or email rlovelace@paragoninsagencies.com. Learn more about Paragon Independent Insurance Agencies at www.paragoninsagencies.com/woodlands.
Advertisement