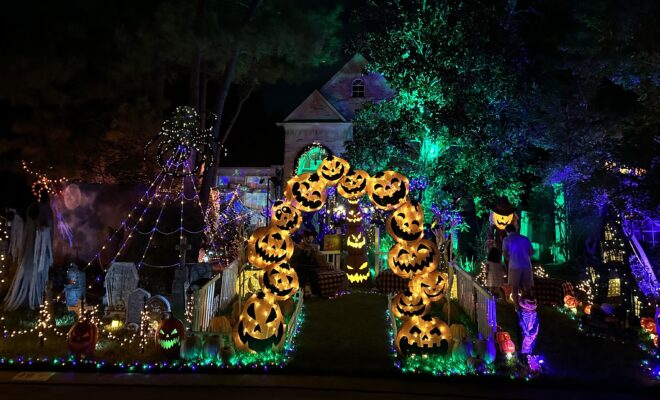 Photo by Tiffany Marascio, Hello Woodlands
entertainment
2023 Must-See Local Halloween Decorations, Map & Videos Included
By |
It's time for Halloween! Put on some Halloween music and head out to see these local Halloween decorations. There are several new houses on the list this year! The list is updated regularly so be sure to check back for additions as Halloween gets closer.
Halloween in The Woodlands Area 2023 Map
Click on any of the ghosts to find an image of a home decorated for Halloween and its location.
Alden Bridge
Cider Mill Court
Take a peek in the window to see who is watching you! Map
S Plum Crest Circle
These skeletons change often! Come by to see all sorts of skeleton shenanigans! Map
W Greywing Circle (The Doll House)
The Doll House features over 100 dolls that have been hand painted to create the perfect eerie details on each one. The chilling mood is complete with scary music and lighting. Map
Moonseed Place
Walk through this graveyard to experience the interactive characters and elements! Map
Pine Island Place
This house was named the 2022 Spookiest House in Alden Bridge. Map
Watermint Place
See if you can find the house! This yard is full of delightfully creepy characters! Map
Webb Creek Place
The house at Webb Creek Place is back again this year with a creepy clown theme including a clown on a functioning swing set and a giant, spooky clown-in-the-box! Map
S. Winterport Circle
This scary circus walk through has interactive characters, creepy games, and jump scares. Map
Cochran's Crossing
Amber Sky Place (Nightmare on Amber Sky)
Watch "Icky" the pumpkin and his pumpkin friends sing Halloween songs to a synchronized light and music show. Check the homeowner's Facebook page for weather updates at Nightmare On Amber Sky. Map
Cascade Springs Place
Catch these giant skeletons towering over the street. Map
Cascade Springs Place
The Ghostbusters are saving the world from the Stay Puft Marshmallow Man in this Halloween scene, on the same street as the giant skeletons! Map
S Cochran's Green Circle
These skeleton families were all set for Walk to School Day! They have been known to change things up and create different scenes! Map
Driftoak Circle
The homeowners invite guests to get out of the car to explore this spooky front yard complete with photo ops, interactive characters, and more! Map
Mystic Lake Circle
This year the house on Mystic Lake Circle features the Haunted Hotel! Visitors can tour a lighted pathway filled with interactive monsters and witches, selfie stations, and more! You can find the homeowner outside visiting with her guests to make sure everyone is having a great time. Map
Magnolia
Green Bend Court
This light show, synchronized to music, is back again this year with an added element – spotlights! Map
Northampton
Glenhill Dr.
There's a creepy carnival on Glenhill Drive! Map
Glenhill Drive
Across the street from the creepy carnival above is a house with surprises in every window! Map
Shenandoah
Blue Ridge Drive
Be sure to look in the front window for a scary surprise at this house! Map
Shenandoah Drive
This creepy colorful display is a staple in Shenandoah, right off Research Forest. Map
Silverwood Ranch Drive
Trick or treat your way through this terrifying walk through to the front door. Map
NOTE: Grand Bayou Place will not have Halloween decorations this year.
Find more local Halloween decorations on Hello Woodlands' Facebook page: www.facebook.com/HelloWoodlands. Don't forget to check back for the 2023 Local Christmas Lights displays!
Looking for Halloween-themed activities? Find local Halloween events here: www.hellowoodlands.com/halloween-activities-in-the-woodlands-area-2023
UPDATED: October 31, 2023 at 7:53am.