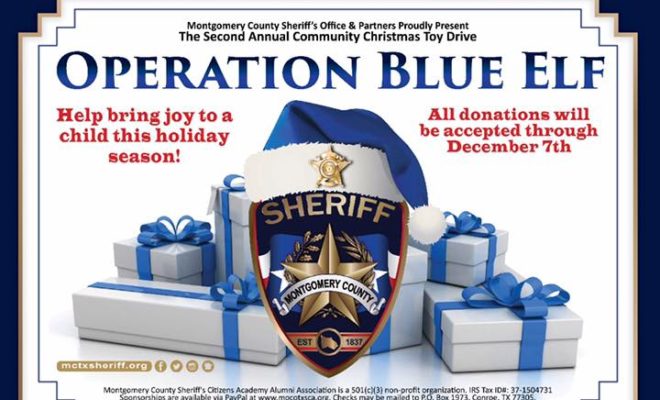 News
2nd Annual Community Christmas Toy Drive "Operation Blue Elf"
By |
The Montgomery County Sheriff's Office, The Montgomery County Sheriff Citizen's Academy Alumni Association and many community partners are celebrating the Second Annual Community Christmas Toy Drive "Operation Blue Elf". Last year, thanks to citizens and community partners, over 700 children of Montgomery County had a brighter Christmas.
The Montgomery County Sheriff's Office is asking for your help to make Christmas better for our communities' children in need by donating new, unwrapped toys at one of our many drop off locations throughout Montgomery County. The Montgomery County Sheriff's Office's community partners are working to identify children, infants to early teenagers, which are in need of Santa and his Blue Elf helpers this year.
Kindness and generosity have always been hallmarks of the Texas Spirit, and no place does it better than Montgomery County. Continue to show the rest of Texas how truly passionate and caring Montgomery County is. Santa and his Blue Elves need your help!
If you are interested in partnering with Operation Blue Elf, please email mcsoevents@mctx.org. Donations can be made via PayPal by visiting-
https://www.mocotxsca.org/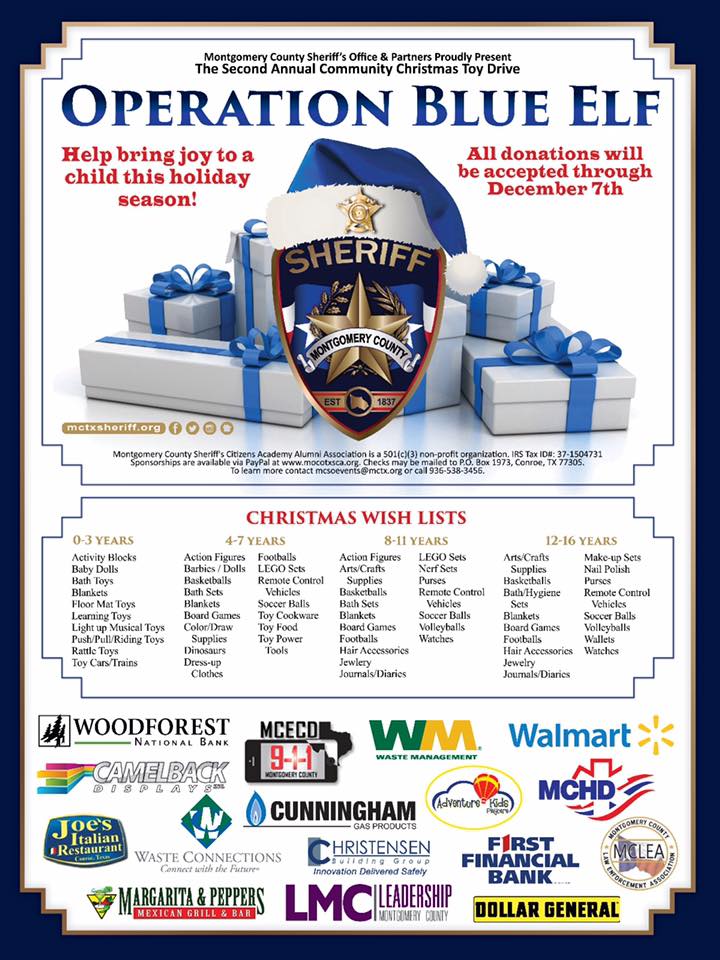 Donation drop off locations:
Any Sheriff's Office location
Joe's Italian Pizza 1604 N. Frazier St, Conroe, TX
Margarita's and Peppers-2259 N Loop 336 W, Conroe, TX
Woodforest Bank locations:
Towncenter – 1330 Lake Robbins Dr. The Woodlands, TX 77380
Rayford – 327 Rayford Spring, TX 77386
College Park – 3060 College Park Drive The Woodlands, TX 77384
Sterling Ridge – 10555 Kuykendahl The Woodlands, TX 77382
Loop 336 – 1111 Loop 336 West Conroe, TX 77301
Conroe Downtown – 400 West Davis Conroe, TX 77301
Conroe 105 – 3101 West Davis Conroe, TX 77304
Willis – 550 West Montgomery St. Willis, TX 77378
Montgomery – 20821-A Eva St. Montgomery, TX 77356
First National Bank Locations:
11399 Hwy 105 East Conroe, TX 77301
2201 Westview Conroe, TX 77301
1800 West White Oak Terrace Conroe, TX 77304
10521 FM 1097 West Willis, TX 77318
5424 FM 1488 Magnolia 77354
14125 Liberty Street Montgomery 77316
Dollar General Locations:
602 Honea Egypt Rd. Magnolia, Tx.
46124 FM1774 Plantersville, Tx.
2495 N Loop 336W Conroe, Tx.
12491 FM1314 Conroe, Tx.
11092 Browder Traylor Conroe, Tx.
4203 West Davis Conroe, Tx.
Suds: 4203 West Davis Conroe, Tx.
WJPA: 2455 Lake Robbins Spring, Tx.
Tall Pines Storage:
11219 Little Egypt Rd. Conroe, Tx.
6437 Hwy 105 W Conroe, Tx.
MCHD Administrative Office: 1400 South Loop 336 Conroe, Tx. 77301
Pepsi: 222 North Loop 336 Conroe, Tx. 77301
First Presbyterian Church: 2727 W. Loop 335, West, Conroe, TX 77301
Woodforest National Bank
Montgomery County 9-1-1
Waste Management
First Financial Bank Texas
Camelback Displays, Inc.
Waste Connections Inc.
Montgomery County Hospital District
The Blair Law Firm, P. C.
Leadership Montgomery County – Texas
Christensen Building Group
Joe's Italian Restaurant
MARGARITA & PEPPERS Mexican Grill & Bar
Adventure Kids Playcare – North Woodlands, TX
Dollar General
WJPA
Walmart
Montgomery County Law Enforcement Association
Cunningham Gas Products
Source: The Montgomery County Sheriff's Office