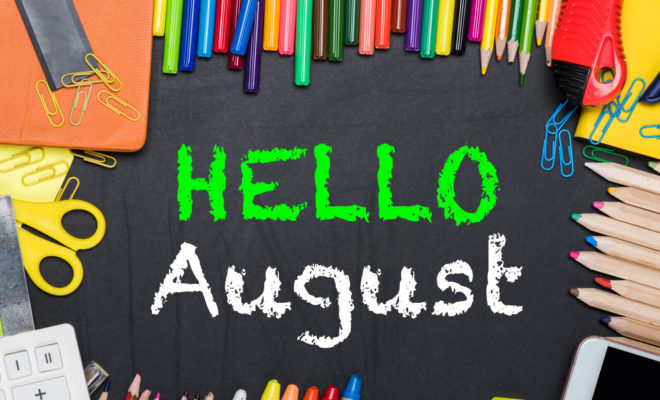 Calendar
31 Things to Do in August
By |
Hello August! Discover what's happening with the Hello Woodlands' new monthly guide called "31 Things To Do" featuring events, activities, locations, and ways to get involved in your community.
Join us this August by trying new activities and attending events in and around The Woodlands, Texas. Be sure to follow us on social media at @HelloWoodlands and subscribe to our email newsletter to stay updated for upcoming events, ticket giveaways, live videos, photos, and so much more!
Zach Richmond of The Richmond Realty Group RE/MAX The Woodlands & Spring and Jennifer Bruse of Hello Woodlands share what events are in The Woodlands area this August on our calendar and #31ThingsToDo guide below:
31 THINGS TO DO – AUGUST 2018
FEATURED EVENTS
August 11 – Tribute to Conroe Music Festival – This all day music festival features favorite tribute bands celebrating music from the 60s, 70's, 80's, and 90's. There will be food trucks, cold drinks, free kids zone, artisan vendors and more! Purchase Tickets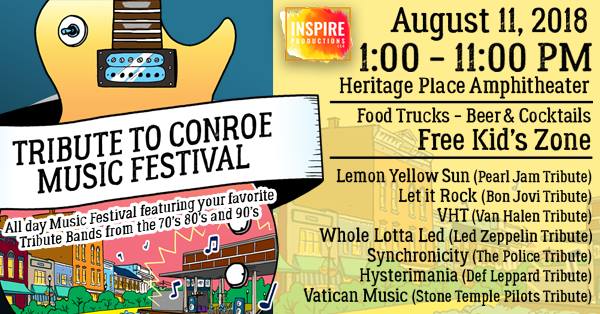 August 18 – Chairman's Ball – Attend the Chairman's Ball, a black-tie affair honoring our outgoing Chairman of the Board, Frank Holmes of Sam Houston State University, while celebrating the accomplishments of The Woodlands Area Chamber of Commerce. Expect an exceptional meal and a fun evening of live music and dancing. This year's theme is "Star Wars: May the Force be with You and Beyond." Learn more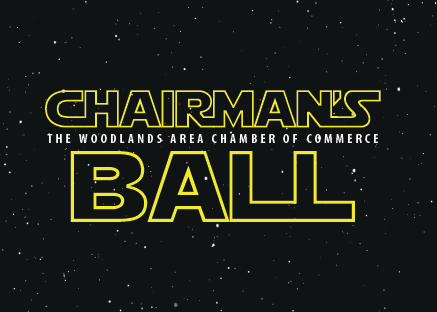 August 31 – "Final Friday" Dance Party – Bring your friends, family, and neighbors and experience social dance on Friday, August 31 at 7:30 p.m. at Country Dance X! Age 21 and up only. No cover or admission fee! Includes group classes, dancing, open bar with beer, wine and cocktails, food and free parking. Sign up for your FREE dance lesson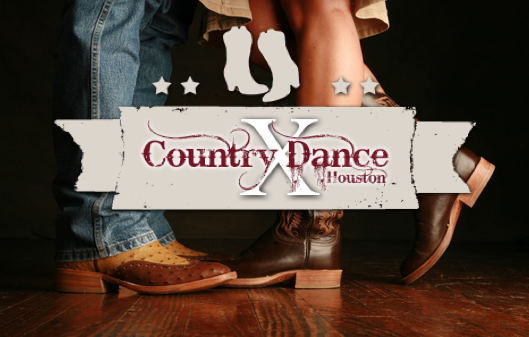 Visit the Hello Woodlands Calendar for MORE events, event information, details, directions, and links!
AUGUST EVENTS
August 1-31 – Sports Physicals – During the month of August, get a sports physical for only $25 at Davam Urgent Care located at 6022 Farm to Market Rd 1488, Magnolia, TX 77354. Visit Davam
August 2 – SAFE 2 SAVE at Outback – Join Safe 2 Save, the free mobile app that rewards distraction-free driving, on August 2nd from 5 to 7 p.m. for family-friendly fun at Outback Steakhouse in The Woodlands with appetizers, giveaways, and even a distracted driving simulator! Learn More
August 2, 9, & 16 – Rock the Row – Experience The Woodlands' newest mixed-use development on scenic Lake Woodlands with live music Thursday evenings this summer at Hughes Landing! Rock the Row features local and regional bands playing a variety of favorites from classic rock and pop to Motown during the summer and fall. Learn More
August 3 – Superhero Day – Come celebrate Superhero Day at The Woodlands Children's Museum on Friday, August 3rd from 10:00 a.m. to 5:00 p.m. Wonder Woman and Spider man will be there to take photos from 10:00 a.m. to 2:00 p.m. Super Reader Jan will present Story Book Theatre at 11:00 a.m. Guests can decorate their own capes and create super hero masks. Learn More
August 3 – Tomball Night Celebration – The party starts at 5:00 p.m. and ends after the firework display at approximately 9:45 p.m.  There will be live entertainment, kids activities, food & drinks and vendors along the streets. Participating local businesses stay open late offering specials, give-aways and door prizes! The Parade of Lights begins at 9:15 p.m. with the fireworks display following immediately after at the Tomball Depot at approximately 9:45 p.m. Learn More
August 3 & 17 – Grand Central Nights – Bring the family for Grand Central Nights, a trio of fun events that includes live music, a caravan of food trucks and games at The Lake House. August 3rd will feature American Idol artist, Adrian Michael and Trivia. The finale of the summer series ends on August 17th with a game of scavenger hunt! Enter Grand Central Parkway from I-45 South and take a left at The Grandeur Trail System entrance to reach the Lake House a few miles down the road. Address: The Lake House, 715 Camp Strake Road, Conroe, TX 77304. Learn more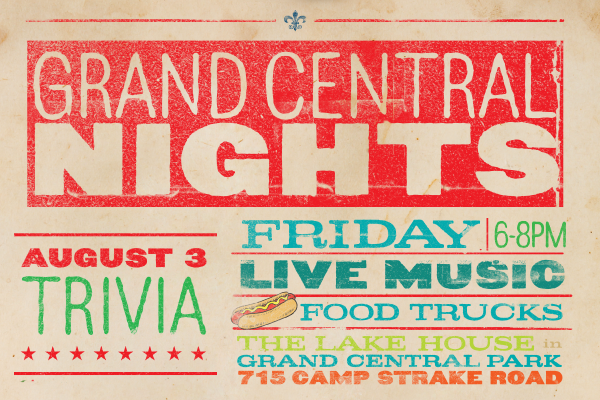 August 4 – Cadets Con – Space Cadets and Boom! Studios are teaming together to host the annual Cadets Con, a free event at Space Cadets Collection Collection, where you can shop local vendors, meet artists and enjoy fun events. Learn More
August 4 – Boots vs. Badges Softball Game – In celebration of National Night Out, come out and cheer on your local public safety personnel! Watch the Montgomery County Sheriff's Office and The Woodlands Fire Department battle it out at the annual Boots vs. Badges Softball Game at McCullough from 7:00 p.m. to 8:30 p.m. This free family fun event is something you don't want to miss. Learn More
August 4, 11, 18, 25 – The Woodlands Farmer's Market – The Woodlands Farmer's Market at Grogan's Mill is open Saturdays from 8:00 a.m. – 12:00 p.m. at the Grogan's Mill Center. The Market adheres to high standards requiring that all agricultural and artisan vendors grow or produce the good they sell. Each of the prepared food vendors is required to use a commercial kitchen when preparing their product. Guests will find local produce, prepared foods, artisan goods. Learn More
August 5 – Public Safety Open House – The Woodlands Township Neighborhood Watch invites you to stop, drop and roll into The Woodlands Fire Station #2 from 3:00 p.m. to 5:00 p.m. Get an up-close look at fire apparatus, rescue units and the fire station where it all happens. Children can meet firefighters and learn about fire safety while visiting with deputies from the Montgomery County Sheriff's Office and/or Harris County Constable's Office, Pct. 4. Come learn more about upcoming National Night Out events and ways to educate and celebrate National Night Out in your neighborhood. Learn More
August 5 – The Woodlands Car Club Cars & Coffee for a Cause – The Woodlands Car Club is and has been a big proponent in raising awareness and funds for local non-profit organizations in Montgomery County since 2001. Come out and "show off" or admire and support Change for Charity program! Learn More
August 5 – Latin Fest – Join Wet'n'Wild SplashTown for their 2018 Latin Fest! Enjoy great food, live music and festivities. Catch a performance by Sandy G y Los Gavilanes on the Wave Pool concert stage. Park is open from 10 a.m. to 7 p.m. Learn More
August 6-9 – Youth Summer Golf Camp – Sign-up for a fun and interactive indoor golf camps taught by on-site teaching pros using state-of-the-art , HD golf simulators! Until August 9th, Swing Zone Golf is offering weekly 1/2 day camps for youths 6 – 12 years. With a low teacher-to-student ratio the camps will focus on developing golf skills including full swing, short game, rules and etiquette while keeping the experience engaging with games and activities. Sign up
August 10 – Family Game Night – The Woodlands Township Parks and Recreation will be hosting a monthly game night for all ages at The Recreation Center at Rob Fleming from 7:00 p.m. to 8:30 p.m. Enjoy a fun-filled evening with your family and friends playing BINGO! Snacks and water provided. Learn More
August 11 – End of Summer Color Festival – Woodforest is offering a bright finish to the season with an End of Summer Color Festival 11 a.m. to 2 p.m. Saturday, Aug. 11, at the community's Jackson Park, 2675 Woodforest Parkway North.Event-goers are encouraged to wear white shirts and be ready for an explosion of color with colored powder, paint-filled water balloons, painting activities and more. A DJ will provide music, people can learn how to tie-dye T-shirts and giveaways will be awarded. The event is free and open to the public. Learn More
August 11 – 2nd Saturday at The Depot – Come on down to the historic Tomball Depot for a free family-friendly affair! There will be free games & activities starting at 6:00 p.m., and the movie The Emoji Movie playing at dusk (around 8:00 p.m.). Grab your picnic baskets, lawn chairs and come join in on the fun! Learn More
August 14 – "Eating Well Through Cancer" Cooking Demonstration – Canopy Cancer Survivorship Center will be hosting a cooking demonstration at 12:30 p.m. on August 14th and on the second Tuesday every month. Canopy welcomes men and women at any stage of their battle with cancer – as well as the entire family, friends, and caregivers are invited and welcome to their programs. Please RSVP to the front desk of Canopy at 713-897-5939.  Learn more
August 17 – Kybella "Redefine Your Neck Line" Lunch – Join us at Seychelles Med & Laser Spa for Lunch Friday, August 17th at 12 p.m. Learn about this amazing injectable with their representative and how it can change your profile permanently without surgery and with little down time.  Special discounted pricing day of event! Limited to 10 seats. R.S.V.P. by calling Seychelles at 832-813-8086. Visit Seychelles
August 18 – Art Walk Night – Head down to Old Town Spring for Art Walk Night in Old Town Spring from 6:00 p.m. to 9:00 p.m. Many art galleries, restaurants and other shops are open late the third Saturday of each month. The new releases from the artists will be featured at PTL gallery. Learn More
August 21 – 31 – Back To School Week Special – Join us at Fit Club 24 from August 20th until 31st and get their Back To School special on memberships with you used the code HELLOWOODLANDS. Visit Fit Club 24
August 24 – The Artists' Way Study Group – Calling all creatives and creative wanna be's: artists, writers, musicians, crafters, artisans, and hobbyists! "The Artists' Way: A Spiritual Path to Higher Creativity" by Julia Cameron was published in 1992 as a self-help book teaching techniques to assist people in discovering their own creativity.  The book has sold millions of copies worldwide and spurred the creation of study groups such as this one.  Join us at the Glade Arts Foundation from 10:30 until noon on Friday mornings starting on August 24th and ending November 16th.  The cost is $50 per person. Register Here
August 24 – Charlie Puth with Hailee Steinfeld – With hits like "See You Again" under his belt and new album "Voicenotes" out now, Multi-Platinum artist/musician/producer Charlie Puth teams up with Hailee Steinfeld for a hit-filled musical night at The Pavilion. Concert starts at 7:30 p.m. Learn More
August 25 – Grow Your Own Vegetables Workshop – Join Daniel Cunningham, Texas A&M AgriLife's Water University Horticulturist, as he shares his holistic approach to vegetable gardening. Daniel will offer cutting edge practices including water conservation, edible landscaping and foraging at The Woodlands Emergency Training Center from 9:00 am. to 12:00 p.m. Space is limited. Registration required. Learn More
August 25 – Charity Duck Race – The 11th Annual Charity Duck Race will be held at the Rob Fleming Aquatic Center at Creekside Forest Drive where the Crisis Assistance Center will launch 5,000 rubber ducks from the top of the slide and into the pool. Proceeds from the Duck Race will support Crisis Assistance Center programs which provide immediate basic needs assistance with food, clothing, utilities, rent/mortgage payments as well as long term case management to move individuals and families into self-sufficiency. This is a free, family-friendly event. Learn More
August 1-31 – Emergent VR Encounter – Experience virtual reality like never before! Join us at Emergent VR Encounter, the 1st virtual reality arcade and high tech lounge in our community, located at 385 Sawdust Rd. Stay tuned for upcoming events and tournaments in August! Visit Emergent
August 25 – Bombshell Car Exhibit – Southern Star Brewing Company is hosting the 3rd Annual Bombshell Car Exhibit on Saturday, August 25 from 12 to 6 p.m. The event will include cars, trucks, military vehicles, officers, raffles, silent and live auctions, food, music, and Southern Star beer. Learn More
August 29 – Blood Drive – Salute to First Responders – The Woodlands Township Neighborhood Watch invites you to salute our first responders by donating blood. The blood drive will run from 10:00 a.m. to 2:00 p.m. at the Rob Fleming Recreation Center. There will also be a Hands Only CPR Village Challenge. The two step training will take place from 10:00 a.m. to 1:00 p.m. in Room A of the Recreation Center. Training is free and does not include CPR certification. Other activities include blood pressure checks and heart healthy information from the American Heart Association and CHI St. Luke's Hospital, the sponsor of the Village Challenge. Learn More
August 30 – Blue Suede Tunes – The Houston Symphony will be playing the music of Las Vegas' golden age at The Cynthia Woods Mitchell Pavilion starting at 8:00 p.m. Get rockin' and rollin' with the music of Elvis, the feel of Sinatra and the tunes of Nevada's brightest lights. Lawn & Mezzanine seats are free; Orchestra seats are $20. Learn More
Visit the Hello Woodlands Calendar for MORE events, event information, details, directions, and links!
Plan ahead for September! Visit our online calendar, subscribe to our Email Newsletter, follow us on social media at @HelloWoodlands, and check back for a list of 31 things to do in September 2018!
Contact us at info@hellowoodlands.com to tell us events, activities, locations, businesses, and non-profits we should feature and visit in September!