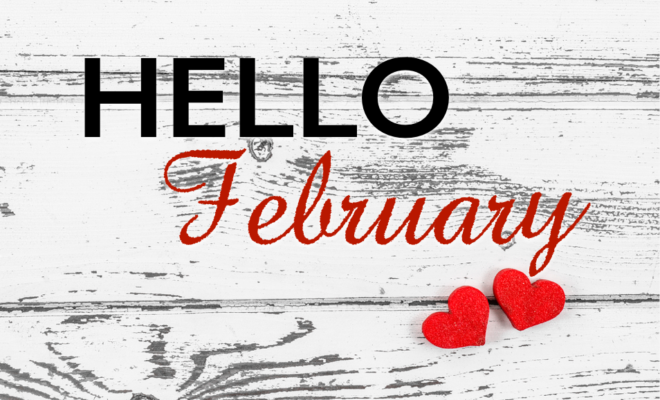 Events
31 Things To Do in February
By |
Hello Woodlands's "31 Things To Do" monthly guide highlights events, activities, and things to do this February in The Woodlands and Montgomery County area that can be enjoyed online or while practicing social distancing PLUS ways to support local and give back. Be sure to check back on Hello Woodlands for updates!
If there is any opportunity for the Hello Woodlands team to help communicate news, important updates, and/or highlight a story or need, please let us know by emailing info@hellowoodlands.com.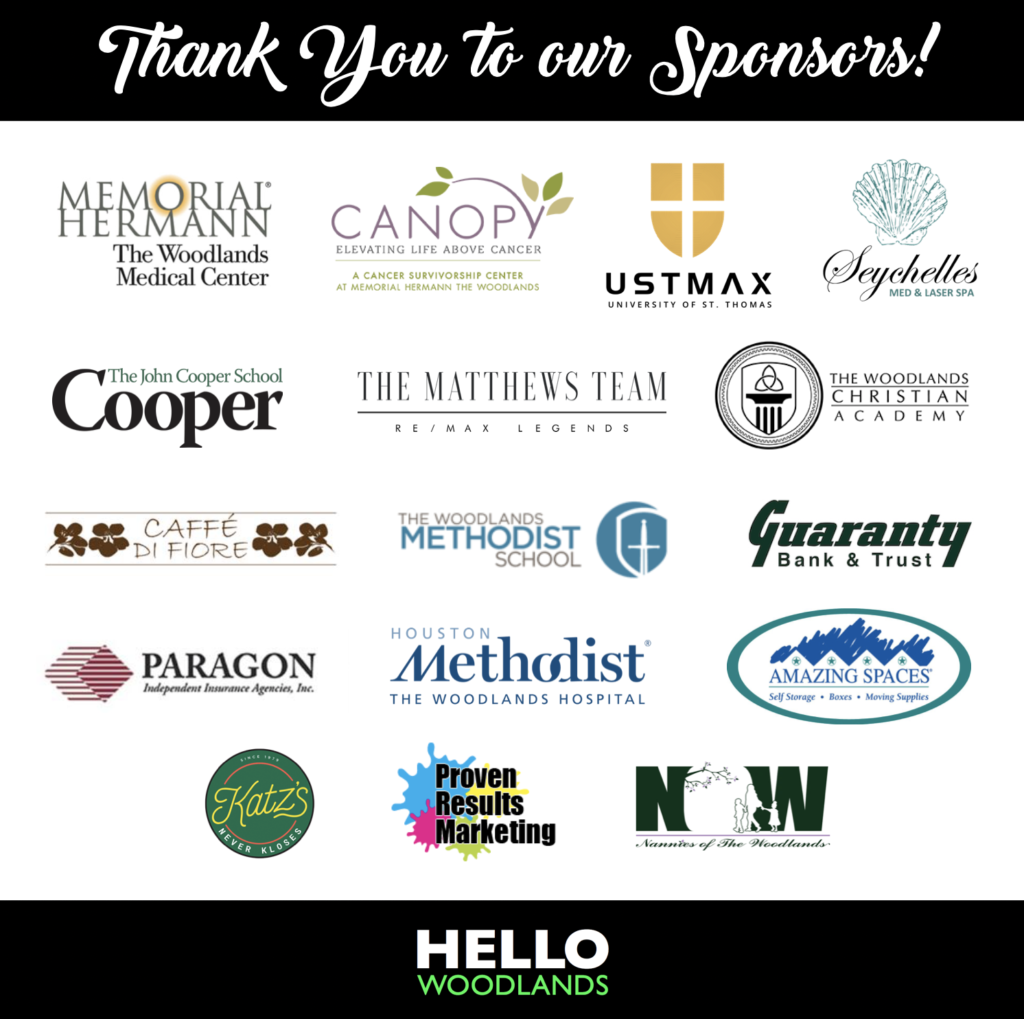 FEBRUARY 2021
FEATURED EVENTS
*Please note that events, programs and details are subject to change due to the current environment and regulations, orders and recommendations due to COVID-19.
Dates Extended! Today until February 11 – Taste of the Town – The Woodlands Area Chamber of Commerce is hosting its 35th Annual Taste of the Town 2021 in a new and different format. With your ticket, you can visit each of the 37 participating restaurants and enjoy a free sample of appetizers, entrees, desserts and/or drinks (different sample for every restaurant, use ticket for one free sample per restaurant). Ticket prices are only $25.00 per person to enjoy samples at all 37 participating area restaurants. Learn more and view participating restaurants.
February 2020 – Classes and Programs at Canopy Cancer Survivorship Center – Canopy is open for classes and programs! Canopy is a cancer survivorship on the campus of Memorial Hermann The Woodlands. Canopy is open to men and women, no matter where you were treated, and for any kind of cancer. If your life has been impacted, whether you were the patient or the caregiver, you have a safe haven at Canopy. For more information please call the Canopy front desk at 713.897.5939 or visit https://bit.ly/HelloCanopy
THINGS TO DO
*Please note that events, programs and details are subject to change due to the current environment and regulations, orders and recommendations due to COVID-19.
Visit Local Farmer's Markets
Go Kayaking! Get in a kayak state of mind at the Riva Row Boat House. Riva Row Boat House is a beautiful amenity in The Woodlands that's perfect for many occasions, including a family outing, a date or group games. Within walking distance from Market Street and The Cynthia Woods Mitchell Pavilion, it's a great way to see The Woodlands Waterway from a kayak point of view. Visit the NEW Boat House website at www.rivarowboathouse.com
Volunteer at your Local Animal Shelter – Volunteering at Montgomery County Animal Shelter is a special experience – for both you, and for the animals that cannot wait to meet you! There are many choices when it comes to volunteering like cleaning, grooming, and dog walking or you can also choose a quieter volunteer experience, such as spending time with a favorite animal. Learn how to help and get involved at https://www.mcaspets.org/volunteer
Donate Food to the Interfaith Food Pantry – Food donations can be dropped off a Interfaith of The Woodlands located at 4242 Interfaith Way on Monday – Thursday 9am to 4pm and Friday 9am to 1pm. Learn more
Take a Private Tour of The Woodlands Christian Academy's 40 Acre Campus – With 40 acres and small class sizes, The Woodlands Christian Academy is excited to offer future warrior families a safe, socially distanced private campus tour. Touring campus is a great way to experience Woodlands Christian! The private campus tour will include a brief overview of school history, mission, leadership, philosophy of education, the application process and a walking tour of our beautiful campus. You can view the upgrades made to create a controlled environment and healthy campus. Lower school (Pre-K – 4th grade), middle school (5th – 8th grade) and high school (9th -12th) programs are introduced, providing an excellent overview of a Warrior education. You can also take an online virtual tour here. To schedule a private tour, please contact Director of Admissions, Amanda French at (936) 271-3104.
February 13 – Valentine's Weekend Sunset Cruise – Grab your better half and sail away on the Little Palm Yacht from Margaritaville Lake Resort in Lake Conroe. Come aboard at 5 p.m. and escape on a romantic cruise around Lake Conroe, spend quality time with loved ones and celebrate Valentine's Day. Learn More
February 14 – Valentine's Day – Order to go, takeout or delivery from your favorite local restaurants and/or purchase a gift for loved ones from a small business. Look for more ways to support your community in the "Support Local" section below.
February 16 – Mardi Gras Celebration – Join The Woodlands Children's Museum for a Mardi Gras Celebration from 10am – 1pm with parades at 10:45am and noon. Learn More
February 18 – March 4 – The John Cooper School Gala Online Auction – The 2021 Gala Online Auction is scheduled for February 18 – March 4, with Cooper Contributions set to close on February 25. The annual Gala provides crucial funding for The John Cooper School faculty, staff, and students each year. The Gala Committee is working diligently to create an auction unique for our community with consideration for the events of 2020 and beyond. Learn More
February 19 – Dueling Pianos Night – Enjoy an evening full of music, laughter and fun at Glade Arts Foundation with Gene Keen. Doors open at 7:00 p.m., concert starts at 8:00. A la carte menu, handcrafted cocktails, and sommelier curated wine list. Learn More
February 20 – Spring Organic Vegetable Gardening Class – Dr. Joe Masabni, Texas A&M Extension vegetable specialist will share his vegetable research and lifelong gardening expertise on Saturday, February 20, 2021 from 9 to 10 a.m. Learn More
February 20 – Mark Chesnutt Concert – Relax and enjoy the show with dinner and live music all in one at Dosey Doe. Doors open at 6:30 p.m. Kitchen is open between 6:30 p.m. and 7:30 p.m. Ticket price includes three course meal. Social distancing protocols will be in place. Learn More
Visit the Hello Woodlands Calendar for updates on postponed dates, cancelled events, and be sure to stay tuned for more details.
GIVE BACK
Due to the current COVID-19 pandemic, nonprofits are in need now more than ever. Organizations are working hard to maintain the quality of care they have always provided to our community.
Hello Woodlands' ongoing series "Nonprofit of the Month," featuring Randy Lovelace of Paragon Independent Insurance Agencies, spotlights several of these nonprofits. Learn more about the nonprofits' missions and meet the people behind them here.
Learn more about the Hello Woodlands Nonprofit of the Month, Inspiration Ranch, and watch our video interview here.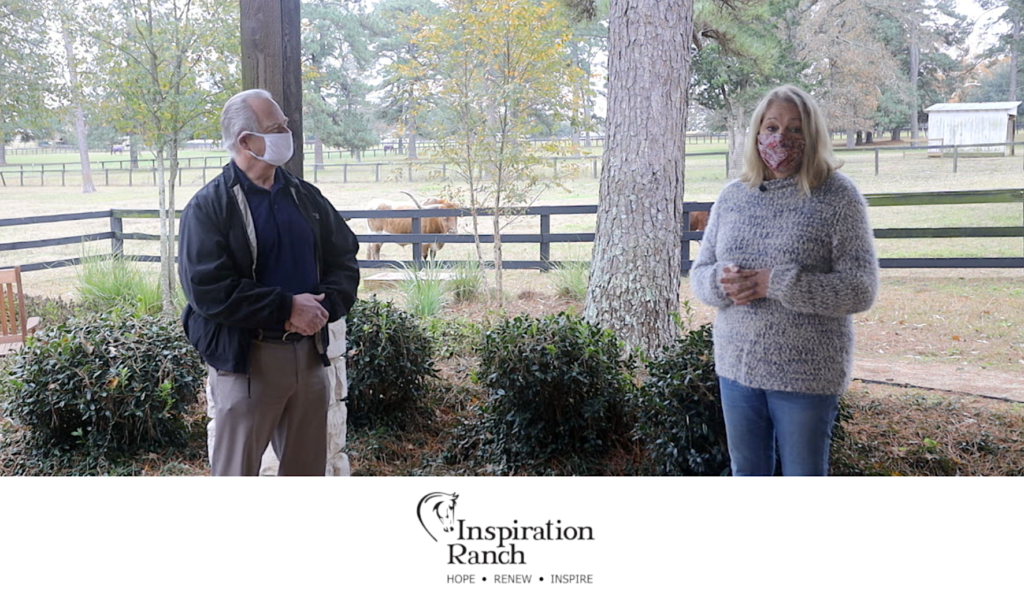 SUPPORT LOCAL
Doing one of these things will be greatly appreciated by the local businesses in our community. Please join us by showing your support this Valentine's Day and every day that you can!
Purchase gift cards online and use as a gift for Valentine's Day, birthdays, celebrations, and thank you's!
Order to go, takeout or delivery for date night from local restaurants.
Shop online! Support your Valentine's favorite local retailer, artists, author, musician, or small business.
Make a donation or contribution online in your loved one's honor to show your support to a local nonprofit organization in need.
Purchase a card from a local boutique or retailer to send an encouraging message to a friend, family member or loved one. Words of love, kindness, and hope during this difficult time is a great way to offer your support!
Visit our online calendar, subscribe to our Email Newsletter, follow us on social media at @HelloWoodlands, and check back for a list of 31 things to do in March 2021!
Contact us at info@hellowoodlands.com to tell us about updated events and more ways we can share about helping our community, supporting local businesses, and things to do in The Woodlands and Montgomery County.
Thank you for your support!