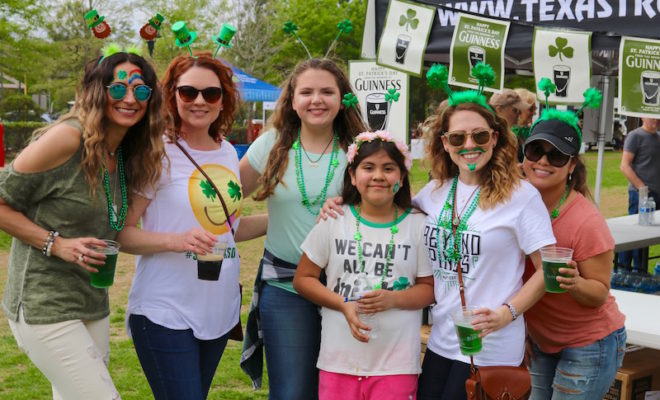 Events
9 Ways to Celebrate St. Patrick's Day Locally
By |
Grab your green gear and get your green beer to celebrate St. Patrick's Day right here in The Woodlands area! Some venues are starting the party as early as the week of St. Patrick's to get you ready for the big day. There are a variety of events to choose from, including family friendly celebrations, green beer-filled bashes, a shamrock festival, and more!
B52 Brewing Co. – Head to the brewery to celebrate one of its best known craft beer centered holidays during its St. Patty's Day Green Beer Party from noon – 8:00 p.m. B52 will be offering green beer in many formats – and maybe even a surprise green beer release to take home with you. The brewery will be partnering with Rollin' Local serving up a one-of-a-kind local, green menu for the occasion to pair with your B52 brews. Learn More
Baker St. Pub & Grill – There's no cover charge this St. Patrick's Day to hear live music by Kaos Super Fly DJ Bag Pipers. Baker St. will be celebrating with green beer and fun from 11:00 a.m. 2:00 a.m. Learn More
Fielding's Local Kitchen + Bar (Creekside) – It's a party on the patio with live music all day! Justin LeBlanc will be performing from 12:00 to 3:00 p.m. for brunch, and there are evening performers scheduled as well. Chef Edel is preparing some classic Irish dishes to get you in the spirit, and there will be some specialty cocktails and beer specials. Learn More
Fielding's Wood Grill (Research Forest Dr.): Party all week long with special drinks and menu items such as the St. Patty's Boozy Shake, Black Pudding, and Whiskey Toffee Cake, available from March 14 to March 20. Learn More
The Goose's Acre – Doors open at 8:00 a.m. for an All You Can Eat Breakfast Buffet for $15.95 served until 11:00 a.m, then the St. Patrick's Day lunch & dinner menu is available from 11:00 a.m. to 1:00 a.m. Green beer will be flowing with live music on two different stages starting at 10:00 a.m. and going until 2:00 a.m. There will be Irish Dancers, bagpipers and possibly a leprechaun or two. Ages 21 and up from 2:00 p.m. to 2:00 a.m. Although The Goose's Acre is pet friendly, there will be no pets allowed for this event. Learn More
The Highlander Pub at The Place – Come check out this recent addition to The Woodlands and celebrate the Gaelic way! There will be live music by the Space City Nomads, drink specials, food, and lots of shenanigans. Pets welcome outside. Learn More
Shamrock Shindig – Get a head start celebrating St. Patrick's Day March 16 at the 3rd Annual Shamrock Shindig at Town Green Park in The Woodlands. This family friendly event has something for everyone: delicious food, green beer, live music, Irish dancers, bagpipers, artisan vendors, and activities for the kids. The celebration lasts from 11:00 a.m. to 11:00 p.m. Learn More
The Woodlands Children's Museum – This party is designed for the little ones! On March 15 and 16, check out the Maguire Irish Dancers, Cass Barrington Irish Dancers, the McTeggart Irish Dancers, Gabe the Leprechaun and Claude Sims the Roving Juggler! Learn More
Woodson's Local Tap & Kitchen (Conroe) – Let the Luck of the Irish be with you this St. Patrick's Day by celebrating at Woodson's 3rd Annual St. Patty'o Party! The party starts Saturday, March 16 at 11:00 a.m. and again on Sunday until midnight. Get ready for a live DJ, crawfish, drink specials, activities for the kids, and fun vendors. Learn More
Visit our online calendar, subscribe to our Email Newsletter, and follow us on social media at @HelloWoodlands to stay up-to-date on the latest events around town!